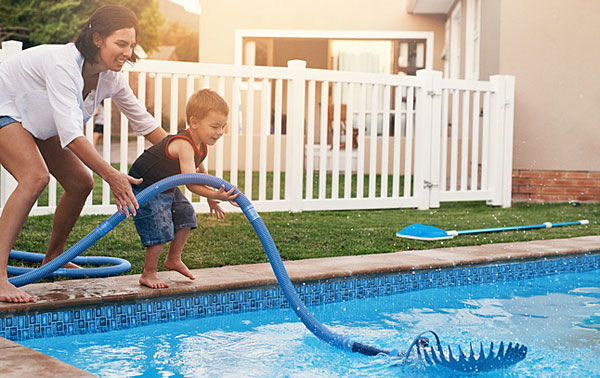 As a pool owner, I always have my ear out for new and inventive pool products that help make pool maintenance easier. New Pool Accessories that promise to save time, money or effort (especially effort) will always pique my interest. This year does not disappoint, with springtime deliveries bringing in some great new pool tools to make pool maintenance easier, or at least more interesting.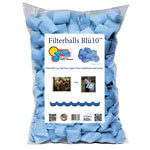 It's a rare that a new product comes along that can potentially revolutionize an element of pool maintenance. In the case of Filterballs, this new approach to filter media can make your existing sand filter better. 1 pound of Filterballs is the equivalent of 100 lbs of sand, they function on a lower working pressure, have a 45% greater flow rate, filter better than sand at 10 microns, and they are 100% recyclable. Filterballs save time, money and effort. I'll be swapping out the sand in my Hayward Sand Filter in two weeks with 3 pounds of Filterballs when I open my pool in two weeks. Stay tuned for more – we will post my FilterBall installation soon, with a review to follow after a few months.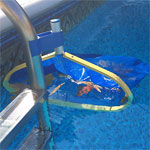 Falling into the "why didn't I think of that?" category is the new Leaf Bone Skimmer Clip.  I've tried various DIY concepts to attempt to employ my skimmer net full time by using duct tape and some other ideas that were not quite up to MacGyver standards. The Leaf Bone is brilliant in its simplicity. It snaps-on to standard pool ladders or hand rails and the opposite end snap fits to any standard leaf net. It dangles the net in the water to offer hands-free assistance to your skimmer. Why leave it hanging up on your pool deck when it's not in use? Put it to work full-time with the Leaf Bone, and trap the leaves before they sink, to keep your pool cleaner and your skimmer basket from becoming jammed in the fall.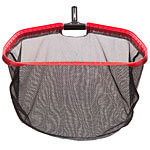 It's no coincidence that our next inventive product is a new take on an old standby – the leaf net, or actually the leaf rake. A few minor tweaks make a major impact with a nifty beveled edge that helps kick up debris more effortlessly and an extra-wide 24" mouth because in this case the bigger the leaf net mouth, the better. A heavy-duty aluminum frame covered with a super-strong protective plastic rim and a dual layer carbonized fabric net over a soft mesh makes this leaf rake tough enough to last for years. I've had mine for going on 4 years now, and it almost looks like new. No holes, no tears, just a little faded around the red rim – and I have put this skimmer net to the test many times, it easily dredges very heavy bag-fulls from the pool.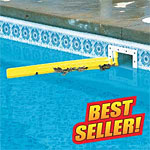 Full disclosure, the Skim-It isn't really a "new" product but it's a best seller that has proven to work that our customers (and myself) love to no end. I imagine a utopian future for pool owners where brilliant inventions completely eliminate the need for lifting a finger to skim the pool.  The Skim-It leads the way to this brave new world. With it's tool-less, spring-loaded installation, it simply pops in and out it's a convenient way to extend the reach of your skimmer niche. I bought one for my deep end skimmer last fall, and it literally reaches out into the pool and draws leaves into the basket. This meant much more basket cleaning, but less pool cleaning – mission accomplished.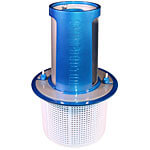 Not a bad band from the 90's, it's yet another hands-free way to assist your pool's filtration process. The SkimDoctor 2.0 easily attaches to any inground pool skimmer basket and instantly turbo charges the suction power of your skimmer creating a vortex system to draw more debris into your skimmer basket – up to 3 times faster, while also tripling basket capacity! If you have a variable speed pump it's perfect for when using low speed modes because you can adjust it for low levels of suction. This skimmer suction turbo charger is compatible with most all inground skimmer basket and installs in minutes. This is one new product I have to buy this summer, you should see the video! Utopian pool maintenance future, here we come!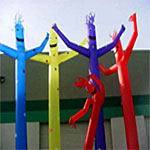 Before you think to yourself, "Wait a minute! How are inflatable Pegasus, Parrots, and Unicorns (oh my!) pool maintenance inventions? Believe it or not, they help keep annoying birds from swimming in your pool when you aren't around. This is especially an issue this time of year when self-entitled water fowl show up from their Florida winter homes and think they just found their roost for the summer, with your pool serving as their personal bath tub. This could cause undue trouble with algae and bacteria. Until we have Wacky Wavy-Arm Guys for the pool, a giant swan float or pool flamingo will work just as well to keep out birds, snakes or gators – OH MY! Plus, they look cool floating in the pool, and even cooler featured in your kid's instagrams or snapchats.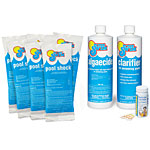 New to our In the Swim Brand chemicals are our Shock Value Packs. Frankly, we can't believe it's taken us this long to combine our best-selling pool shock products into a money-saving bundle. We all love chemical value packs, a great value that adds-up to more bang for the buck, especially when it comes to saving money on pool chemicals. Our shock value packs also combines our clarifier and algaecide for a powerful 1-2-3 punch that will have your pool looking picturesque faster than you can say "discount pool chemical value pack"! We've even custom tailored the doses for above ground or inground pool owners, so you always have the correct amount of shock for the job.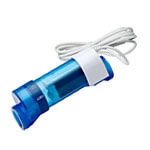 It pains me to type this, but this stuff literally writes itself, I tell you. Last summer my salt cell began producing less chlorine than it should, and during a routine fall cleaning and inspection I noticed that one of the metal plate solder joints was broken, so I may be needing a new salt cell this spring. Fortunately, the company I work for has a new line of replacement T-Cell salt cells for Hayward Aquarite, Aqualogic, Swimpure and others that use a Turbo Cell T-15, T-25 or T-40. So, now we have our own In The Swim salt cells, and at a significant savings, too! Generic salt cells – what will they think of next?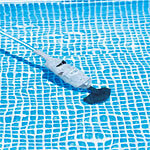 I personally haven't tried this out yet but the early feedback from our customers are in with rave reviews. For those with Intex soft-sided pools, like Intex Metal Frame, Ultra Frame, Easy Set, or an Intex PureSpa the filter system may not be set-up to vacuum the pool. You can use a Leaf Rake (see above) for the heavy stuff, but how to get the smaller stuff? Intex invented this rechargeable pool vacuum for convenient spot cleaning in a lightweight, but powerful package with two interchangeable heads. It's also great for anyone with a smaller pool or a spa, not just Intex pools and spas! Rechargable handheld pool vacuum can be used to spruce up the steps or swimout, areas that the pool cleaner may miss.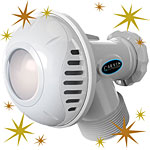 Another one for the aboveground pool owners, didn't want you to think we forgot about you! This last product is more of a new pool accessory but it's actually a new and improved version of the Aqualuminator, this LED pool light is made by Carvin. StarWhite features a waterproof 15' 3-prong cord to plug into a GFCI outlet. It fits to your existing pool return wall fitting, turning your pool wall return into a pool light return! StarWhite is perfect for smaller pools to allow you to clean the pool at night, and be able to see how dirty the pool really is! This affordable, 12V LED pool light is super bright but doesn't use a lot of electricity to get the job done. It's brilliant!
Have any questions about any of these new pool products or have a pool maintenance product that you think belongs on this list?  We love to hear from our pool community!  Drop us a line at socialmedia@intheswim.com


Ryan Dornan
InTheSwim Staff Blogger