Becoming a pool owner can have major advantages. Besides relief from the heat, there are tons of fun options and benefits to owning a pool.
While the possibilities are endless, here are my Top Ten Fun Things to do in a Pool, to help you dive into this summer just right!
Who Wants To Clean The Pool !?!

Cleaning a pool can often be everyone's least favorite chore to be assigned. So, what if that could be changed?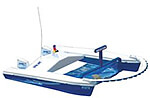 The Jet Net Remote Control Pool Skimmer easily skims your pool in a flash! Plus the fun remote control design will make cleaning your pool a blast! It will transform cleaning the pool from everyone's least favorite chore, to one everyone will fight over doing!
Pool Exercise !

As summer continues, and the weather gets hotter, it can be hard to find time to work out, while still enjoying the outdoors.
However, there are ways to tackle both. Swimming laps or doing water exercise routines in the pool is a great workout, and offers numerous benefits to your health, along with putting less stress on your body.
If la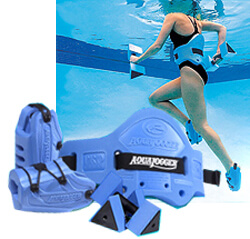 ps aren't for you, then you can also try using a Buoyancy Belt, or AquaFitness start-up kit, shown left. Suspends you in water, enabling endurance, interval, and strength training. With this gear this year, you can have your cake, and eat it too! Water exercise is best in groups – so grab a partner, friend or family – and get fit!
How About Some Hoops?

This summer, instead of sitting inside all day and watching sports, why not dive into your own pool games?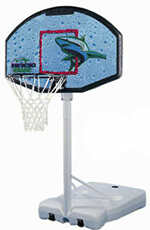 A pool can offer many opportunities to participate in variety of different sporting activities. Buy just one pool hoop, you can take your game of horse from driveway to water, and with two hoops you can bring a full 2-on-2 from the hot court to a cool pool. Pool volleyball nets are also an easy way to get more people in the pool, of all ages!
Recreate !

If you have not done so yet, take full advantage of your pool this summer by throwing a pool party.
Whether it's a graduation party, 4th of July soiree, or simply just a small gathering of friends, everyone enjoys taking a dip on a hot summer day. Why not share the wealth of your pool? If nothing else, it's a great reason to pull out your blender and mix up some frozen drinks and snacks, while lounging by the pool with friends and family.
Recuperate !

Winter injuries can take a long time to get back on your feet. Your pool is a great way to ease back into workouts.
The pool is a stress free way to build muscle while avoiding pain, also ideal for athletes, to speed recovery from hard training. Don't just sit on the sidelines anymore. Use your pool to get back on your feet.
Relaxate !

While there are many different activities you can do in your pool, I think my favorite is relaxation!
After a long hard day, there is nothing better than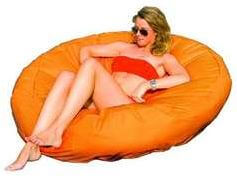 stepping into the pool and onto a lounger. Amongst my favorite, is the SunSoft Mattress, Chaise Lounge, or Island which all have a "bean bag" feel while fully supporting you in the pool. And on those really hot days, bring your drinks in the pool with you with the SunSoft Floating Drink Caddy. The perfect stress relief for anytime!
Toys & Games !

"I'm Bored!". Most of us have heard this phrase more than a few times, and used it more than we care to admit.
With a pool however, boredom should never be an issue. There are lots of games and floats that can be used this summer to bring a little fun to the day. For the kids, try the Ship Wreck Pool Dive Game. The Pool Paddle Game Set is also great for when kids have a friend over.
And for your adult get togethers, try the Port-O-Pong game, which may just bring you back to the "good ol' college days."
Learn To Swim !

This summer, instead of dishing out the dough to send your kids off to swimming classes, why not teach it yourself?

With devices like Pool Noodles, Water Wings, and Swim-Tee Trainers, you will have yourself wondering why you never thought of this before. Your pool could become a Learn to Swim center in the neighborhood, with weekend lessons for new swimmers!
Another Way To End the Day Besides a Sunset

There are many ways to finish off an already great day. A sunset, fireworks, a bonfire, and even your own pool.
One way to really brighten up even the darkest sky is with ChillLite Pool and Patio Lighting. This can offer up a way and added way to enjoy your pool at the end of the day.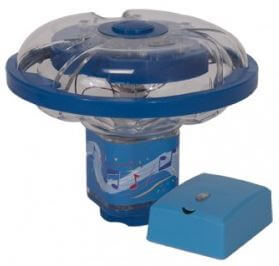 Light up your pool with the Triple Tier Light & Fountain Show. Bright, LED lights change colors and dance to the beat of your favorite music from any MP3 player, iPod or Smart Phone connected to the wireless transmitter. Now that's the way to end a date!
Catch some D's !

Vitamin D is an important part of daily life and helps regulate the immune system. It can be made naturally by your body, but only after exposure to the sun.
Don't forget to wear sunscreen, and take advantage of your pool by staying in the water, while still allowing your body to catch some D's!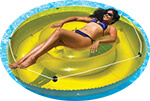 A float like the Island Sun Tan Lounger can help you enjoy the water and summer more by allowing you to soak up sun from reflected rays, while you stay high and dry.
Ten Ideas to get more out of your pool this summer – what will you do differently this year? Leave a comment below. More Fun, Fitness and Family Togetherness awaits you!


Dana Katz
InTheSwim Staff Blogger