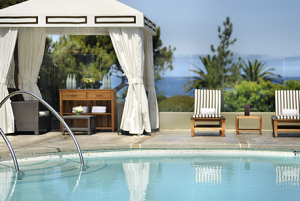 Swimming pools have a design, shape and size, and like a frame surrounding a painting, the elements around your pool add life and flair to your backyard. Think of the areas surrounding your swimming pool as like any other room in the house; occasionally you have to rethink your living space.
Here are some renovation ideas for your backyard to create a unique and useful living space:
1. Expand Your Patio
In order to make the most significant impact while working on a backyard makeover, consider enlarging your patio area as a way to accommodate more patio furniture and provide more space for yourself and your guests. Having a larger surface opens up tons of new possibilities – from creating an outdoor kitchen to making the new space an outdoor living room.
This does not need to be a major renovation to have a significant impact. Consider adding pavers or patio stones to increase your usable space without having to break any ground. From a truly inspired outdoor living space to a DIY project to improve the backyard, adding space to your patio can have a dramatic effect on not only what you do, but how you do it.
2. Add Pavers on Top
If your patio area is large enough but still a bit bland, consider redoing your current patio concrete. With a thin layer of sand, you can lay 2″ interlocking pavers right on top of your old regular deck. Inexpensive and easy to install, pavers add color and texture that really livens up a pool patio space.
3. Outdoor Living Room
Bring your home out into the wilderness by recreating a living room outside on your porch or patio. Arrange your table and chairs in such a way to promote gathering and conversation. Make sure your cushions are extra comfy, and that you have accent pillows to make your color scheme pop. Add a canvas sail or rolling blinds to provide shade and wind protection, and a splash of color.
4. Backyard Classics
Shade is essential in the backyard, so don't forget about the classic look of an umbrella! Give your space a European vibe with a cantilever umbrella that, with the addition of some candles and lanterns, will enhance a romantic dinner outside on your outdoor patio dining set. Classic!
5. Grow a Garden
Flowers and greenery are an instant facelift to your backyard that thrive for years. You can either choose companion plants for a sophisticated look, or mix it up by incorporating a variety of complementary colors. If you're unsure about where to plant your new scenery, use elegant containers. Outdoor Planters come in so many shapes and sizes, and you'll be able to move them around until you get the look that you think is just right.
6. Fire Up The Grill
Cooking outside can be so much more than just using a grill. To add uniqueness and extravagance to your backyard, create an outdoor kitchen. In addition to the grill, build sandstone-cooking surfaces, or install a brick oven. Get your feng shui on with the addition of stainless surfaces, mixed with wood and stone. Here are some gorgeous pictures of outside kitchens to get you inspired!
7. Crafty Storage
Just because you need numerous tools to provide your own landscaping doesn't mean they have to be out in the yard for everyone to see. Here's where a storage bench will come in handy; it hides everything you need to make sure your backyard stays in perfect condition, but it will also function as extra seating space with some cushions and throw pillows added on top.
A storage bench is definitely a multifunctional piece of furniture! Use it for pool toys, pool noodles, or pool rafts. Load it up with pool chemicals. Store your vacuum hose and pool cleaning tools. Or – use it as a bench!
8. Warmth
Installing a fire pit adds warmth—both literally and figuratively— to your own little space. It is a perfect accessory to have on those chilly fall nights to sit by and relax, while those dancing flames create a mesmerizing affect that draws people in and helps them unwind. Our firepit prices have really fallen this year; for the money, nothing adds more ambiance to your outdoor pool patio.
9. Pool Fountains
What's more relaxing and peaceful than the blissful, trickling sound of running water? A garden fountain will create just that atmosphere to block out background noise while giving your space a fairytale, picturesque environment.
Pool fountains also puts a serene element into the pool and patio area, while helping to circulate and aerate the pool water.
10. Your Own Private Spa
A canopy gazebo is an amazing way to add aesthetically pleasing furniture in your backyard that will provide you with plenty of functionality and shade. You'll feel like you were whisked away to a private getaway at a resort under these soft and flowing pavilions.
They are great for entertaining, and add a sophisticated look to your pool and patio. Place lighting at the base and in the corners to add a glowing hue. It can also serve as a changing room, or you can set up a massage table!
Remember the backyard is just like any other room in your house, and with these simple updates it could very well become your favorite "room." Think about how you are currently using your outdoor space and what simple upgrades would help you maximize that area for entertaining, relaxing or playing. Hopefully this inspires you to take that next step! After all, your own backyard oasis is just a few steps and weekend of renovation away!


Sabrina Potirala
InTheSwim Staff Blogger