Pool Noodles are a ton of fun to use! Even though they are intended as pool toys, there is so much you can do with them.
With a little creativity, you can make just about anything with pool noodles!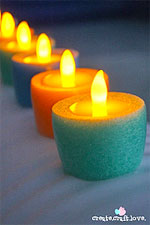 Pool noodle luminaries. All you need is a pool noodle and some battery operated tea light candles. Just cut sections of the pool noodle, wrap some saran wrap around the bottom of the tea light to catch any wax, push inside pool noodle, and voila! For detailed instructions, visit createcraftlove.com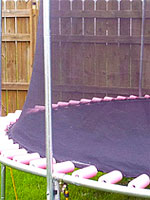 Trampoline spring guards. For an easy way to keep kids safe from getting caught in the springs of a trampoline, or scraped up by the sharp metal springs. Just cut sections of a pool noodle and fit over the springs. Not only is it safer, but it looks cool too! Go to Instructables for more pictures.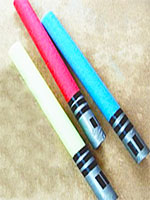 Pool noodle light sabers. For any Star Wars fans out there, these easy to make pool noodle light sabers are great for kids parties! Just wrap some grey duct tape and then some black electrical tape around the noodle for instant fun with pool noodles! See more info on Disney.com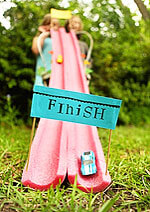 Pool noodle race track. Have kids that love matchbox cars? Why not make them a homemade race track!? It's easy and lot of fun! Just slice a noodle lengthwise, using a serrated knife and then pin them together with toothpicks! See more at Ramblings from Utopia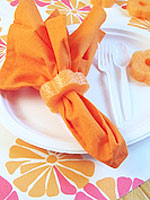 Pool noodle napkin rings. These are so cute! All you need are pool noodles and napkins. Just cut the pool noodles in about ¾ inch sections, and there you have it! Cute little napkin rings! (Especially if you use the type of pool noodles that look like flowers!) More ideas at Sew Many Ways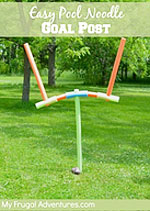 Pool noodle goal post. This one's really easy, and only requires pool noodles, pool noodle connectors, and a dowel rod! With just a bit of work, you'll be ready to play tons of sports games with your homemade goal posts. Get the full details how to make it at My Frugal Adventures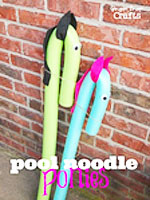 Pool noodle riding pony. These are so much fun! They're easy to make and customize, too! With just a few basic materials including felt, pool noodles, twine, and googly eyes, you're on your way to your very own riding pony! Kids can have hours of fun with these. Want more Crazy Little Projects?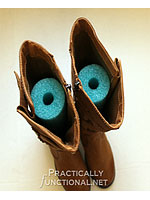 Pool noodle boot stands. Ever want a good way to keep your tall boots in good shape so they don't fall over and develop creases? Just use a pool noodle! Cut them in half for the foot portion, too! Practically Functional put this idea together, and indeed it is.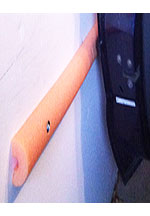 Pool noodle car door protector. Tired of opening your car door in the garage and hitting the wall, shelves or cabinets? Try attaching a pool noodle! Just cut the pool noodle in half, with a saw or kitchen knife, and screw it to the wall with a large flat washer, or screw it to your car door! Hey, thanks, LifeHacker!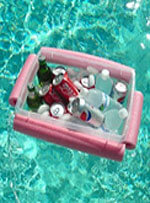 Pool noodle floating drink cooler. This one is such a great idea for a long relaxing day in the pool. All you need is a plastic bin, some rope, and a pool noodle. Cut one noodle into 4 sections (2 long, 2 short) and run a rope through it so the bin sits inside. Full story, more pics at ViralNova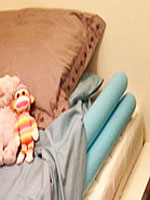 Pool noodle bed rails. For those restless sleepers that frequently end up on the floor, try a pool noodle or two under the sheets at the edge of the bed to keep them from rolling over the edge of the bed. Use Big pool noodles. Another great hint from the mind of Hint Mama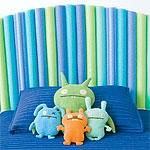 Pool noodle headboard. Speaking of uses in the bedroom, how about a headboard made entirely out of pool noodles! It's a great way to add some color and personality to any bedroom, and also add a headboard! From Quiver Full of Blessings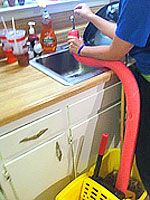 Pool noodle sink attachment. Ever tried filling up a mop bucket or water cooler from the sink and then spilled half the water out trying to get the bucket from the sink to the floor? Use a pool noodle as a hose! Slips over the end of the faucet easily. This idea comes from All Womens Talk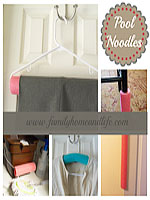 Pool noodle pants hanger. For another practical pool noodle use in the closet, wrap a section of pool noodle around a clothes hanger to prevent sharp creases in your clothing. Details on how to make different ypes of pool noodle hangers at Family Home & Life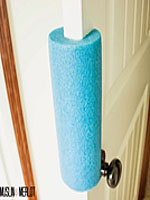 Pool noodle door stoppers. This is a great way to prevent slammed doors and pinched fingers. Just fit a section of pool noodle on the edge of a door to keep it from slamming. (Or use it on the bottom to prevent drafts from under the door!) Make it with a saw and sandpaper; from Muslin and Merlot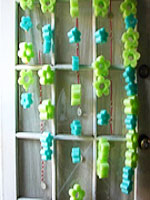 Pool noodle flower curtain. For an adorably cute curtain for any doorway in your home, all you need is some thread, beads, and a couple flower shaped pool noodles. Just cut the noodles in thin sections and string with the thread. By MakeZine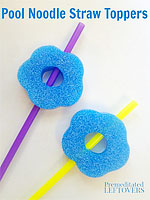 Pool noodle drink straws. Having a party? How about making some cute drinking straws for your guests? This one's really easy! Just cut 1/2" segments and poke a pencil through to make a hole for the straw! See this and more at Premeditated Leftovers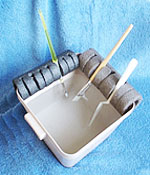 Pool noodle paint brush holder. Doing any painting around the house? Keep your brushes out of the paint, or wet in water with a pool noodle on the edge of a paint tray or bucket. Cut some slits into it for an easy, mess free way to keep brushes wet between use. Instructables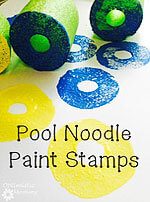 Pool noodle paint stamps. Did someone say paint? Try cutting up different shapes in pool noodle foam to make paint stamps to use on walls, fabric or paper. The possibilities are endless when you make your own paint stamps! From Optimistic Mommy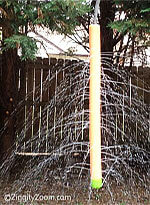 Pool noodle sprinkler. After all the painting, what better way to rinse off than in a sprinkler!? You can make a pool noodle sprinkler or a garden sprinkler with just a few simple items. Super fun and useful for the whole family! See more details at ZiggityZoom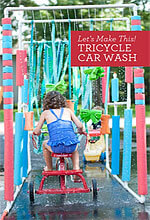 Pool noodle bike wash. For the even more ambitious, check out how to use pool noodles to make this totally awesome bike wash station! You'll be the talk of the entire neighborhood! Maybe you can even make a little extra cash ~ Full instructions on how to make a drive thru bike wash can be found at DesignMom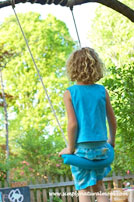 Pool noodle tree swing. Have a tree with a branch strong enough to hold a swing? Just use some heavy rope, a pool noodle, and some knots, and there you have it! Looks a lot more comfortable than a old tire. Put your own pool noodle rope swing over the pool! Find more fun ideas at Simply Natural Mom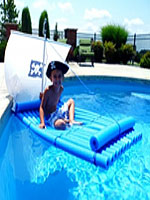 Pool noodle raft. One of the best things to do with a noodle is to float in the pool! Why not make your very own raft? All you need are noodles and some rope or heavy string to hold them together! If you really want to get creative, take a look at how to make a pirate ship raft! By Alissa Roberts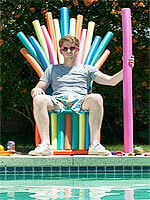 Pool noodle throne. Maybe getting in the water isn't really your thing. Why not make yourself a throne for sitting poolside? Be the King, or Queen. Really, there's no end to the many uses for the noble pool noodle. Fit for a King! Make your own with these instructions from popsugar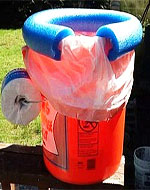 Pool noodle toilet seat. Everyone knows how awkward it can be when there's no outhouse nearby. Well with your very own homemade noodle toilet seat, you'll never have to worry again! Check out how to make your own at Homestead Survival
Hopefully this gave you some great ideas to get you started, and don't forget, there are endless possibilities of what you can create using pool noodles and your imagination! Maybe you'll even come up with some new ideas of your own! What's your favorite?
See our collection of pool noodles, and get crafty!


Christine Silvestri
InTheSwim Staff Blogger