Coliseum Pool at Pelican Hill in Newport Beach
The Coliseum Pool, true to it's Roman namesake is surrounded by vaulted arches, columns and an amphitheater of cabanas. Over 1 million hand laid tiles cover the pool floor and walls.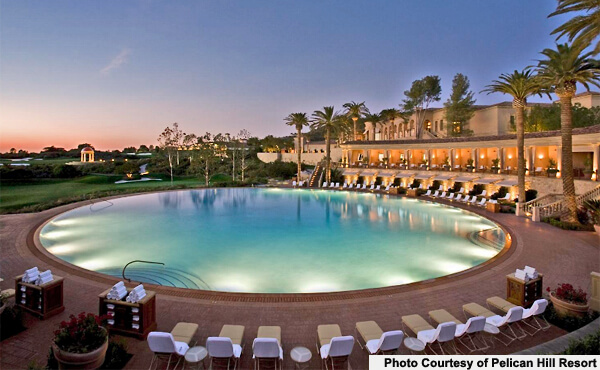 Perched on high cliffs overlooking the Pacific ocean gives the pool a ethereal vertigo, like it's floating on the horizon. This 136 ft diameter perfect circle is the world's largest circular pool!
The Rooftop Pool at the Standard in Los Angeles
To visit this pool, you must travel 12 stories up, but the view makes it well worth the walk. With a striking red AstroTurf sundeck, and contrasting turquoise waters, this pool is a unique experience that you won't forget.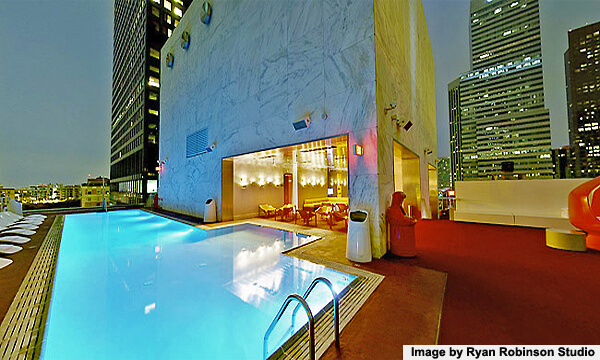 With views to downtown L.A. and the sparkling ocean beyond, the Standard Hotel pool is 14 floors secluded from the bustling street below.
Neptune pool at the Hearst Castle in San Simeon
Built by William Randolph Hearst, this Roman-inspired pool has played host to many famous faces such as Charlie Chaplin and Clark Gable. It even features a special ramp that to gave easy access to Marion Davies' pet dachshund.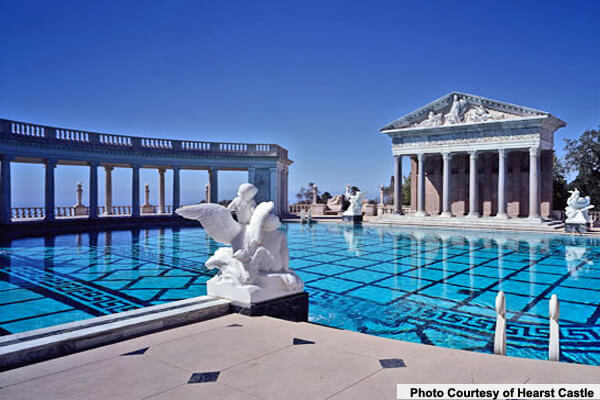 Unfortunately, while the Neptune pool is the highlight of tours on the property, no swimming is allowed. All 345,000 gallons are purely for visual enjoyment.
The Rooftop Pool at Andaz Hotel in Los Angeles
At this pool, you can get lost in the view which overlooks the Hollywood Hills and downtown LA. Set high in the hills, it can claim the tile of the highest rooftop pool in Los Angeles.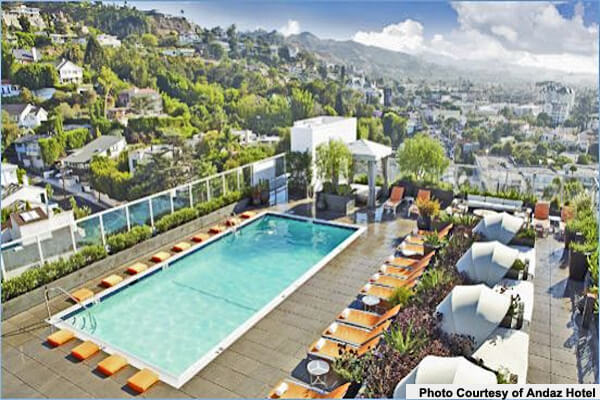 In addition to hosting wild Hollywood parties when the lights go down, this serene spot is also home to morning yoga classes – with a view!
Rooftop Pool at The London West Hollywood in Beverly Hills
Much like the previous pool we looked at, this pool is perched at the top of a luxury California hotel. With panoramic views of L.A., this rooftop pool creates the perfect atmosphere with private luxury cabanas, firepits and cozy couches.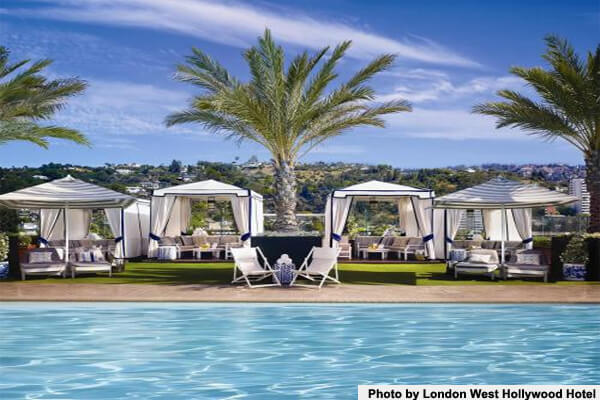 If hunger creeps up on you, order your lunch in the cabana at the Rooftop Restaurant by Gordon Ramsey. Yum!
Hotel Del Coronado's Beach Village Main Pool in Coronado
The Beach Village Main Pool offers beautiful ocean views and is always lively with family activity. One of several pools on the enormous property, the Main Pool flanks the Beach Village at Del Beach.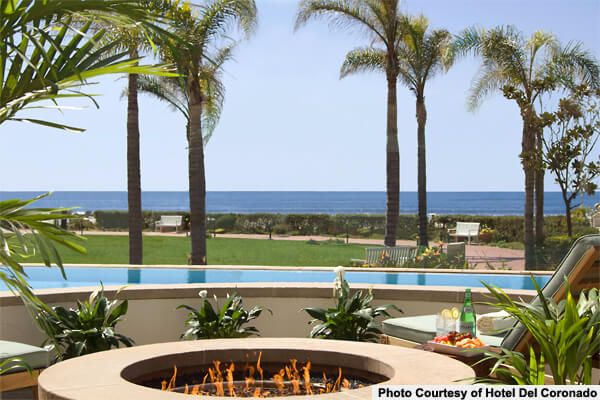 Much larger than it looks in this picture, the 200,000 gallon pool is wrapped by 112 lounge chairs at the ready, and 12 private cabanas.
Fountain Pool at Disney's Grand Californian Hotel in Anaheim
Redwood Pool at Disney's Grand Californian Hotel in Anaheim
Our number seven and eight spots both can be found at Disney's Grand Californian Hotel in Anaheim, at Disneyland of course.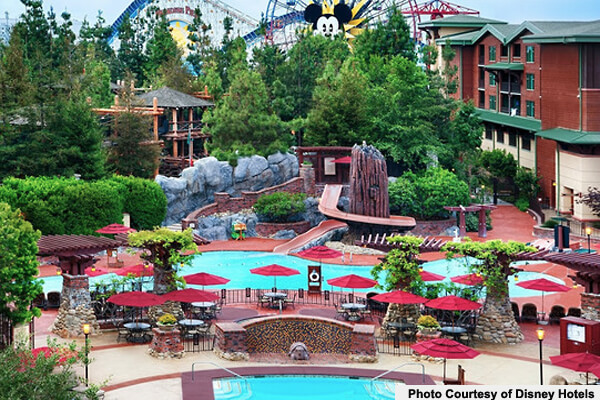 The Fountain Pool, glimpsing in the foreground is for those seeking relaxation, with a backdrop of mature trees, stone walls and giant boulders, it's perfect for guests who want a quiet day by the pool. The resort's Redwood pool brings the thrills and spills, with a 90′ water slide that curves around a Giant Redwood stump replica.
Cal-a-Vie Health Spa in Vista
Located in a secluded valley, Cal A Vie is a private forested enclave of 200 acres of rolling hills reminiscent of Mediterranean Italy.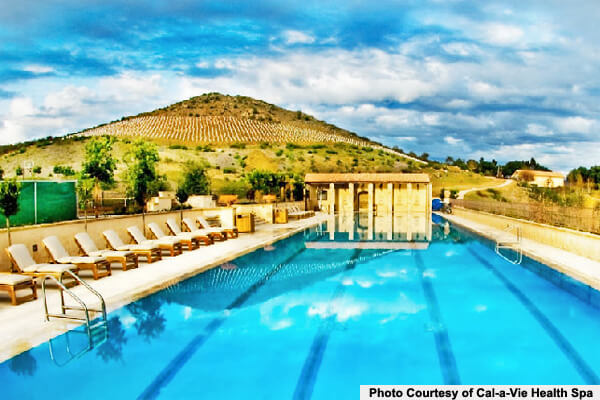 Cal-a-Vie Health Spa is located midway between LA and San Diego, where you go to get away it all. Programs for wellness, nutrition and and spa treatments in a Tuscany village setting, with two pools!
Mosaic Pool at Montage Laguna Beach
At the Mosaic pool, spectacular ocean views are the backdrop for the ultimate pool experience, and becomes a favorite guest meeting spot for sunsets.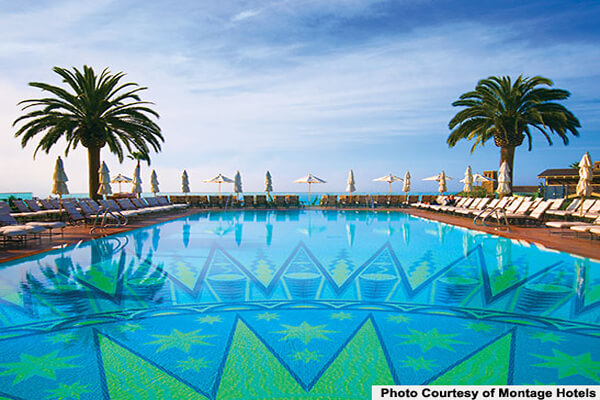 The mosaic tile pattern on the pool is very unique and really lights up at night. Cabana rental for the day is available, including fan, towels, sunscreen, fresh fruit and drinks and your own cabana boy!
Main Pool at Rancho Valencia Spa and Wellness
Southern California spa resort is muy tranquilo, and houses a full resort spa facility, villas, fine dining and events. 45 acres with horses in the Sand Dieguito valley.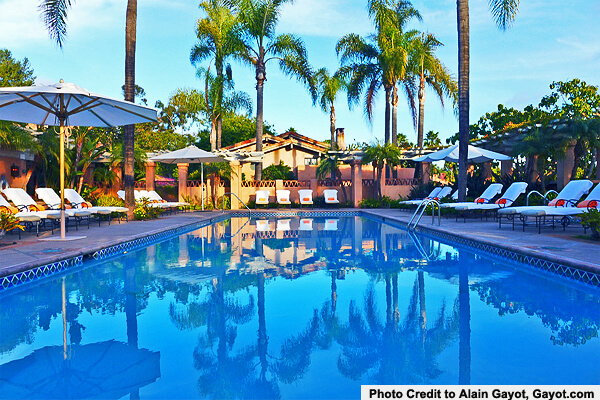 Rancho Valencia has two salt pools for popular water workout classes and fun volleyball games, but most of the time are quiet for for lounging or swimming laps.
Indigo Pool at Ojai Valley Inn and Spa in Ojai
With a stunning backdrop, the newly remodeled Indigo Pool offers the perfect place to relax well into the evening. One of 4 pools at the Ojai Valley Resort that guests can use.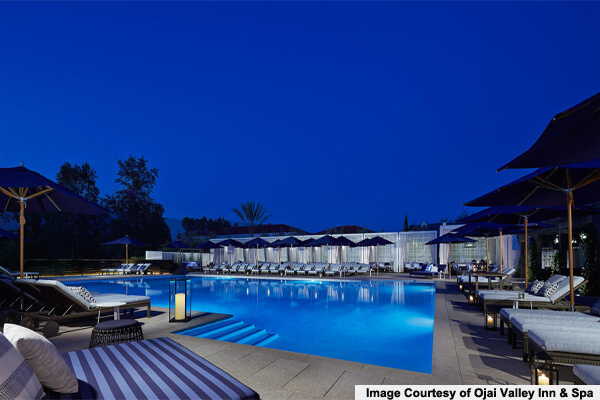 The main pool features 8 newly redesigned cabanas with cool lounge furniture and a personal pool butler to cater to your every whim. It could be your best day at the pool ever!
Cielo Pool at Terranea in Rancho Palos Verdes
Stunning views and exotic drink specials keep the days cool, while the poolside fire pit heats up the night at Cielo Point. Designed with a chic atmosphere in mind, this adult setting is for ages 18 and older.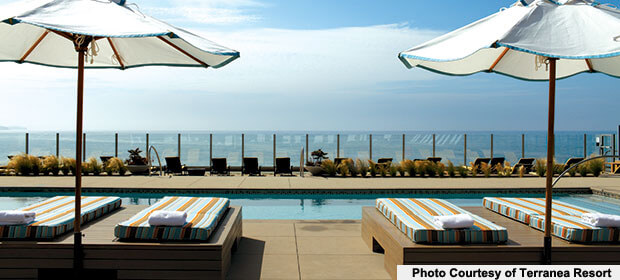 Vista Pool at Terranea in Rancho Palos Verdes
2015 saw the opening of the Terranea resorts 4th swimming pool, the Vista Pool, open to resort guests over 13 yrs. The saltwater pool and hot tub offer panoramic views of the Pacific Ocean while being close to all the resort fun.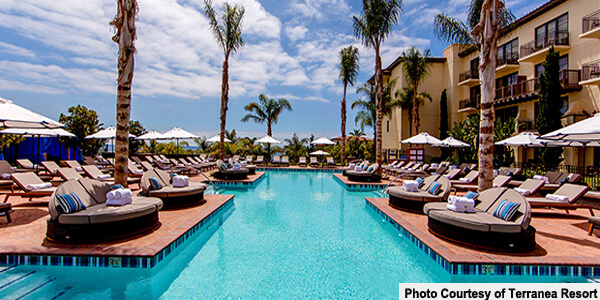 Resort Jungle Pool at Four Seasons in Santa Barbara
Santa Barbara California is host to a mild climate all year long, with warm breezes, few clouds and bright sunshine, thanks to the buffer from the Santa Ynez mountains.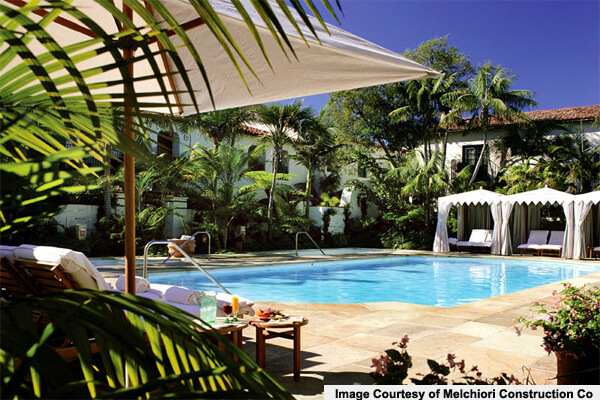 Guests to the California Riviera soak up the sun around this Jungle themed swimming pool. Authentic Kentia palms and Australian tree ferns, this exotic hand-tiled pool features underwater music.
Pools at Fairmont Grand Del Mar in San Diego
San Diego is a popular spot for vacationers, because it's one of the few spots in California with warm ocean water swimming temperatures. But even if you stay out of the ocean, the Fairmont Grand Del Mar's has four heated pools.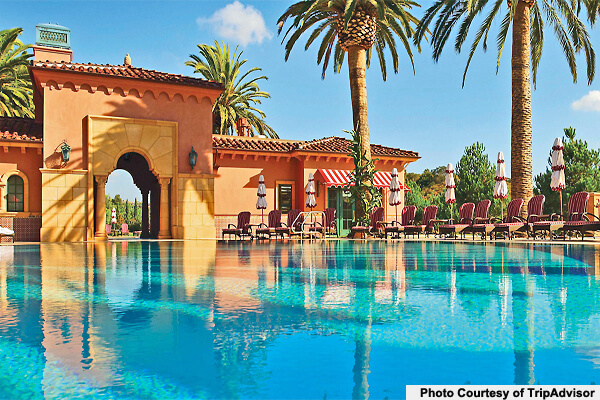 Pools with infinity edges, underwater sound systems, private pool cabanas and a swim-up bar with cool cocktails make spending a day at this pool quite decadent!
Surf and Sand Resort in Laguna Beach
For decades the Surf & Sand pool has been popular draw on Laguna Beach for couples and families.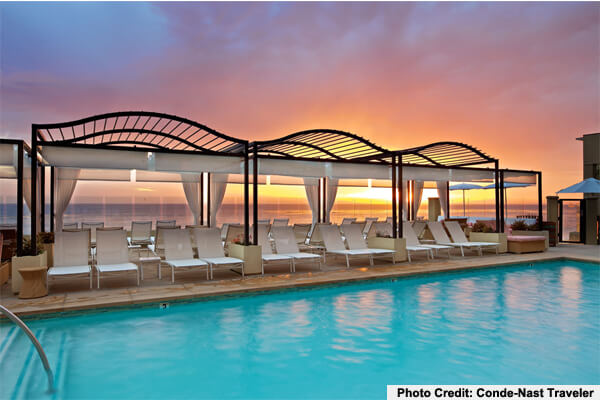 Completely renovated in 2010, this Laguna Beach hotel pool took on a modern feel with wave inspired cabanas, cozy chaises and a poolside bar. This pool may be small, but it's got style, and location!
The Pool at Ritz-Carlton in Rancho Mirage
An oasis sits high atop a bluff where you can see as far as the imagination will allow, The Ritz-Carlton Rancho Mirage brings casual elegance to the forefront.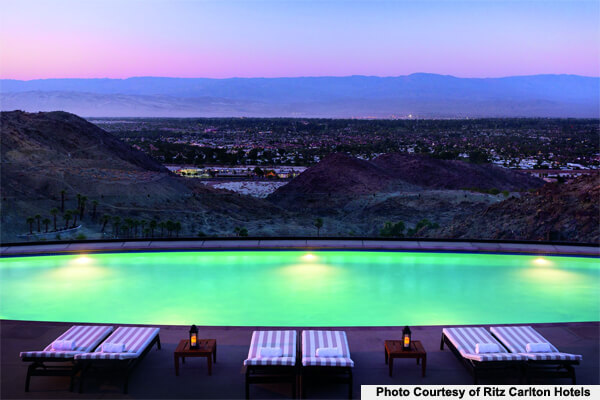 This is one of several pools on the property, from huge pools the size of a football, to more intimate swimming pools, all done in classic Ritz style.
Rancho Bernardo Inn
The award-winning Spa at Rancho Bernardo features an outdoor spa garden and patio area with spa treatment casitas.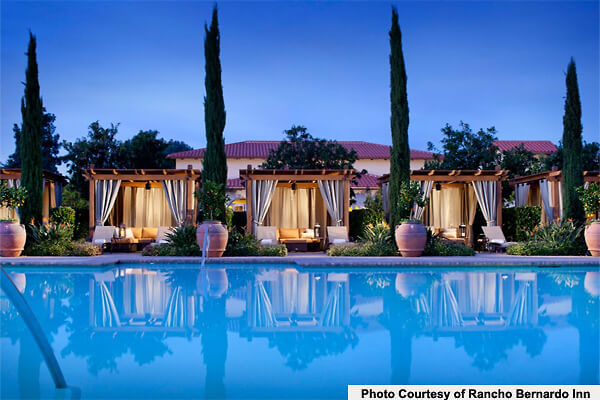 A salt water pool is nestled in the garden area and features seven private cabanas. In 2008, readers of Condé Nast Traveler voted the Rancho Bernardo the top resort spa in North America.
Family Pool at the Park Hyatt Aviara Resort in Carlsbad
Stylish blue tile pool with a popular night pool light show is filled day and night with vacationers and weekend get away-ers.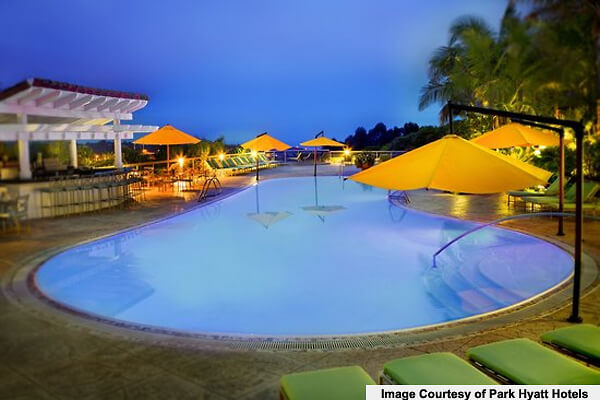 There are other "adult" pools at the Aviara Resort, but the Family pool allows all ages. Lots of games to keep active kids happy, allowing mom and dad to relax.
The Pools at the Bacara Resort & Spa in Santa Barbara
Situated on 78 acres directly on the Pacific Ocean, Bacara Resort is the only true beachfront hotel in Santa Barbara, CA.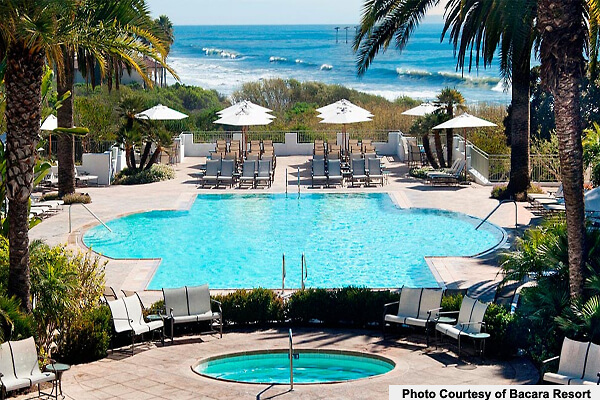 Both pools at the Mediterranean style resort are heated and have salt water chlorine systems. Oh, and both pools have stunning ocean views.
Mission Bay Spa and Marina Pool in San Diego
How about a giant corkscrew water slide ride into a splashy lagoon-style pool? If that sounds like fun to you, check this out ~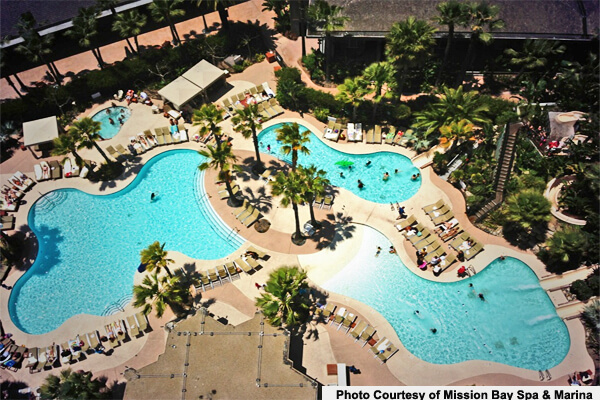 With three free-form, lagoon shaped pools and three exhilarating water slides, the pools at Mission Bay can bring out your inner child!
Dive in Theater Pool at The Pearl in San Diego
Retro mid-century modern San Diego hotelier features an oyster shaped pool that hosts a Dive-in Theater every Wednesday night.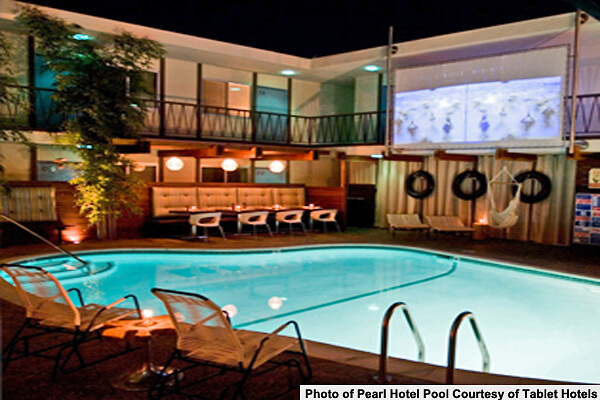 The David Hockney Pool at the Hollywood Roosevelt in Los Angeles
The artist David Hockney was commissioned to paint this pool with an abstract design, so it gave it his well known swirls and whirls.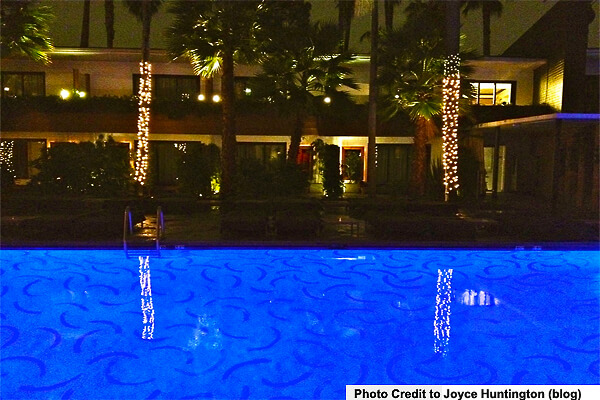 Surrounded by lush foliage, this pool plays host to Hollywood's in-crowd both night and day with large pool parties and small get togethers.
Pool at Annenberg Beach House in Santa Monica
The last pool on our list is actually home to both a state beach and a public pool. It's one pool that I could actually get into!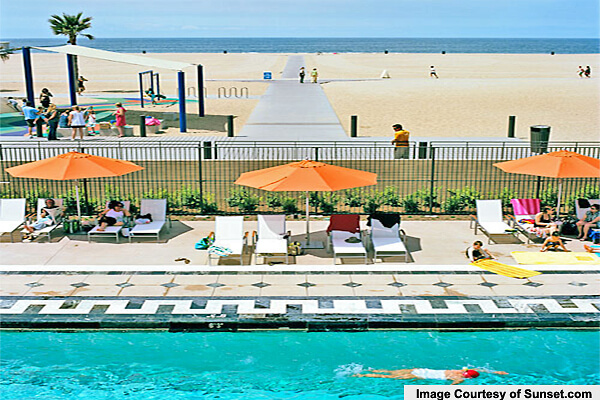 Originally a private house belonging to actress Marion Davies, this oceanfront site has spectacular views, a marble pool deck and expansive pool house.
---
And that's it – which California resort pool is your favorite? Have you been to any of these 25 amazing California pools? Leave a Reply!


Dana Katz
InTheSwim Staff Blogger