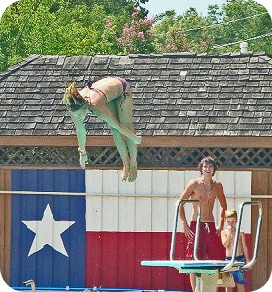 As a follow-up to my post about the 25 most amazing pools in California, today we drool over some of the best pools in Texas.
In Texas, there's over half a million inground pools installed, and the state is home to many highly regarded pool builders.
---
1. Largest residential pool in the world! (Kuykendall Pools)
In Texas, everything's bigger. Let's start with the biggest backyard pool, not only in Texas but the whole planet! Half a million gallons of water, lazy river and a 22 person hot tub.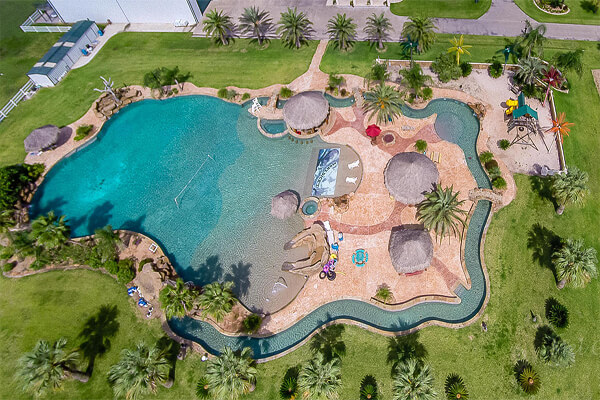 2. Stones and Palm Trees  (Sunset Pools)
This large pool in Katy, Tx has stepping stones leading to the spa, coves and grottoes and mature palm trees to lend a natural feel.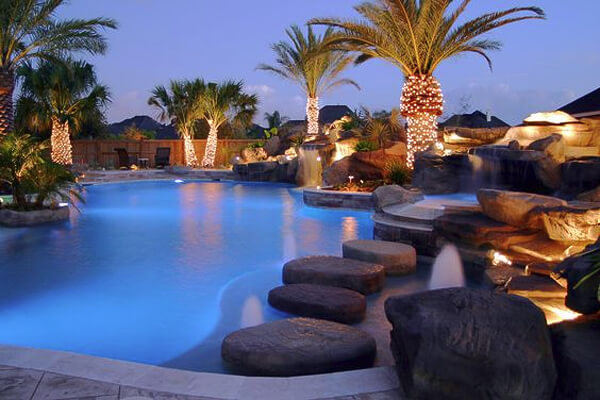 3. Nighttime Escape (Cody Pools)
An outdoor fireplace and fire features make cool evenings by the pool cozy. This Austin, Texas pool also sports a tanning bench, stools and a spa overflowing into the pool.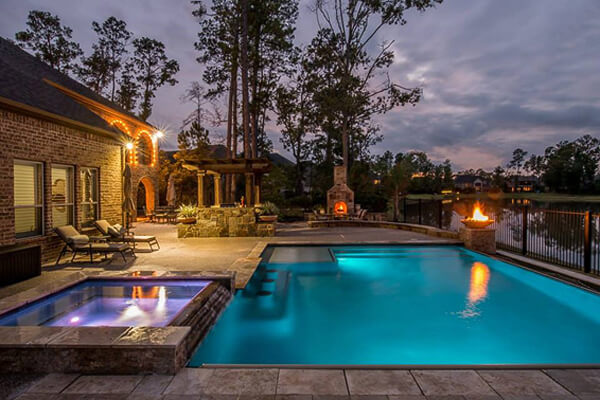 Texas has a mild climate, and many areas can support lush tropical foliage such as palms and banana. Add rich stonework, waterfalls and a beach front entry for a Jungle pool.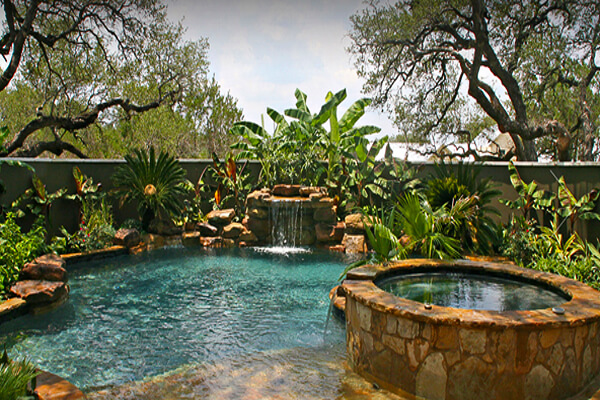 When you have a view like this, placing a pool between the house and a vista just makes sense. Fire bowls and deck jets, with a shallow tanning bench makes a great spot to relax.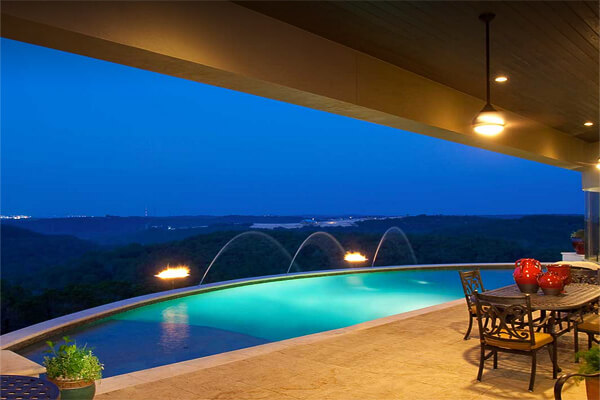 Texas has hundreds of miles of coastline, and thousands of miles of tidal shores, why not bring the beach home with a beach front entry?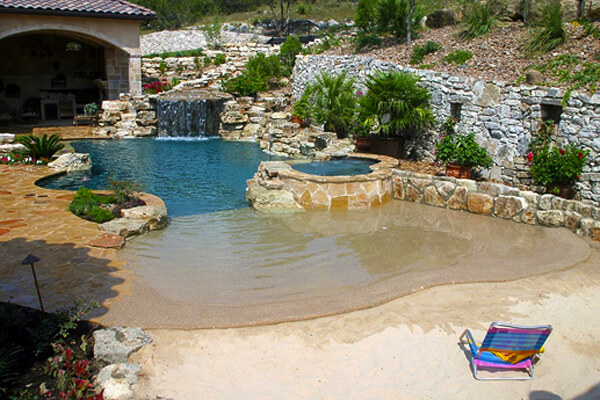 An infinity edge pool has no edge on the far side, to enhance the view beyond. Sunset reflects from the horizon and into the home.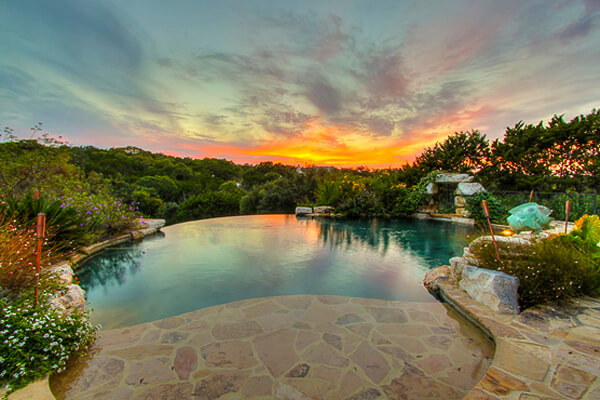 If your tastes are more formal, this Roman style pool with raised fountains and hot tub pavilion may appeal to you.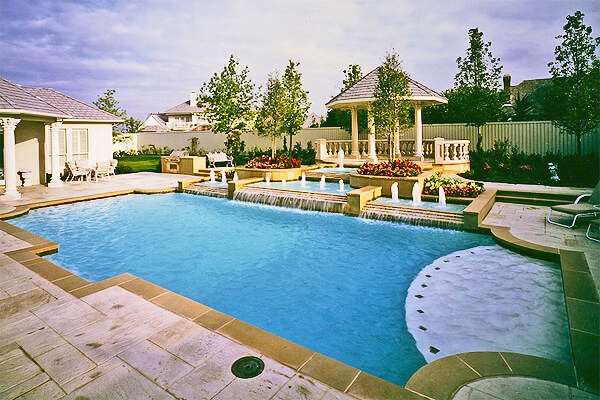 Another classic Roman design using a Rainfall water feature, flanked by a Sheer Descent® waterfall and spa with removable fountain jet.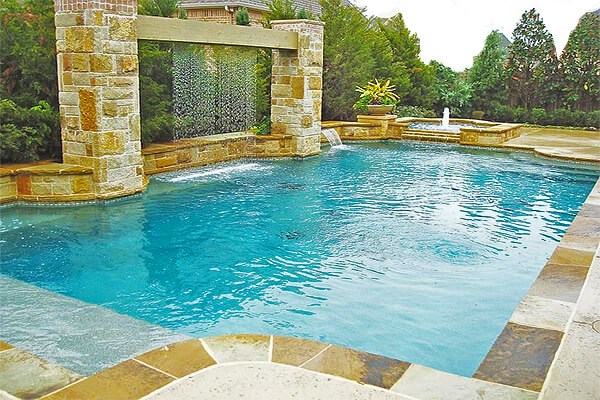 If you love the sound of falling water, this Texas pool has 9 kinds of water falling into an upper basin, the pool, and a lower basin.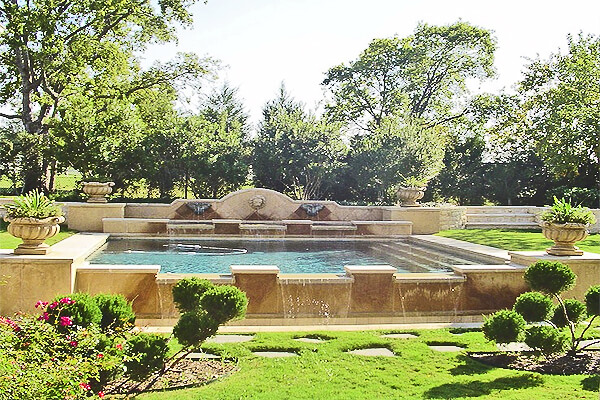 11. Mountain Lake with Infinity Edge (Riverbend Sandler)
Recapture your youth of swimming in many of the natural swimming holes in Texas, and build your own backyard swimmin' hole!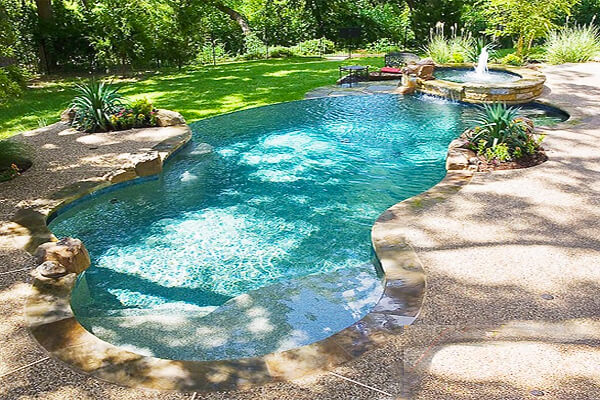 A Lazy River has enough water flowing through it to move you around the course, under the waterfall bridge, and back to the main pool.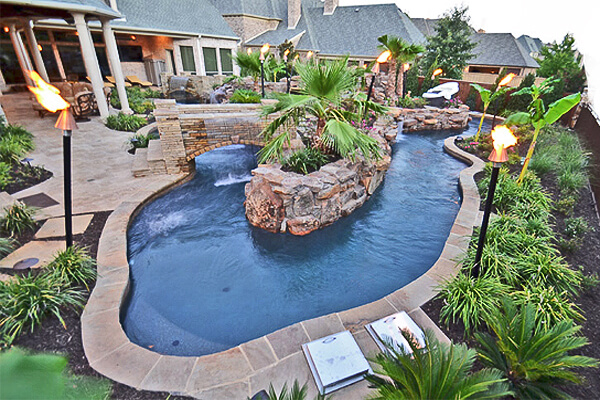 13. Upper Pool – Lower Pool (Claffey Pools)
Why build just one pool when you can have two? Upper and lower pools take advantage of the natural slope of the backyard.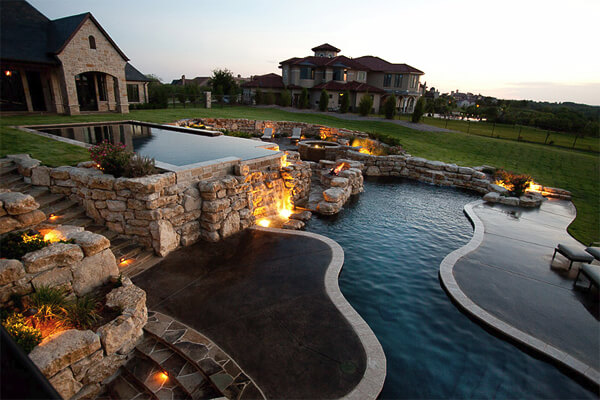 14. Nighttime Nirvana (Regal Pools)
With careful planning, LED lighting can bathe a pool in cool and hot colors. Couple with fire and water features for full effect.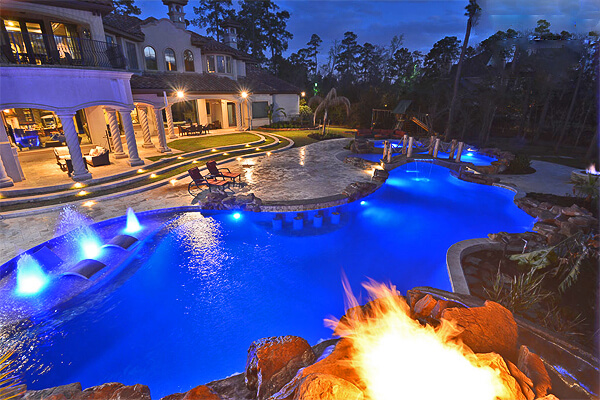 15. Waterside Retreat (Regal Pools)
Overlooking Galveston Bay, this Texas pool has understated appeal, deferring to the vista beyond. Perfect spot for an Infinity edge.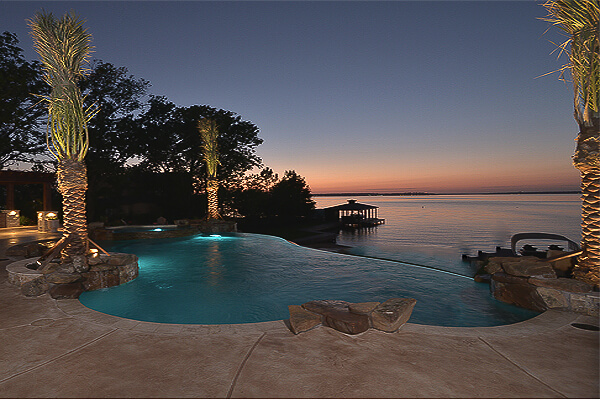 10 More Amazing Texas Pools…
16. Pool with a Bridge (Regal Pools)
Pool too big to walk around? Take the foot path bridge to the outdoor kitchen, or use it for pull-up exercises. Another great rock waterfall.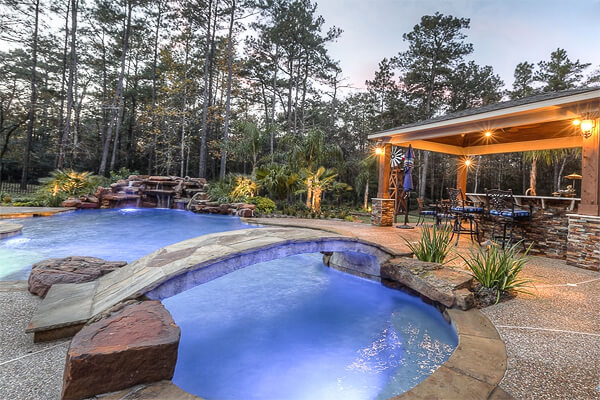 This Texas pool has a 70 ft long water park style slide built into the hillside on this large, but shallow backyard pool.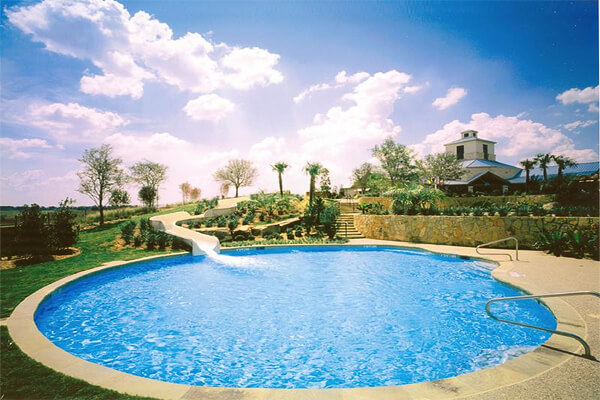 18. Custom Backyard Waterfall Pool (Robertson Pools)
Another shining example of using rock waterfalls on the edge of a pool, and a cute pair of water spouting dolphins!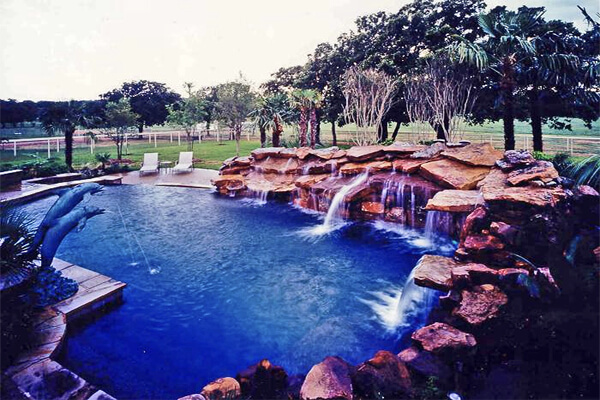 Here's a pool that has it all, including an island which houses a spa, waterfall and planting areas, accessed by a quaint little foot bridge.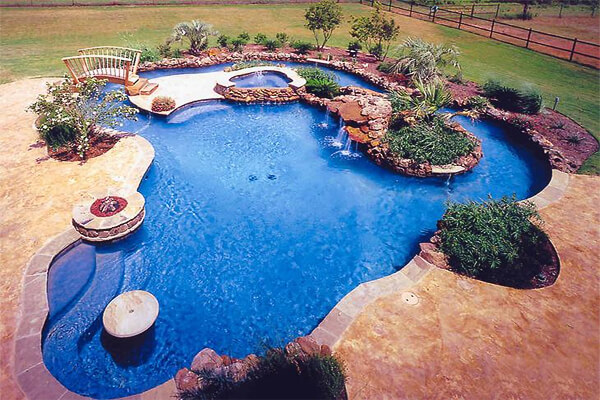 With fountains, fire and falls and many other features, this Texas swimming pool is fully loaded with all the amenities.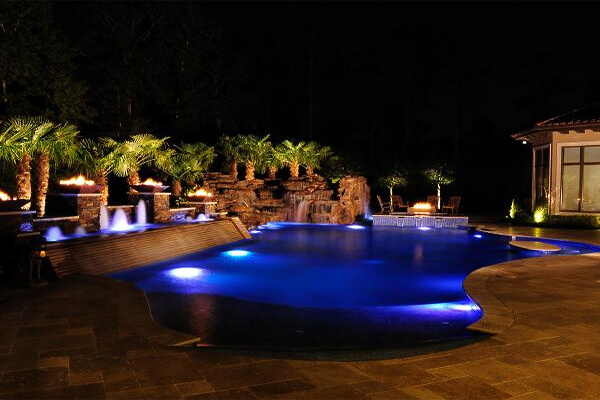 Another pool with an island with fire conversation pit and patio lounge chairs. Super slide wraps around the lighted coves and grottoes.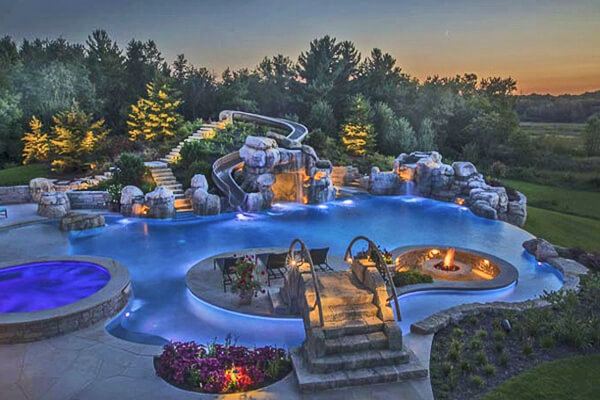 22. Infinity Edge Pool Over Water (Puryear Pools)
Zero edge spa and negative edge pool blends perfectly into Grapevine Lake, just north of the Dallas / Ft. Worth area.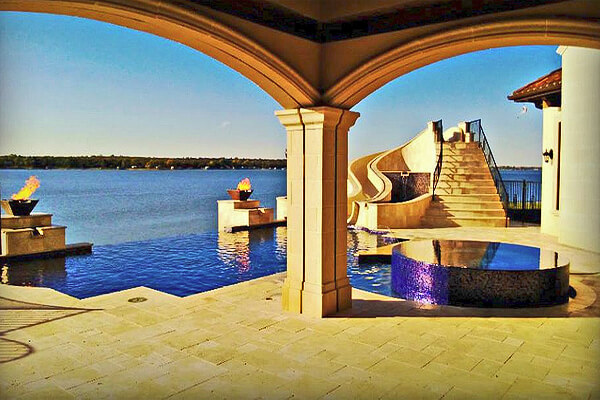 23. Double Level Waterfall Pool (Texas Pools)
If you're going to have an infinity pool, why not enlarge the catch basin into a lower pool and second patio seating area?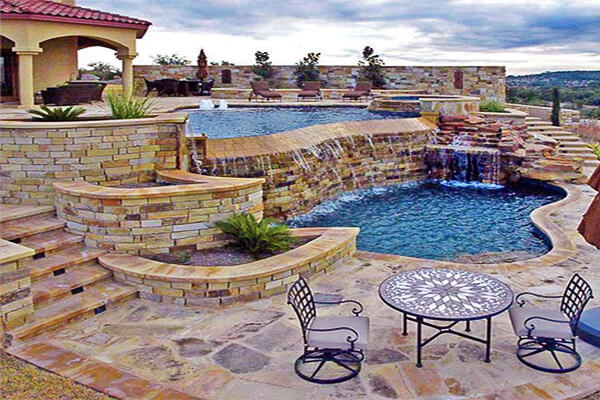 24. Marriot Marquis Rooftop Pool (Morris Architects)
Coming soon to downtown Houston, the largest rooftop pool ever built, and in the shape of Texas, too!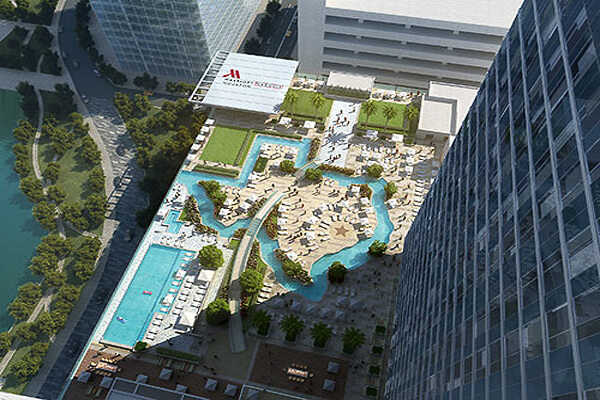 25. Texas Pool at Six Flags Fiesta
And for the award for the largest pool in the shape of Texas, goes to Six Flags in San Antonio with their half million gallon pool.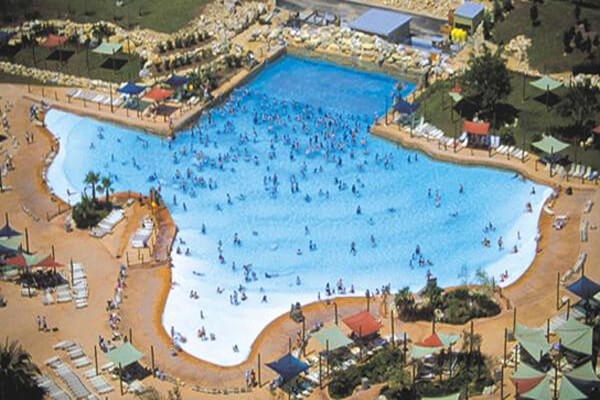 ---
I hope you enjoyed this look at our list of the most amazing pools in Texas! Should be about time to start enjoying summer in the Lone Star state, things heat up early down there!


Dana Katz
In The Swim Staff Blogger