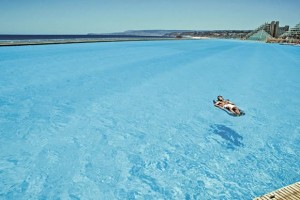 When presented with the opportunity to combine a personal hobby and my unique profession, I have to admit, I was a bit intimidated. Nonetheless like a karaoke addict trapped in Tokyo's version of a Nashville sing-along, I just couldn't help myself. But what would I write for my first plog (pool blog)?
I could take the high road and write about pool safety and drowning prevention. Finally my voice would have a purpose and potentially save lives. Too deep for my first attempt at this I'm afraid, although I promise to re-visit this topic after some practice, and research.
I could write about the benefits of proper pool chemistry. Ah yes, an in depth discussion describing in detail how chloramines are neutralized while acids and bases combine to form carbon dioxide and water. Whoa! That was close! Glad I didn't go there.
I know, let's talk about anti-entrapment devices and the ever popular topic of evisceration. OK, so maybe not.
Let's face it; people own swimming pools because of the fun and recreation that they provide for their friends and family. Plus it's a really good way to one up the neighbors that are stuck running through the sprinkler or huddling in a baby pool on those 95 degree days with 100% humidity. So that's what I think I'm going to write about this time.
This pool blog post is dedicated to reminding us all of why we have a pool in the first place. For some of us, it was a conscious decision, we scrimped and saved and finally against all conventional wisdom we took the plunge (pun intended) and bought the family a pool. Others, inherited this aquatic backyard blessing and all the wondrous science experiments that come with it. However you ended up with your pool, my hunch is you stick with it because of the entertainment value that it brings. Here's a couple of easy and inexpensive ideas to increase the entertainment value of your private pool paradise.
First of all, the right floating pool lounger makes all the difference. Don't be cheap! $9 inflatable fake air mattresses won't do the trick. Find a float that supports your body comfortably while allowing the cool of the pool to keep the summer sizzle at bay. Ensolite foam rubber floats, or sling style with pontoon style floats are amongst the more popular. If you're a tanning enthusiast, find a multifunctional float that allows for both lounging and tanning. And oh yeah, cup holders are key! There's a good reason we have them in cars, on chairs, and even riding lawn mowers; WE LOVE OUR CUP HOLDERS and we use them! Whether for a tall glass of lemonade, or a refreshing splash of "Uncle Jim's Rum Flavored Hunch Punch" you'll be glad that you have a secure home for your favorite poolside beverage.
Second, the pool is NOT just for the kids. OK, so they might put it to better use that we do, but that doesn't mean that we don't have our own rights and entitlements to aquatic ecstasy. Adding aftermarket pool lighting, pool fountains, and simple yet elegant embellishments can transform the daytime neighborhood kiddie hangout, to your own personal evening oasis. These simple additions can add interest and elegance, perfect for entertaining or taking an evening dip. And here's the secret, if you're bound and determined to let the kids' own the pool, they'll love it too making the entire swimming experience that much more enjoyable for all.
Finally, don't be afraid to have fun with your pool. You work hard, you deserve it! Add games and toys that the entire family can enjoy. From the simplest of dive sticks and submersible toys, to table tennis and inflatables with mounted squirt guns, there are even games that your adult friends can come over and enjoy. A floating version of beer pong comes to mind. Whatever your passion, there are activities that you can incorporate into your pool that will increase your enjoyment of your pool tenfold.
These suggestions are merely the tip of the ice berg and believe me there are small investments that can exponentially increase the fun you have with your pool. From the tightest of budgets, to the most extreme pool slides, how much fun you have with your pool is up to you. Just remember why you were excited to be a pool owner in the first place and start exploring. I'm certain you'll find something that not only brings the fun back, but makes taking care of your pool a little less painful.
Until next time, swim well my friends.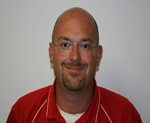 Tom Aiken
InTheSwim Staff Blogger