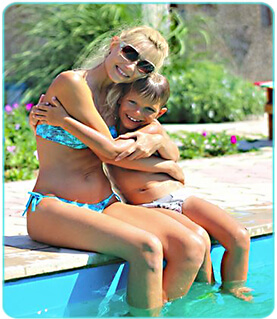 It's important to keep in mind several pool safety practices, especially if children are present in your home. Children aged 1-4 have the highest risk of drowning, according to Centers for Disease Control and Prevention.
Additionally, the majority of accidents occur in home swimming pools.Take the necessary precautions to allow your family to safely enjoy the pool.
Start with Basic Barriers

The barrier that surrounds your pool is the best line of defense for pool safety. A pool fence should be at least four feet tall, non-climbable, with self-closing, self-latching gates, and latches that are above the reach of children. Be sure you have the right type of inground pool fencing.
The best pool fence will completely separate the pool from the house. Consider pool barriers that have no handholds or footholds, since these can be used by a child to climb over the fence. In addition to pool fencing, safety covers can also be used as an effective barrier for inground pools and spas.
Install a Second Layer of Protection
Technology has improved many aspects of our lives, including pool safety. A pool alarm offers a second layer of protection; in addition to a sturdy pool fence. Alarms can be installed on windows, sliding glass doors, frame doors and gates that lead to the pool area.
Wearable alarms such as Safety Turtle are worn by children (or pets!) and sound an in-house alarm if submerged. If you have young children, a pool alarm is must-add safety feature. Pool alarms also have features like a low battery indicator, auto-reset and portability for travel to other water venues.
Establish Pool Safety Rules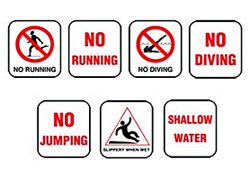 One of the best methods to avoid accidental drownings is to talk to your children about water safety. Pool rules include no running, no diving in the shallow end, no riding toys by the pool and no swimming without an adult present.
Display safety signage in an area that is highly visible, such as the pool entrance. Pool safety signs really do work! Especially when you speak to your children about the reasons for the rules and stress that safety comes first.
Consider Survival Swimming Lessons
The American Academy of Pediatrics reinforces its recommendation that children over the age of four should learn how to swim. In their recent updated guidelines they mention that swimming classes for younger children are a good idea.
Pay attention to a child's emotional development, physical ability and willingness to follow instructions to determine if her or she is ready for swimming lessons, says the AAP.
Keep in mind that the APP continues to discourage swimming lessons for children under 1 year of age. However, courses like the Infant Self-Rescue program (ISR) teach children how to rescue themselves from drowning using floating and breathing techniques.
Maintain a Safe Pool Area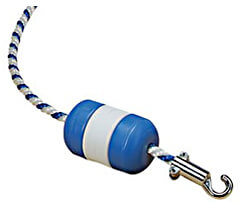 Children are susceptible to water-related accidents even when there's adult supervision or when they're playing on the other side of the pool fence. Lower the risks by making the entire pool area a safe area. In case of an emergency, keep lifesaving equipment nearby (a first aid kit, rescue buoys and a long pole).
Keep all pool chemicals locked in a child-proof locker or cabinet and cover the pool when not in use. Following pool safety precautions at all times, both in and out of the pool, is the only way to successfully prevent water-related accidents.
Toodles!


Sheryl Sollis
InTheSwim Staff Blogger