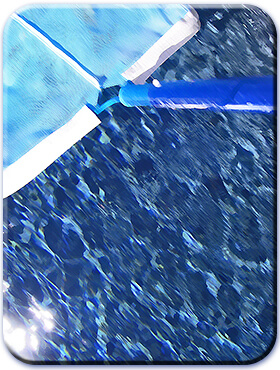 If your pool is in the hot southern or western climates, temperatures are already reaching the 70's and higher, and the stores are already carrying swim suits for the new season.
It's not uncommon for pool care to slack off a bit during winter, when no one is using the pool, but now – it's time to get the pool ready for summer!
For northerners like myself it's definitely not summer, but down in southern parts of Florida, Louisiana, Texas, Arizona and California – pools are heating up this time of year!
Here's
5-steps

to get a sunbelt pool ready for summer!

1. Clean the Pool – If you use an automatic pool cleaner, hook it up, or break out the vacuum hose and vac head. Brushing the pool is often neglected, but is important in spring to remove film and dirt deposits too small to be seen.
The pool deck may need a power washing, or attention in some areas. Skimmers can be scrubbed with Comet or Bon Ami type of cleanser.

2. Balance the Chemistry – If you don't have a full water test kit, to check for chlorine, pH, Total Alkalinity, Calcium Hardness and Cyanuric Acid, you can buy one – or take a water sample down to your local pool store.
After making separate chemical additions, brush the pool and filter the water overnight, then recheck the levels again.

3. Clean the Filter – Backwashing your sand or DE filters, or removing the cartridges and spraying clean.
DE filters should have a twice per year thorough cleaning, by removing the grids, and spraying clean. If DE grids or Filter cartridges look stained, oily or crusty, soak overnight in our Filter Cleaner before reinstalling. Sand filters can be rejuvenated with the same cleaner, to remove oil and scale.

4. Shock the Pool – Now that we've manually removed most of the contaminants from the water by cleaning and filtering, and we've balanced the water, it's time to Oxidize!
Use a clean 5 gallon bucket filled with water, and pour in 1-2 lbs of shock per 10,000 gallons. Stir it with a clean rod or long handled wooden spoon for 1 minute, or until the granules have dissolved.
Pour it along the edge of the pool, making sure no undissolved granules fall into the pool or onto the deck. Run the filter continuously overnight.

5. Go shopping! – This is the fun part, buying pool supplies, gear and fun stuff for the new pool season. Take stock of what you have, so that you can buy what you need, and maybe a few things that you want.
Pool Chemicals: Like algaecides, balancers, clarifiers, enzymes, sanitizers, shock, stabilizer and test kit reagents or test strips.
Floats and Toys: New pool toys and games can keep kids occupied underwater for hours while you blissfully float on the surface!
Supplies or Parts: Like lubricants, DE powder, or parts for the skimmer,  pump, filter or pool cleaner. Poles, hoses, skim nets and pool brushes.
And of course don't forget to buy a new swim suit while you're at it! 😉


Jackie Wolski
InTheSwim Staff Blogger