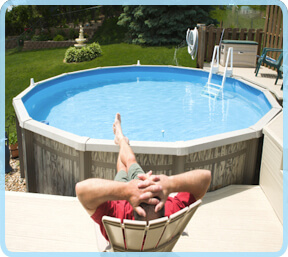 Spring is here and summer is right around the corner. Soon, kids will be out of school and ready to enjoy the summer weather!
Your family wants a swimming pool in the backyard, but there are so many options, where to begin?
Here's a Buyer's Guide for above ground pools, to help sort our amazing selection of cool pools.
Aboveground Pool Models
One of the main differences in above ground pool models is the wall height. 48″, 52″ or 54″ are available. 52″ walls are the most popular height nowadays, the shorter 48″ walls seem to be making their way out of the pool world.
Other differences stem from the materials that are used on the top rail or the upright posts. The thickness of the materials used in the walls, uprights and top rail also creates a price difference. More expensive pools are simply built with stronger materials, for a longer lifespan.
Here's a chart to help explain the differences between our aboveground pool models.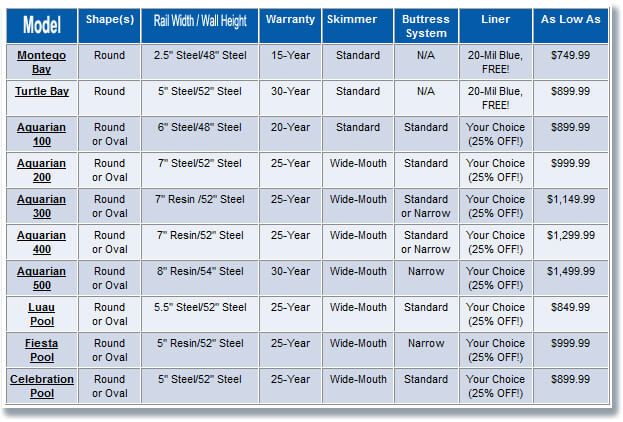 Planning for your Pool
When it comes to planning for a pool, there are a few points that need to be taken into consideration. The first is space and the size of your yard. Ask yourself how much space you are willing to use for the pool. Measure your backyard and draw your backyard to scale, and then draw in the pool. If you plan on building a deck around the pool, make sure to keep that in mind and how much space it is going require.
Secondly, consider how much money you can allot for a pool. Not only do you have to purchase the pool and the equipment to go along with it, it will cost money to fill up the pool, to run the equipment, to maintain the pool. Not to mention the initial installation, if you don't do this yourself.
Lastly, keep in mind that some towns or cities may require permits to have a pool built. Check the website of your local building and zoning department, or call them to inquire about permits, setbacks, fencing and any other restrictions that may exist. Take your time, don't rush through the process – and you'll avoid any unpleasant surprises.

Whether you are a first time buyer or looking to replace your existing pool, we have a great, interactive Above Ground Pool Builder on our website! There are two initial options: replacement pools without equipment, or complete aboveground pool packages.
With each option, we offer for a limited time 25% off all other items purchased with the pool, not including the pool itself.
What I want to do in the next section is walk through our 5-step above ground pool builder to give you an idea of the steps involved. I'll select two of my favorite pool models, first the Aquarian, followed by the Luau pool.
Aquarian Aboveground Pools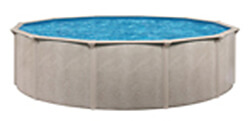 The Aquarian Series of pools that we sell are manufactured by Trevi and the Luau, Celebration, and Fiesta are by Wilbar – two of the finest aboveground pool manufacturers in America.
Steps
One & Two
Step 1 is to choose the pool you are interested in. The Aquarian 100 is a great reliable pool for a first time pool owner not looking to spend a ton of money. When I went out to my backyard to measure how much space I had, I decided that the 24' round would be a good choice for me. I already have a good fence around the yard – 6′ tall, non-climbable. I just have to adjust my fence gate to make it self-closing and self-latching.
Step

Three

The next step is to choose a liner. We offer a basic, solid blue liner along with liners that have a pattern. Some patterns have the option to pick a 20 or 25 gauge liner. These are both reliable liners, but the main difference is going to be the warranty on the liners and the thickness. The higher the gauge, the more puncture resistant the liner will be, and the longer it will stand up to sun and chemicals.
Step
Four
In this step, you will need to determine what equipment package you are interested in which means the type of filter you'd like. You'll see listed the advantages and disadvantages of each filter type. I am looking for something with lower maintenance but fairly good filtration quality, so I selected the cartridge filter.
With each aboveground pool package, the price includes a ladder, vacuum hose, vacuum head, vacuum pole, skimmer net, thermometer, and a start-up chemical kit including chlorine, pool shock, algaecide, stain away, and test strips.
Step
Five
Here, you will be able to review your pool selection. I've selected the 24' round Aquarian 100 for $949, the 25-gauge boulder swirl liner for $202, and the equipment package for $787.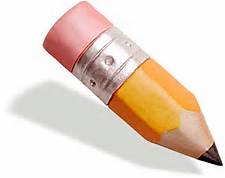 This gives me an order total of $1,939. Just to give you an idea of the savings, the accessory kit and liner before the 25% off was $1,318, saving me $330!
My point is, if you can, get all of your accessories now with the discount. The pool package will be enough to get your pool up and running. Keep in mind, if you want an automatic cleaner, a heater, winter cover or anything else, take advantage of the 25% discount – when purchased at the same time as the pool.
Luau Aboveground Pools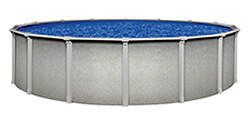 Since I priced out a Trevi pool, I am now going to walk through one of the Wilbar pools called the Luau.
Steps One & Two
I know which pool I want to order and have measured my backyard for space. I was hoping that I'd be able to get a 24' round pool, but because I want to have a deck, I am going to have to go with a smaller pool. Based on what I measured, I will be able to install a 18' pool in my backyard.
Steps
Three & Four

In this step, I need to select a liner, which in this case is the Rolling Wave 20 gauge pattern. The fourth step is to pick out an equipment package. I want to get the best pool filter type, so I have checked the option for Diatomaceous Earth (D.E).  As in the first example, the pool package will include the equipment; start up chemicals, ladder, etc.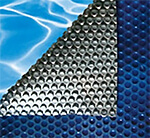 When I talked to my friends who are pool owners, they suggested that I get a liner shield which is going to protect my liner against rocks, roots, and other sharp objects that can go through a liner. This will also help protect the liner from mold and mildew. I also added a 12 mil solar cover to my cart to help retain my heat. And why not? I get 25% off that too!
Step
Five
This is the last step in the process. By purchasing a liner, solar cover, liner shield, and the accessory kit, I saved close to $374! My total for this pool configuration came out to $1,981.21.

The last pool that I am going to touch base on is the Aquarian 500. This is our Top of the Line pool with some distinct advantages over the other pools we carry.
The Aquarian Pool is an all resin pool that has 54" wall heights. All of the other pools we carry are either 48" or 52" tall. This pool features injection-molded resin, secure-lock system that locks the components together at each post for superior stability. This eliminates screws at the ground level, which could lead to corrosion.
The bottom line when buying a pool is to keep in mind that you need to plan ahead. Make sure that you have the space for your pool that you check with your local regulations. All of our pools are quality so when it comes down to it, buy what you like.
Although our 5-step Aboveground Pool Builder makes it so easy to choose – if you have any questions, do not hesitate to call!


Kristine Malak
InTheSwim Staff Blogger