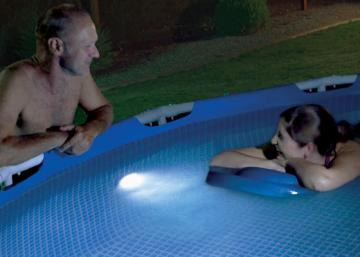 This blazing hot summer has had temperatures soaring in to the night, so hopefully you've had the chance to partake in some relaxing night swims.
A pool light is sometimes necessary, but often times just a nice way to make swimming at night even more enjoyable.
There are plenty of lighting options for above ground pools, and today I'm going to give you a quick breakdown of the features of our best-selling lights. Whether you're looking for the mobility and versatility of the remote controlled light, or the gentle, colorful glow of our floating solar lights, we have something that is sure to please.
Darkbuster Deluxe Pool Light
The Darkbuster can be installed in about 10 minutes through the existing pool return fitting. Connects to your wall return; pool water flows around the Darkbuster pool light, dispersing your filtered water.
Includes a 3,000 hour halogen bulb, pre-wired transformer with on/off switch, and 2 colored snap-on lenses.
Optional pressure cleaner adapter allows you to run your pool cleaner with the light.
Optional fountain attachment allows you to create a fountain of beautifully lit water in the pool with or without light.
Installation Instructions for the Nitelighter by SmartPool.
Nitelighter Pool Light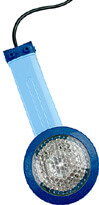 The Nitelighter pool light includes a hanging bracket to easily install over your pool wall. Slip it under the top rail of your aboveground pool and connect the cord to a grounded electrical outlet. No drilling the wall or lowering of the pool water is required and does not connect to a wall return.
Available in 35 watt, 50 watt or 100 watt models with a 2,000 hour halogen bulb. Chemical resistant light-dispersing lens will not fade and you can leave the Nitelighter in the pool all year round.
Includes 28 ft. cord and 12 volt transformer.
Light automatically shuts off after 3 hours.
Installation Instructions for the Nitelighter by SmartPool.
Pool Wall Light with Remote Control
Versatile Pool Wall Light can be installed in pools as well as on umbrellas, tents, or sheds, or sit on a table top. Features a magnetic installation that is appropriate for pool walls with a maximum thickness of .5mm (.02 in.). This light will work on soft-sided pools as well as steel wall pools. Light can also float on the pool's surface, facing up or down.
Features 2 brightness settings to create the perfect pool mood: bright (13 LED), and dim (5 LED).
Includes a remote control to turn the light on and off and switch between bright and dim settings.
Battery powered; requires 3 AA batteries (not included) for the light and 1 CR2032 button cell battery for the remote (included).
Installation instructions for the Pool Wall Light.
Intex LED Soft-Sided Pool Wall Light
The Intex wall light is a unique pool light with 2 halves, one with the LED bulb – placed inside the pool, and the other half on the outside of your soft-sided pool plugs into an outlet.
It uses magnetic technology to generate a low voltage current through your pool's sidewall that delivers more brightness than a 50-watt halogen pool light. The light in the pool never comes in direct contact with the power source.
For the magnet to work properly the unit must be installed on a PVC wall. Not suitable for above ground steel wall pools.
The light can be placed anywhere around the sidewall of the pool. The Intex wall light will float if magnetic contact is separated.
Includes a standard 120v plug with 12v transformer and 23 ft. power cord.
Floating Solar Pool Lights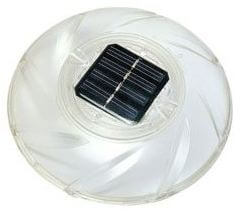 New Floating Solar Pool Light requires no electricity, uses free solar energy from the sun. Will provide an ambient glow (not a bright light) for up to 8 hours when fully charged.
Redesigned waterproof light uses the most advanced solar cells and a watertight case to protect the bulb. No battery case to fill with water. Floating solar lights can even withstand cannonballs!
Automatically alternates between 7 different light colors (green, red, blue, orange, purple, blue and white).
Includes a built-in base allowing the unit to also be placed on a tabletop or walkway.
Dimensions: 6.5 in. Diameter x 1.25 in. High.
Please visit our website for our complete collection of above ground pool lights. As always, if you have any questions, please give us a call at 1-800-288-7946!


Jackie Wolski
InTheSwim Staff Blogger