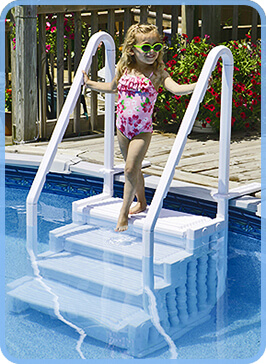 Above ground swimming pools come with a plethora of parts, equipment and supplies. Pool steps and ladders are important for easy and safe access.
Steps should restrict access to the pool, and remain stable as swimmers enter and exit the pool safely. Therefore, pool steps are one of the most important pieces of equipment for an aboveground swimming pool.
There are way too many pool steps and ladders to choose from (30!), and the choice may seem overwhelming at first, so let's break down this above ground pool step buyer's guide into two categories.
First we'll look at some steps and ladders for above ground swimming pools with pool decks – and then for pools without pool decks.
POOL STEPS FOR USE WITH POOL DECKS…
The Staircase Step for Above Ground Pools is a reliable and strong pool step. Provides safe entry into the pool, with slip resistant and highly visible gray tone step treads.
The Staircase is made to handle strong UV rays and comes with dual handrails. It will fit any 48 inch to 54 inch pool and reach decks up to 60 inches. Other features include: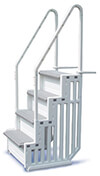 Easy snap-together installation for quick assembly
Strong enough to hold up to 400 pounds
Fill side supports with sand or pea gravel for ballast
Light Gray steps are easy to see through the water
The Easy-Incline Pool Ladder mates perfectly with a pool deck or dock. This is a lightweight ladder, but very sturdy with no shaking. Ladder style requires more climbing strength than pool steps shown above and below. Great secondary ladder for fully decked pools.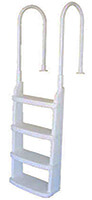 Gives swimmers easy access from the water
Sturdy and durable base, all Resin construction
High pitched rails have a classic style
Secure to any pool deck with plastic or aluminum flanges
The Deluxe In-Pool step ladder is our next in-pool ladder. Wide ladder treads support up to 300 pounds and is easy to climb. The strength of the Deluxe ladder holds it steady, no tipping or instability. Users find it strong and durable, and it fits deck heights from 44 to 60 inches high.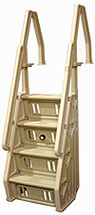 24″ deep with 8.5″ wide treads
300 lb weight capacity
Slim profile, 22 inches wide
Prevents entrapment
Non-Slip, wide steps
Easily mounts to decks, Snap-together assembly
The Evolution In-Pool above ground pool ladder is an option that provides a quick and easy method of installing into your pool deck. Economical ladder is safe for all ages. No sand or bricks needed to hold its weight – just fill it with water, adjust the rails and secure it to your pool deck. Other features include: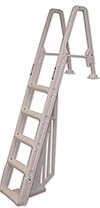 5 full treads, sturdy base
Capacity of 300 pounds
Anti-entrapment barrier
Attaches to decks up to 54 inches high
Snap-Lock treads to assemble quickly
Presenting the Heavy Duty In-Pool above ground ladder! This ladder – like the Evolution In-pool ladder, holds a capacity weight of 300 pounds, but the HD has wider treads and taller, reinforced handrails.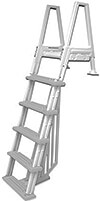 Fit and adjust onto any pool deck height between 46 and 56″
Flat treads for comfortable stepping and climbing
No sand needed to weight down, fills with water
Anti-entrapment barrier
Snap Lock Assembly
The Grand Entrance Steps is our flagship "wedding cake" pool step, and can be used on aboveground pools or in ground swimming pools.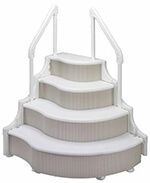 One of our strongest pool steps, they hold a maximum of 400 pounds at a time. The side panels can be filled with sand to keep the steps firm in the water without moving about. Dual safety handrails keep you safe and stable. The steps rise to the top of the pool, and are slip-resistant, extra wide and deep, which makes them a nice place to sit!
The Grand Entrance Steps are easy to install and can be coupled with an external ladder for pools with no deck.
The Mighty Step has a sturdy design sure to provide safety for all entering the pool. The double handrails provide ease of entering and exiting.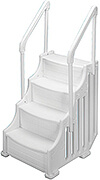 The Mighty Step is fantastic for pools that have flat bottoms. The installation is simple and remains strong in the water. You do not need a deck to utilize this pool ladder system. Because they are smaller than other ladders they do not take up space in the water and look nice.
The Above ground Curve Step System allows you to stay safe, while having a stylish entry system. Curve Step System Shown Below:
Holds up to 400 pounds
Enter and exit more safely with two handrails
Steps can be curved inward or outward
Easy to install; doesn't require hardware
Fill side panels with sand or pea gravel
Includes oversized deck mounting brackets
Adjustable base pads for slight floor angles
NO POOL DECK REQUIRED…
Moving on to steps and ladders that fit pools with no deck required –
Our Evolution A-frame pool ladder is the two-sided cousin to the Evolution ladder above. You should avoid using ladders that don't flip-up, or otherwise lockout users.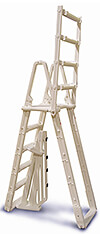 The Evolution's unique flip-up design makes it a safe pool ladder.
16″ steps, wide top platform
Fits pools of 48-54″ heights
Lockable flip-up safety ladder
Snap lock treads, minimal hardware
The Slide Lock A-Frame pool ladder is another safety ladder by VinylWorks; the outer ladder treads slide up and lock in place to prevent ladder use. 5 year warranty.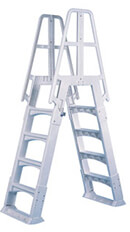 Fully adjustable height from 48-54″
Sturdy base prevents wobble
Holds up to 300 lbs
Slide-Lock ladder with lock included
One of our best pool steps is the Confer Pool Entry System. This durable double step allows swimmers of all ages to safety move in or out of the water.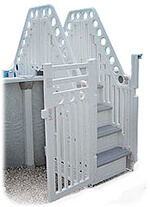 Also very safe as a pool barrier – gate self closes and latches, and can be padlocked. Fits snug over all pool heights. Overall height of this durable plastic step is 81 inches tall. Step treads measure 29″x8″, in non-skid, attractive and visible gray color.
Installation is easy for the Confer double entry system. In case you were interested – here's the step by step assembly and installation manual.
Another durable, strong and safe entry system is the Bridge Entry System. This set of steps comes with a strong 5 year warranty and strong pool safety barrier for kids and animals. Other features include: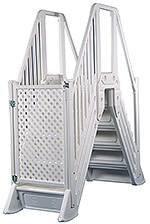 Total width of 32 inches
Self closing, self latching gate
300 pound capacity
Easy climbing angle
Quickly assembles together
For a unique set-up, the Roll Guard A-Frame Safety ladder is interesting because it comes with a locking, Rolling Guard safety barrier. This prevents use of the pool ladder without adult help. The Roll Guard covers up the ladder treads on the outside of the pool, making the ladder non-climbable.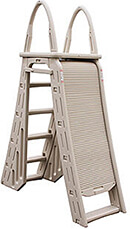 The Roll Guard is for pools with a maximum height of 56 inches. It is quick and easy to assemble and easy to remove for winter storage. It also takes up less room in the pool, so you still have lots of room for swimmers. No sand needed to hold it down – just fill up the side rails with water for ballast.
The Lockable roll-guard barrier comes with the lock included and has an extra large top platform. Neutral tone matches most pools and is super visible in the pool for kids or animals seeking an exit.
The last step I want to show you is the Safe and Secure – unique because this pool entry system can be used for pools without decks, but can also be separated and used if a deck is built. It comes with a padlock, ladder, gate and steps.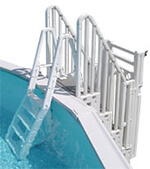 Self-closing Gate
In Pool ladder uses minimum space in pool
Can use Staircase step in place of ladder
Includes anti-entrapment barrier behind ladder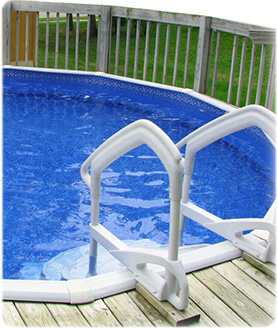 Swimming Pools come with many costs and attractive accessories. Pool owners sometimes have to make hard decisions on the best expenses to make.
Above ground pool step systems should be a mandatory accessory for all pools. They offer safe and easy pool entry and exit. For young children, elderly, or anyone, a solid step system can prove to be a smart buy for any pool.
I hope that our aboveground pool step buyers guide has helped you to navigate the nearly 30 steps and ladders we have to choose from!


Alex Malamos
InTheSwim Staff Blogger