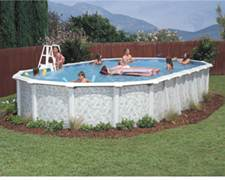 The arena of above ground pools has many options and may be a bit overwhelming when considering buying their first above ground swimming pool. All things said and done there are only three categories to align with your desired use of an aboveground pool.
I'll quickly take you through these considerations and get you many steps closer to a beautiful addition to your backyard; a pool that perfectly fits your family lifestyle and budget.
The Need
Let's first take a few steps back and really figure out what you're looking for in a aboveground pool. Do you want a pool that you can set up, fill and swim the same day or do you want something more permanent which you can enhance with beautiful landscaping or even surround with a wooden deck? Do you need something soft and small or something more solid that can hold up to heavy traffic and swimmer load for many years?  Do you want a pool that is soft-sided and easy to set up and take down or one that is built to endure the harsh elements and provide infinite durability? Each of these questions should also have a budget in mind. And remember – the higher the quality, the longer it will last. It's as easy as that.
These are questions you should ask and answer for yourself and your family before starting to shop for an above ground swimming pool. They will help you set a goal with the purchase and also keep you satisfied with your family's new swimming pool.
The Arena
As I mentioned before, there are three main categories for above ground swimming pools and they are: Easy-Set, Metal Frame, and Metal-Wall above ground pools.  Metal-wall aboveground pools are available with steel or aluminum walls. Within each of these categories, you will also have several options based on size, shape, color, and style.  This is why things can get a bit out of hand if you have not first selected which category best suits your family's intended use of the pool. It's easy to become over- whelmed by choices and lose sight of the intents and purposes of the pool.
Easy-Set Pools: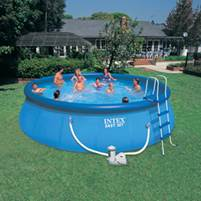 An Intex Easy-Set Pool has a very simple yet durable design. Its a shell of vinyl with an inflatable top ring. Once inflated, the pool is ready to be filled. While the pool is being filled, the weight and volume of the water begin to fill out, and the pool begins to take shape.
The best thing about Easy-Set pools is since they do not have a solid wall; a special ladder and filter-pump are required and included in the package. So, in other words – you have everything you will need for your entire pool all in one compact, affordable package. Easy-Set pools are also just as easy to take down. Say you need a pool for a last-minute BBQ party, but then need to use the area for different activities the following day – this is the perfect pool!
You can install the pool in the morning; have it ready for swimming in the evening; and then have it drained and out of the way by the next afternoon! If you keep it up the whole season, these pools should be drained and stowed during the winter months. If possible, keep them in warm storage to help maintain the elasticity of the vinyl.
Soft-sided Metal Frame Pools: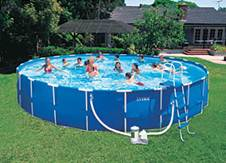 Intex Metal Frame pools are the next step up in durability and permanency and are also the most popular among aboveground pool owners. They feature a sturdy, weather-resistant metal frame that supports an extremely durable, puncture-resistant 3-ply liner. Like the easy-set pools, these also include a filter-pump and a durable ladder. They also include a ground cover, a pool cover and a maintenance kit.
Indeed, everything you need for a complete pool – straight out of the box! The set-up and tear-down of these pools is also quite easy, and can be ready for water in under an hour! Like the easy-set pools, it is recommended that these pools are drained and stowed during the winter months.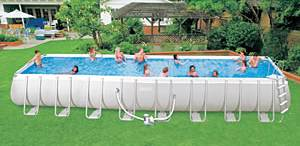 Another type of metal-frame pools is the Intex Ultra-Frame pool.  These are very similar to the metal frame pool above, but they are built for a heavier swimmer load and are a good bit more durable.
Permanent Pools:
These pools are the most durable and most permanent above ground pools on the market. They are built to survive harsh winters and don't need to be taken down at the end of each season. Since they are more permanent, they are definitely something that most pool owners dress up with some attractive landscaping or a beautiful wooden deck.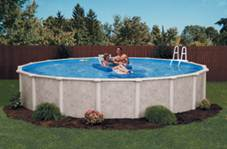 Aboveground pools come with walls of either aluminum or steel. The main difference between these two types of pools is that aluminum has a much higher strength-to-weight ratio than steel and the pools themselves are lighter in comparison to steel walled pools. Aluminum is not a metal that can rust; however, it does oxidize if not correctly anodized. That being said, steel pools tend to feel sturdier, although they really aren't – for practical purposes.
These pools are available in oval or round as well as a variety of colors and styles.  Because they are a more customizable pool, the filter and pump system is generally something that is purchased separately. That being said, a through-wall skimmer, and a choice of vinyl liner is usually included in the purchase.  While a ladder is generally not included with a steel-wall pool, aluminum-wall pools may have a ladder included in the package.
Since these pools are generally left out for the winter, you may need to consider what you need for to winterize your pool – if you live in the snowbelt. This will include things like a pool cover, cover air pillows, cover clips, closing chemicals, and other winterizing supplies. While it may seem that more will need to be done to care for these types of pools over the course of a year, they save on water and chemicals since you don't have to completely refill every opening season.
The Conclusion
Remember, before you look at everything as one huge decision; make sure to go through it systematically, keeping your family's needs and budget in mind. If you follow this simple guide, you are sure to be satisfied with your new above ground pool for many years to come!

Martin Ratchev
InTheSwim Staff Blogger