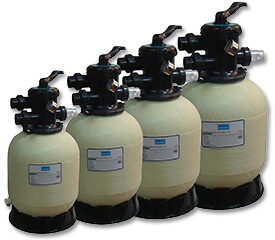 Let's face it, most aboveground pools come with sub-par filtration equipment.
Pool manufacturers offer dealers many filter options, to reduce the pool package cost by bundling it with a marginal filter system – small pump, and small filter.
Have you had trouble with algae, cloudy water or visible, particles in the water? Do you need to clean the pool filter almost weekly to maintain water flow rates? Does your filter have to run more than 12 hours daily to keep the water clear?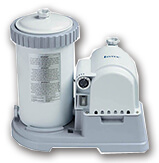 If you answered "Yes" to any of these questions, you may have an undersized filter, pump – or both. And if you have one of those 'combo' pump and filters, like those on portable pools – we need to talk strategy.
Evaluating Your Pump & Filter
There may be No Problem with your current filter system if:
You can go 3-5 weeks between cleanings
You can operate 12 hrs or less each day
Spring clean-up is fast. Clear water in 1-3 days
Algae or cloudy water is rare and quickly cleared up
Circulation is effective in keeping pool clean
Filtration can be dramatically improved by replacing the filter media, namely the filter cartridge or filter sand, but if the pump or filter is under-powered or undersized, the benefit will be short lived.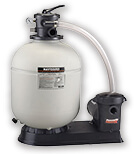 Pumps should not be overpowered and filters should not be undersized. Our aboveground pool filter systems are all matched with a perfectly sized pump. If you oversize the pump in relation to the filter, the filtration is less effective, and could cause damage.
If after reading this far you think you may have a problem with your aboveground pool filter or pump, read on…
Comparing Above Ground Pool Filter Systems
The first thing to consider is pool filter type – DE, sand or cartridge. Each has it's own distinct advantages and disadvantages:
DE filters are expensive to buy and maintain, but the best filtration.
Sand filters are easy to clean and durable, with mid-level filtration.
Cartridge filters are simple and easy to maintain, low-level filtration.
In comparing filters, size matters, and although DE offers the best filtration of all pool filter types, it would be better to have an oversized cartridge filter than an undersized DE filter.

The best strategy for choosing the right filter, is to first decide on filter type (DE, cart, sand), and then go out and buy the largest filter of that type that you can afford.
Stick with major manufacturers (Hayward, Pentair), if you want to have parts available for making future repairs to your filter or valve. There are many imported filter systems for aboveground pools available these days, but trying to get even a replacement o-ring can be a challenge.
Sizing Above Ground Pool Filter Systems

You have to know the number of gallons in your pool. If you don't know, or aren't sure, calculate it with this handy pool gallons chart for above ground pools.
All aboveground filter systems (pump and filter) will list the maximum gallon size that their filter system will perform adequately, in a perfect laboratory-like environment.
In the real world, the math doesn't work. Make sure you buy a filter that is rated for a pool much larger than your own.
The best strategy for sizing a pool filter for an aboveground pool is to find the filter size that most closely matches your pool size in gallons, then buy 1-2 sizes larger!
Installing an Above Ground Pool Filter System
This is the easy part ~ no strategy needed. Just mount the filter and pump to the base, and position it in place of your old equipment. Connect the incoming and returning hoses, prime the pump, plug it in and start filtering and circulating with vigor!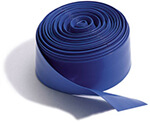 Sand filters will need new filter sand, or ZeoSand alternative, and DE filters will need to have DE filter powder added after each backwashing. You may also need a backwash hose to connect to the filter, if you are replacing a cartridge filter.
Just in time for summer! This season you can enjoy better water quality, reduced energy consumption and water loss with a larger, efficient pool filter system from In The Swim.


Jackie Wolski
InTheSwim Staff Blogger