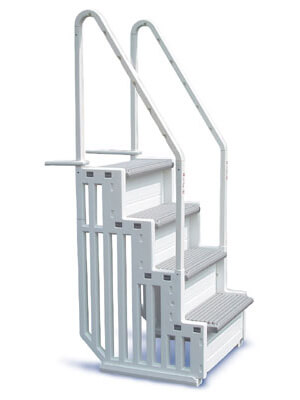 One of the most vital pieces of accessory equipment for your aboveground pool, your step or stair system serves as a means of entering and exiting the pool, but also should be a deterrent to unauthorized use.
If you've been using the small, wobbly A-frame ladder that came with your pool several years ago, perhaps it's time to step-up to a newer model. An aboveground step that's more stable and sturdy.
Modern aboveground pool stairs are built for form and function. Stylish, and sturdy, advances have also been made that make it easier to lock the ladder on the outside of the pool, to keep curious children from getting into the pool.
Let's take a look at the features and benefits of some of our aboveground pool steps.
Aboveground pools with a deck can use steps like the one pictured above. They sit right against the inside wall and the horizontal arms screw into the deck. For safety, please ensure that the steps leading up to your deck have a self-closing, self-latching gate, and a small padlock would be a good idea too.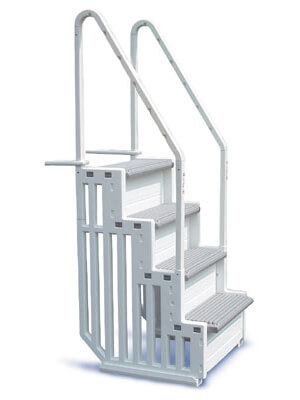 The Staircase Step
Grey, 28″ wide steps are easy to see
Thin profile uses up less of your pool area
No tools needed, snap together installation
3 year warranty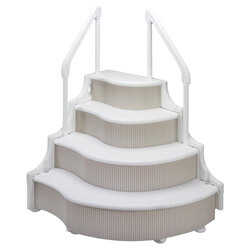 The Grand Entrance Step
Adjustable feet reduce liner wear, ensure level installation and allows for full water flow
Wide treads have a flattering curved design
Dual handrails for ease of use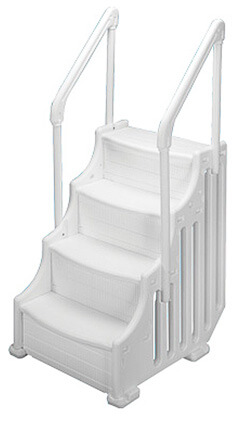 The Mighty Step in 30″ & 38″
Safe, non-skid treads and dual hand rails
Full water flow thru and under prevents algae
Easiest installation, assemble in just minutes
Side panels serve as ballasts, just fill with sand.
All of these aboveground pool steps support 400 lbs, ship FedEx, and are made of high density resin polymers for superior UV resistance. They fit flat bottomed pools, with wall heights from 48-54 inches, with arms to attach to your existing pool deck.
Aboveground pools without a deck will need to have a step or ladder on the outside of the pool, in addition to the steps on the inside of the pool. These outside steps should be in the locked position when the pool is not in use, to prevent small children from climbing into the pool, unsupervised.
Resin Side Deck with Steps and Gate
All Resin with Steel reinforcement channels
Safe and sturdy, locking ladder holds 300 lbs
Overhangs your pool top rail
Pre-Engineered for fast assembly
Available in curved models for round pools
Deluxe Step Entry System w/ Gate
Pre-drilled for optional in-pool light
Designed to meet strict local pool codes
Gate opens outward; self-close & self-latch
Sturdy design supports 300 lbs, 8×20″ steps
Thin profile only takes up 22″ inside pool
Roll Guard A-Frame Safety Ladder
Locking Roll Guard barrier blocks outside ladder treads when not in use
When unlocked, barrier rolls into a slot
Innovative function and eye-pleasing design
5″x18″ treads in a contemporary curved frame
5 year, limited pro-rated warranty
Ladder guard operates manually
Here's some additional information taken from our Help File FAQ's
Q: Do these steps stay in the pool all winter?
A: If you winterize the pool, remove the pool steps before closing.
Q: Are these pool steps heavy enough to stay in place?
A: Not by themselves, just fill the ballast container with sand or water.
Q: Do I need to use a Step Pad?
A: It is recommended, to protect your liner.
Q: Will the Deluxe or Roll Guard Step fit my 12″ wide top rail?
A: The top, horizontal rail? These will fit up to 14″ wide.
Q: Can I use these steps on my inground pool, or dished-out pool?
A: These pool steps are made for flat bottom pools, without slope and without curved wall to floor transitions. The Grand Entrance step has a version made for inground pools.
Well then, I hope that I've made your aboveground pool step shopping easier! If you have any questions about our pool steps for your particular pool, send an email to Dr. Pool, or call any one of our aboveground pool step experts at 800-288-7946!

Davy Merino
InTheSwim Blog Editor