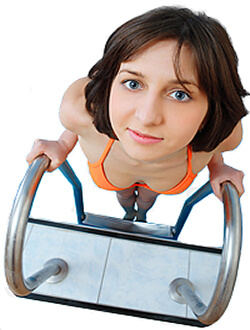 With their ease of installation and lower maintenance, aboveground pools are every bit as popular as in-ground pools. Not only are aboveground pools more cost effective and easier to manage, they offer almost the same kind of fun and entertainment that an in-ground pool does.
One need is common to both in ground and above ground pools; entering and exiting the pool safely.
Steps & Ladders for Above Ground Pools are an excellent accessory that makes getting in and out of your pool safe and easy. Available in a huge variety of styles, materials, and of course prices.
Steps (and/or) Ladders
If you have a pool deck, even a partial deck around the pool, you can use an in-pool ladder or a pool step, which attaches to the pool deck.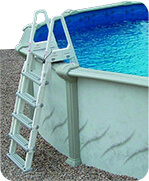 If you have no pool deck, you can use our A-frame type of ladders, or use two pool steps joined together, one on each side of the pool wall. A-frame ladders can be made safer with locking outside treads (see below). Your town may have specific safety requirements for aboveground pool ladders and steps.
Ladders are less expensive than steps, because they use less material. Steps are more substantial, with wider and deeper treads. Steps tend to be less wobbly than ladders, and more comfortable to use, especially for larger or older swimmers.
Steps work best on a flat floor, ladders may work better on an aboveground pool bottom that is sloped at the edge. Our best steps have adjustable feet, to match a gradual floor slope, and keep the step level.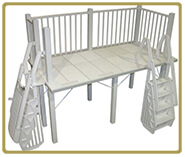 No pool deck? We have pool deck systems that are a combination of deck and pool steps. In 3 sizes, Above Ground Resin Deck Kits are above ground pool deck systems that include everything you need to enhance your pool with a small deck and entrance system.
Step & Ladder Cost
When buying pool equipment, cost can be a big factor. At In The Swim, you'll find  aboveground ladders or a steps anywhere between $100 – $500.
More expensive ladders and steps are usually taller and wider, and handle more weight. Other features include adjustable heights, internal sand ballasts, stainless steel hardware, even optional lighting kits.
More expensive ladders can also have safety features that may be required in your area, such as locking gates or ladders, and can have longer warranty periods.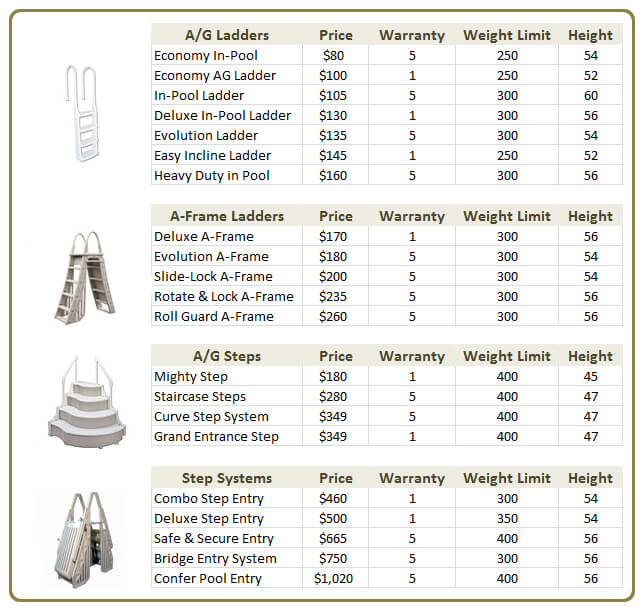 Step & Ladder Safety
Needless to say, the most important factor to consider when shopping for pool steps or ladders for above ground pools is safety.
In order to maximize safety, look for a solid, durable pool ladder for your above ground pool. If you expect a lot of traffic on your pool ladder you should look at the more expensive options, that won't crack under the weight of larger users, or rough treatment by kids.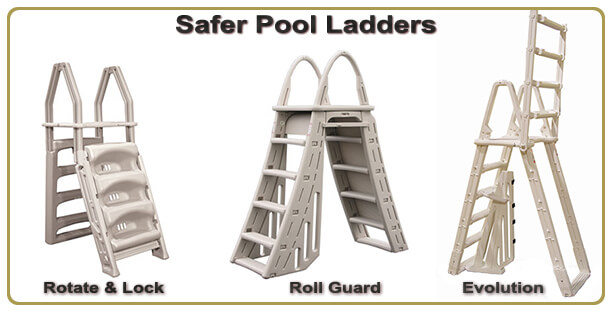 Step systems or ladders with gates, or with flip-up outside ladders are much safer than steps or ladders that cannot be locked. For the safety of your family and neighbors, please don't install a step or ladder that cannot be locked, if other pool or pool deck barriers are not in place. Even if the pool is completely fenced, a secondary barrier on the pool step or ladder is a good idea.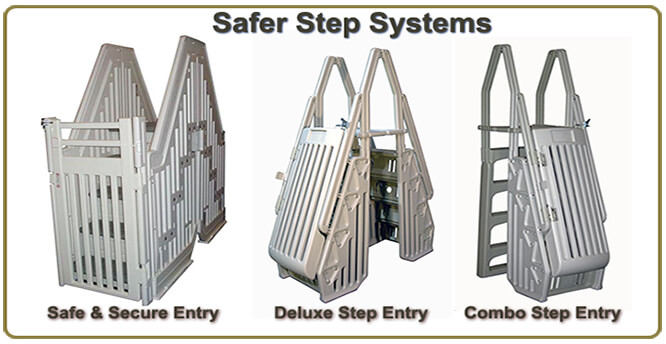 To prevent children or even pets from climbing your pool steps and falling into your pool, it is imperative to keep your pool secure.
Also ensure that your above ground pool ladder is installed correctly by following the manufacturer's instructions carefully.
Too Many to Choose?
We have nearly 50 above ground pool steps and ladders – the  choice can be difficult! I hope this article can help you decipher some of the differences.
Aboveground Pool Steps are meant to make your pool experience convenient and secure so invest in good quality steps and enjoy your swim season safely!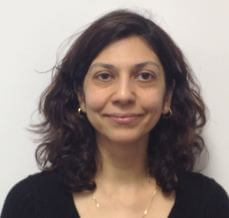 Ayesha Aslam
InTheSwim Staff Blogger