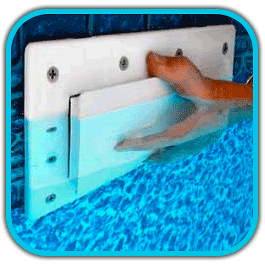 Labor Day has come and gone, and for many it will soon be time to close the pool. If you are like me, this is one day I tend to dread. Gather your family or willing friend, and schedule a Saturday to properly close your pool – so depressing!
Today's blog is going to help you close an above ground pool the proper way, to make for an easier spring opening.
How to Winterize Aboveground Pools
It is good advice to wait until your pool water is 65 degrees or lower to start closing up for the winter. If the water is any warmer, the chemicals will not work properly, and you may end up with green water come spring time. Once your water has cooled off, follow these steps.

Vacuum the bottom or use an automatic cleaner
Skim the surface using a leaf net and get rid of any debris
Scrub the walls and floor with a wall brush
Continue to run the filter while moving ahead

Free chlorine: 1-3 ppm
pH: 7.2-7.6
Alkalinity: 80-120 ppm
Calcium hardness: 200-400 ppm
Cyanuric acid (stabilizer): 30-50 ppm
TDS (total dissolved solids): <2000 ppm

Algaecide 50 or 60 plus is suggested as it is a non-metallic based product and prevents staining over the winter if you use our pool closing kit
Swimming pool closing kits should be ordered based on pool size. The largest kit we carry is for pools up to 35,00 gallons. If your pool is bigger than this, order two kits! Having too many of a winter pool chemicals is better than not enough
Use chlorine free shock and floaters. If chlorine shock or tablets are used, you can risk damaging your liner and cover over the winter
If possible, take a break and allow your pool chemicals to circulate for a few hours or overnight, before continuing. Cover the pool loosely if you want to keep it clean

4-6 inches below the skimmer level by backwashing or by draining out of the return
If you are like me and don't like draining your pool, invest in a skimmer closure
Be sure to discharge the water to a proper location

Plug return lines with a winterizing plug, on the inside of the pool
Remove filter hoses and drain the filter and pump
Move pump and filter to a weather protected area, indoors if possible
Remember to follow these steps, add the closing kit, Then drain your pool and install the cover. If it's very windy, and the pool is getting dirty, you can install the cover on the pool, tightening the cable, which you can loosen when you need to plug the returns.

How do I Know What Cover to Buy? You may look through our catalog or website, and ask yourself what cover to buy. Ask yourself how much money you are looking to spend. You've heard the saying; you get what you pay for. It pays to spend a little bit more money up front on the covers, as these covers have a longer warranty and will last longer than our economy cover.
The majority of our aboveground pool covers have a 4 foot overlap and the strength is based on the weave count. The better covers are going to have a higher weave count or scrim.  To compare our least expensive economy cover, to our most expensive polar protector, the economy has an 8×8 weave count and the polar protector is 14×14. The higher the weave count, the more durable the cover will be.

Our best above ground pool covers to buy is the Ultimate Series. These covers are made with rip stop technology. The rip stop weave stops tears and rips before they spread. These covers come with a 5 foot overlap for greater wind protection. If you are looking to get the most out of a winter cover, invest in one of these covers and you won't be disappointed!
Why should I buy a more expensive cover? The answer is simple: the cover will be much stronger to resist punctures and tears. A better pool cover will last longer and you won't be throwing it away in just a few years, adding to the landfills.
Above Ground Pool Closing Accessories
While the following list of accessories is not necessary to closing your pool, we highly suggest using these products to create an easier spring opening.
This draws freezing water into the air pillow, to prevent the water from freezing to the walls
Ideal for a windy area, these clips fasten to the top rail and keep the cover taught
Eliminates standing water on the cover and prevents ice on top of the cover. Too much water or ice will cause strain to the fabric and rip the material
Helps maintain clear water over winter along with stain protection. This is best when used in conjunction with a winterizing kit
Absorbs ice expansion to keep your skimmer housing from cracking if it fills up with pool water or from rain water. Threaded end with o-ring seals up to all above ground pool skimmer sizes

If you want peace of mind this winter, make sure to properly close and cover up your pool. If you have questions or concerns on the closing process for an aboveground pool, feel free to give us a call.
[Happy] pool closing!  🙁


Kristine Malak
InTheSwim Staff Blogger