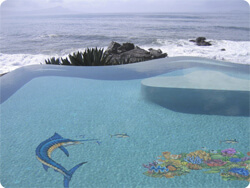 Have you been looking for a way to make your swimming pool look more exciting and inviting? If you answered yes, then Aqua Decals are just the thing for you!
Aqua Decals are a really great way to dress up the look of any swimming pool or spa. They come in all shapes and sizes, are compatible with most pool surfaces and installation is a snap!
They're great conversation starters, and everyone will want to know how you installed such beautiful tile mosaics! You may be the only one to know that they aren't expensive tile, but affordable and durable Lexan decals.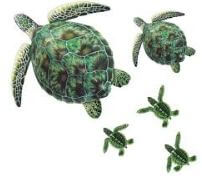 Transform a boring paint job into a gorgeous and exciting coral reef with dancing dolphins and swimming turtles! Jazz up a fading liner with bright and colorful seahorses, marlins and fish!
Have an unsightly crack, scratch or tear? Whatever design you choose, Aqua Decals are the perfect solution to add a great pop of color to your swimming pool! In addition to looking great, these underwater decals are so simple to use. There are 2 different kinds of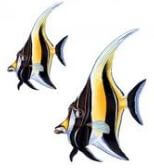 decals; self-adhesive and silicone adhered.
SELF-ADHESIVE. The self-adhesive decals are only for vinyl liner pools or fiberglass pools that have not yet been filled with water. It's a simple peel and stick application. They can even be used to cover up a tear in your vinyl liner!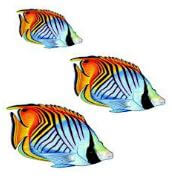 SILICONE ADHERED. The silicone adhered decals are used for all other surfaces such as tile, concrete, gunite and fiberglass. These pool decals do not come with any adhesive already on them. Aqua Decals use a special silicone (BOSS 803 Silicone Adhesive) that we sell to apply the decals to the pool surface. The silicone adhesive decals can be applied underwater, so there is no need to worry about costly and time consuming draining and refilling.
Every decal comes with step by step installation instructions and even advice as to evaluating positioning of your decal before applying.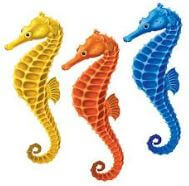 DURABLE AND LONG LASTING. These underwater decals are made of high quality Lexan plastic and have been designed with ultimate UV protection against fading. They have been made to withstand a multitude of different conditions. They can be used in pools or hot tubs. They will not be damaged by freezing temperatures in the winter or hot water up to 350 degrees. They have also been tested against robotic and suction vacuums and when installed correctly, will not be pulled up or damaged by these cleaners.
Any decal can be reused in a different location using more of the BOSS 803 adhesive. If a corner of the decal should ever happen to lift up, just apply more adhesive and voila, it's good as new!

Imagine having a private tropical getaway right in your own backyard. You will absolutely love the new look your pool will have when you add Aqua Decals, and so will your family and friends!
Bring some fun and frivolity back to your pool with Aqua Decals, and sit back and smile knowing how easy it was to make your pool more exciting and inviting.
And if your friends think that you installed imported tile mosaics in your pool – well, there's no need to point out how easy and affordable this upgrade was!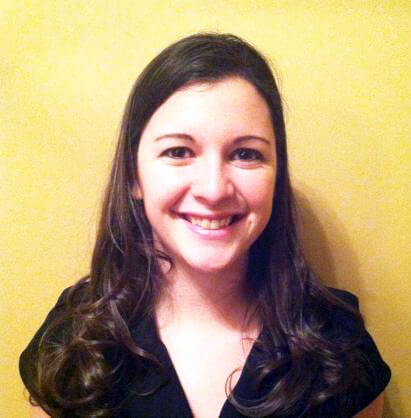 Christine Silvestri
InTheSwim Staff Blogger