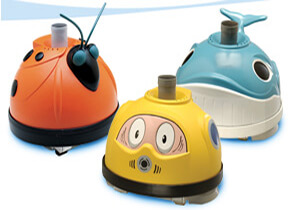 Automatic pool cleaners are a real specialty of In The Swim – but with over 100 different pool cleaners available, the decision can be difficult!
Today's blog post will hopefully help to focus on the features and benefits of each, to narrow down your pool cleaner choices.
The first way to narrow down the many options is to look at either the inground or aboveground pool cleaner categories. Within these two groups, you can choose between pool cleaners that are water pressure powered, water suction powered or low voltage powered robotic pool cleaners.
Above Ground Pool Cleaners
Cleaners for above ground pools are built to operate on a flat bottom, without a deep end. Since they don't need to climb walls, they can operate with lower flow and simpler designs. Most of these below are suction cleaners, with the exception of the Polaris 65.
Hose length could be a factor for larger pools, or you can always purchase extension pieces if needed. Aboveground pool cleaners are all "value priced", and are quick and simple to set-up.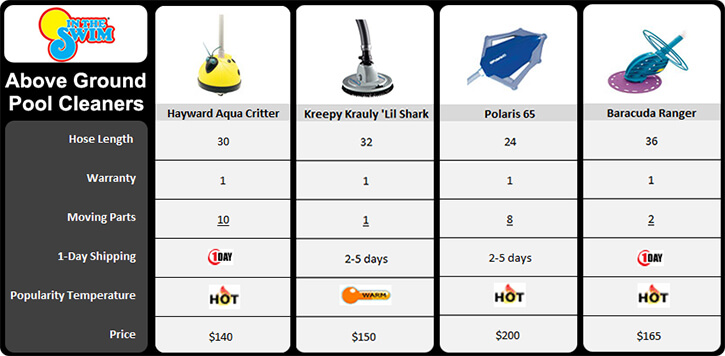 In Ground Pool Cleaners
Pool cleaners made for inground pools are built to be able to climb out of the deep end, and clean and scrub vertical walls and steps. They are typically also faster than their above ground cousins, to clean larger pools more quickly.
With the exception of the G3 cleaner below, the other inground pool cleaners are water pressure powered pool cleaners. The 360 relies on the filter pump pressure and the 380 and Legend utilize a booster pump and timer clock, for fully independent and automatic pool cleaning.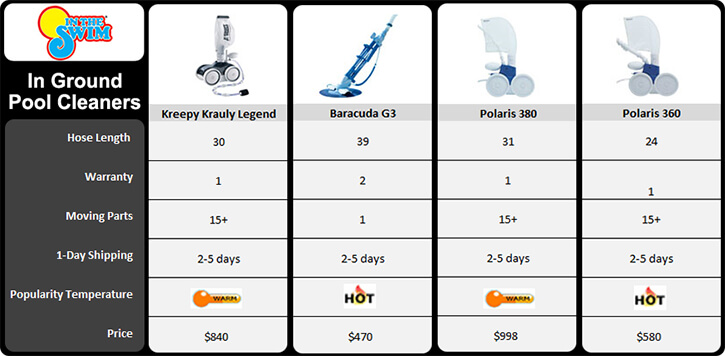 Robotic Pool Cleaners
For years, Aquabot had the market cornered in robot pool cleaners. They are still the most popular brand, but nowadays all pool equipment manufacturers are producing their own pool robots, with features and options galore.
Robotic pool cleaners operate on a low voltage current, supplied from a transformer plugged into a grounded outlet. A lightweight, floating cord delivers the juice to power the cleaner's drive train, and suction action. Robot cleaners also trap all the vacuumed debris on-board, and even filter your water while cleaning your pool.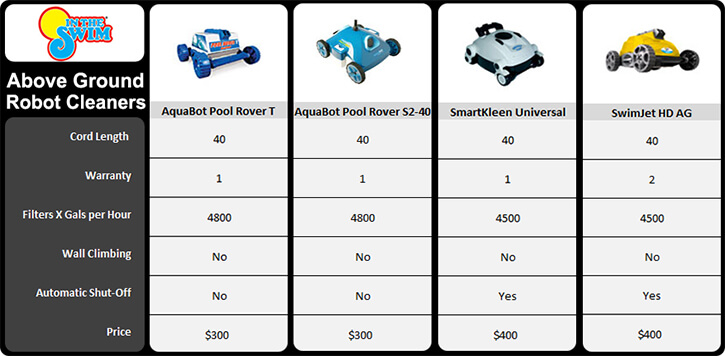 Available for both inground and aboveground pools, robotic pool cleaners are a real boon for pools that have odd shapes, limited filter pump power or large amounts of debris.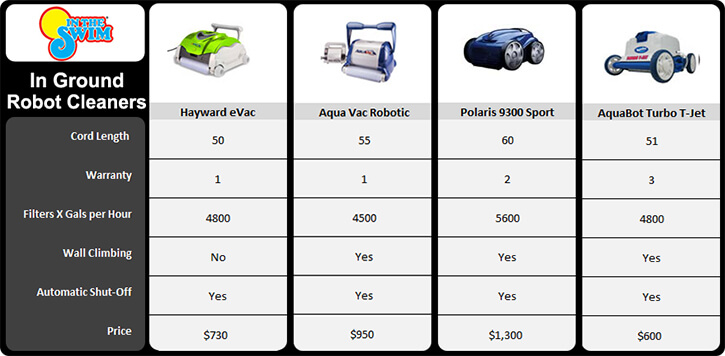 Automatic pool cleaners – once you get past the decision making process, your life will be much easier! If you want some expert advice on the best cleaner for your particular pool, give us a call now, and you'll find a knowledgeable pool person on the other end that can help you sort through all the options.
Keep America Beautiful – buy a pool cleaner! 😉


Sabrina Potirala
InTheSwim Staff Blogger