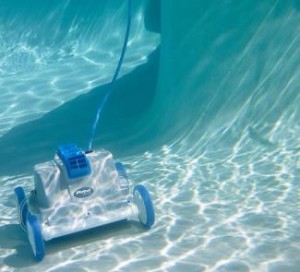 With so many options available in the world of automatic pool cleaners it's easy to be almost immediately overwhelmed.  The best way to get started is to consider the basics of how the cleaners operate to determine what type you would like before you even start looking at particular brands.
Let's break down the different categories/types of cleaners based on how they operate and then give examples of our most popular cleaners in that category.
In Ground Cleaners Vs. Above Ground Cleaners
Before I start breaking down pool cleaner types, I want to make a quick note about  the general differences between an "in ground pool cleaner" and an "above ground pool cleaner". Since in ground pools are generally larger, in ground pool cleaners are meant to handle larger pools than above ground cleaners.
Another important distinction is that above ground pool cleaners will generally only clean the floor of the pool. Many (but not all) in ground pool cleaners will clean the walls; they don't "climb" very well. In ground cleaners may also have different models based on the pool surface type (vinyl liner, concrete, fiberglass, etc.) so if you have an in ground pool, double check that the cleaner is appropriate for your pool surface.
Suction Pool Cleaners:
Suction side cleaners get their power from your existing pump and filter system. The cleaner is hooked into your skimmer port or a dedicated suction line. As the cleaner moves around the pool, the debris it picks up are sucked through the hose and into the pump basket.
If you have a lot of leafy debris in your pool, you'll want to buy an in-line strainer.  Our Hayward Large Capacity In-line canisters can be connected to the vacuum hose just before the skimmer. They are have a very large debris trap or bag.
Suction side cleaners are generally the least expensive and easiest to install and use, making them the most popular cleaner type. The Kreepy Krauly for in ground pools (pictured below) and the Kreepy Krauly EZ Vac for above ground pools are by far our most popular automatic cleaners, but ironically, they aren't the most "automatic"!
Pressure Pool Cleaners:
Pressure side cleaners usually operate with a booster pump on a time clock, so it only runs as much as is needed. Pressure side cleaners use water pressure instead of a water suction to operate the vacuum action. The dirt and debris picked up by pressure side cleaners are deposited in to a separate filter bag on the cleaner, which helps to save wear and tear and reduces demand on your pool filter.
Within the category of pressure side, we have two subcategories, Low Pressure and High Pressure pool cleaners.
Low Pressure Pool Cleaners:
Low pressure (inground) cleaners don't require a booster pump and are meant to be installed into the existing pool wall return fitting. The pressure from your pool filter, or more accurately, the flowing water being pumped back to the pool, powers the hydraulic drive train. They operate similarly to their booster pumped cousins, but without need for a dedicated line (or HD hose) and a booster pump.
The downside to low pressure cleaners like the Polaris 360 is that they, like suction cleaners, are operating as long as they are connected to the filter pump pressure or suction. Keeps the pool clean, but tends to wear out some parts sooner. Low Pressure cleaners also raise the filter pressure (that gauge on top of the filter) to higher levels that will inhibit filtering somewhat. And if you plug a suction cleaner into a skimmer, you reduce the normal skimming ability of the pool skimmer.
The Polaris 65 is really the only pressure side cleaner available for above ground pools. It is important to recognize that the Polaris 65 not really a vacuum, more of a moving skimmer.  The unit floats around on the surface, helping to drive debris into the skimmer. At the same time it is propelling a debris bag that sweeps the floor. Polaris 165 cleaners operates with the same principle, with a longer hose for deep ends.
High Pressure Pool Cleaners:
These require a booster pump, and using a time clock is recommended. Consistent high performance, and quick cleaning are it's hallmarks. They run, independently of your pump and filter system, and they turn themselves on and off – truly automatic pool cleaners. Cleaners such as the line of Polaris pool cleaners have been dominating the inground pool cleaner market for years.
Booster pump cleaners are only available for in ground pools.  They run independently of your existing filter system, powered by a separate "booster pump" that is dedicated to just running the pool cleaner. Debris will be sucked up in an on-board filter bag, allowing your filter system to be dedicated to simply filtering the water.
Polaris 180 / 280 / 380 / 3900 pool cleaners are sold separately from the pump. The pump will need to be hard wired so it should be professionally installed. Our most popular pressure side pool cleaner is the Polaris 380 – the cheapest is the old 180 model and the coolest is definitely the 3900.
Robotic Pool Cleaners:
Robotic pool cleaners run independently of your filter system as well, powered by electricity. They can be plugged in to any GFCI protected outlet or extension cord and come equipped with transformers so that the cleaner runs off low voltage. There is really no "installation" to speak of with robotic cleaners, most of the time it is as simple as dropping the cleaner in the pool and plugging in the cord.
Pool Robot cleaners contain a filter bag inside the unit that traps the debris the cleaner picks up. These filter bags generally filter down to about 3 microns, equivalent to the filtering ability of a DE filter, so an added benefit is that the cleaner is acting as a second filter for your water as it moves around the pool.  Robotic cleaners have come down in price a great deal lately, and now some are available for under $500.
Our best-selling robotic pool cleaner for in ground pools is the Aquabot, and for above ground pools our best seller is the Pool Rover T Junior. In case you were interested, since we sell so many cleaners, people ask – some kind of a barometer, I suppose.
Hopefully I've given you some information here to help you narrow down your options.  There are still many different brands and models of pool cleaners in each category, so even though you may have determined which style of cleaner is the best option, you still need to decide which one. Luckily, we are always here to help!  Please check out our wide selection of cleaners on our website and give us a call with any questions.
One more thing, pool cleaners make great Mother's Day or Father's Day gifts! Hint-Hint.


Jackie Wolski
InTheSwim Staff Blogger