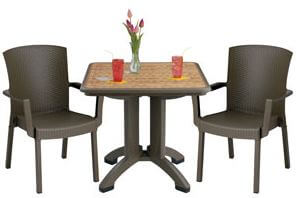 We've all been there before; the backyard furniture has been worn down by weather conditions and is starting to look a little drab. The good news is that it doesn't take much to make your backyard feel like a brand new oasis. A few small updates will put your backyard back in shape.
The easiest way to give the backyard a facelift is to replace that old patio furniture with something new and sleek. If you are looking for something unique, consider the Ravello Sling Collection. There is nothing quite like big comfy revolving chairs to emulate your favorite LA-Z-Boy chair in the living room!
Or maybe you are a fan of the pool side table and chair combo so often found at vacation resorts. If that's the case, then the Kahana cross strap collection is sure to remind you of that last trip you took. If neither of those suit your style, we have a dozen different collections of outdoor patio furniture styles. Take a Look!

While you are at it, when you decide to replace your patio furniture consider getting yourself a new pool umbrella too! Fun and practical – a new stylin' canopy to create some shade and beat the heat!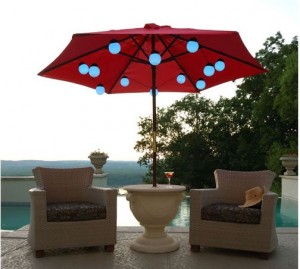 The next best way to amp up the beauty in your backyard is to change up the lighting. Different lights can create different moods for all sorts of occasions. These LED Globe Lights make for a gorgeous glow on your pool umbrella spokes, in the branches of a tree, or even on the patio or gazebo! LED Globe lights will have you mesmerized at night and even during the day.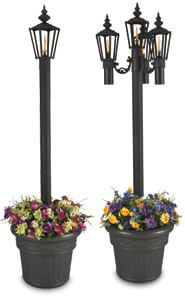 If you prefer a world traveler look and get inspired by other cultural styles, then either the Park Style Citronella Patio Lamps or the Bronze Globe Patio lamps might do the trick for you. The Park Style lamps cleverly conceal those citronella candles that keep bugs away in a classy, sophisticated way. Uses citronella oil or regular lamp oil. Available with or without flower pot bases. These outdoor lamps will transport your pool to an evening in Trafalgar Square or the canals of Venice.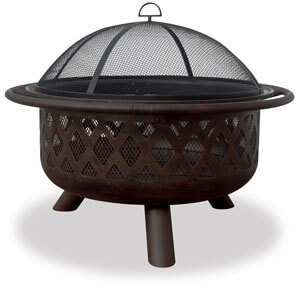 A fire pit is an inexpensive way to give a whole new feel to the backyard while enabling you to enjoy the summer months even longer by lighting your way and keeping you warm during those chilly autumn nights. These portable fire pits are great for entertaining as there is no better way to enjoy the evening than to relax by an open fire.
Fire pits add an instant ambiance to your backyard that is sure to remind you of all those fun times camping as a kid. Plus, fire pits are perfect for roasting marshmallows for s'mores on a chilly night (coming soon)!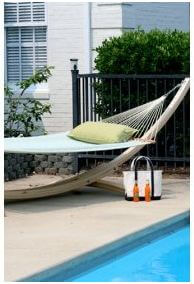 If you are missing the feel of relaxation, then the easiest way to achieve it in your backyard is to utilize a hammock! This unique piece of furniture is a summertime favorite for swinging away life's worries with a friend, or snuggling up with your pup. If you have a post or tree that you can attach to, you won't need a hammock stand. We have 3 styles of hammocks for backyard and patio.
Last but not least, a small change that makes a huge difference is to paint your patio or deck. Brightens up wood or concrete; deck and patio paint can make your space look brand new again and hide years of weather wear and tear. If you like the look of the pool deck beneath the hammock picture, you can easily create this look for your pool deck.
They say not to sweat the small stuff, but in this case it is the little details that help you  achieve a special look for your pool; a backyard makeover! There's no need to tear up your whole backyard when changing small things can have such a huge impact on your Home and Garden style!


Sabrina Potirala
InTheSwim Staff Blogger