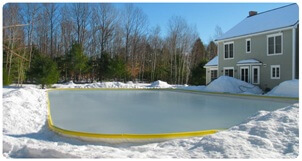 So you've finally decided to convert your backyard into a winter wonderland this year?  You've decided to build an ice skating rink in your own backyard!
There is just one problem though, isn't there?  You have no idea where to start.  Not to fear!  When it's all said and done, a backyard ice rink is really quite simple to buy and install.
Personal ice rinks are made up of four key elements: brackets, sideboards, a liner, and frozen water.  Follow this easy guide and you'll be figure skating and playing ice hockey in your own backyard in no time!
Ice Rink Size

The very first thing to think about when shopping for a personal ice rink is how big you want your ice skating rink to be.  When considering this, you first need to measure your backyard to find out what size of ice rink your backyard will accommodate.  Once you know that crucial measurement, you can set a budget-goal for your backyard ice rink project.  Since you will require more materials for a larger ice rink than a smaller one, there is a direct relation between the size of an ice rink and its price.  A good starting point would be around $400 for a small ice rink.  Think bigger, and proportionally more costly, if you would like a backyard ice rink that can accommodate a game of hockey.
While you can buy an ice rink starter kit, like those from Nice Rink that includes all of the items below, I'll describe each ice rink component in detail – as I try to eliminate any confusion and help direct you to the best option.
Ice Rink Brackets
These are what hold the ice rink in place.  They are more or less just stakes that lock into the sideboards. They range from inexpensive and simple wood brackets to highly advanced thermoplastic or metal brackets that have a built-in board support for higher walls or where the ice rink thickness exceeds 14 inches.
Some ice rink brackets can be used on solid surfaces with a small modification. If you have a sloping or uneven backyard, I highly recommend getting brackets that are adjustable and can be secured down into the ground with an extra spike for added stability.  On top of the added structural integrity of a well-built support bracket, they may also help to cut the installation time of a new rink practically in half!
Ice Rink Sideboards
The sideboards of your ice rink are what make up the walls of the backyard ice rink.  Like brackets, they also range from very simple wooden boards to technologically advanced thermoforms, or interlocking plastic walls.  My suggestion is to buy interlocking wall pieces since this will give you the highest amount of flexibility when it comes to customizing your rink's size and height each year.  Since the sideboards (along with brackets) are the basic building blocks of a rink, you can easily buy more and expand your ice rink in the future.
Ice Rink Liners
The liner of a backyard ice rink is a plastic barrier that contains the water within the walls.  While there are various materials and color choices for a personal ice rink liner, it is highly recommended that you find one that is one solid piece, is either white or clear, and is composed of a reinforced polyethylene film.  While holding the water in place is an ice rink liner's primary function (and any plastic film will make this happen), it also must withstand the elements year over year all while being reflective enough to not let the sun's rays heat the liner or the ground beneath it.
While there is always the ability to patch a cheaper liner, a reinforced liner helps keep the rips from "zippering" which can render an ice rink liner practically useless.  The reinforcement keeps any tear small so there is less patching needed and the structural integrity of the liner as a whole is largely unaffected.
When sizing the liner for your ice rink, always consider that the liner needs to extend up and over the side walls.  Add five feet to the length and width of the personal ice rink you are planning to build.  Also consider getting backyard ice rink bumper caps.  These will help to provide some protection around the perimeter of the backyard ice rink. Ice skates can be sharp, after all!
Ice Rink Accessories
Now that we've got the basics down, I'd like to go a little bit into some of the options that you can look into to help groom and maintain your personal ice rink over the winter along with the necessary items for an exciting hockey game!
Shovels and Ice Groomers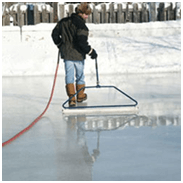 The tools to help keep the ice in your backyard ice rink functional are almost as important as the materials to build the ice rink itself.  After all, if you can't keep your ice smooth and skate-ready you can't safely use your personal ice rink for very long.
Sleigh-style snow shovels and super wide show-pushers are key for any backyard ice rink owner. They help to minimize the labor of clearing your ice rink of snow while protecting the ice you are trying to clear. These shovels help to clear the ice of skate shavings and even heavy snow that get in the way of smooth skating all while providing an easy way to do the work without requiring you to lift the heavy snow.
Ice groomers (or resurfacers) (your personal Zamboni) are very important for the maintenance of a slick and smooth backyard ice rink.  They come in varied widths and are designed to work with a regular garden hose.  The pipes that make up these groomers force water into a resurfacing mat that connects with the ice to gently fill in cracks and imperfections, leaving behind a smooth finish.  Avoid any groomers that are made of plastic, while they are just as efficient – if you're planning on setting up your backyard rink each winter, I recommend spending the bit extra for one that will last you several years.
Hockey Equipment
No backyard hockey rink is complete without a goal at each end! Even here you have options depending on budget and quality. If you're looking at going with something that will get intense use and is planned to last several seasons, I'd recommend the Heavy Duty Red Hockey Net. For those on a budget or that are more casual with their hockey-playing, the Light Duty Collapsible Hockey Net is also a great choice, especially since it's very easy to set up and take down and even easily disassembles for compact storage.
For those that will be getting serious with their backyard ice hockey games, something that a lot of skaters benefit from is a perimeter net for your backyard ice rink. Since most times the ice rink is close to your home or garage, it is a great idea to try and protect yourself from costly repairs caused by errant hockey pucks. The tight spacing of the netting is also great for golf balls or as a backstop for baseball practice, making them quite handy during the other seasons as well.
That pretty much sums it up.  You now know what to watch out for to make sure you've selected all the right elements to make this investment not only fit perfectly in your backyard space, but also to last for many exciting winters to come.  All things considered, a backyard ice rink is a relatively easy and inexpensive way to transform your backyard into an extremely fun place to hang out during the winter months.
Thinking ahead, I'll also be posting a backyard ice rink installation guide here in a couple weeks, so if you have any questions or concerns, check back in!
Enjoy! (Note: we no longer carry portable ice rinks at intheswim.com)

Martin Ratchev
InTheSwim Staff Blogger