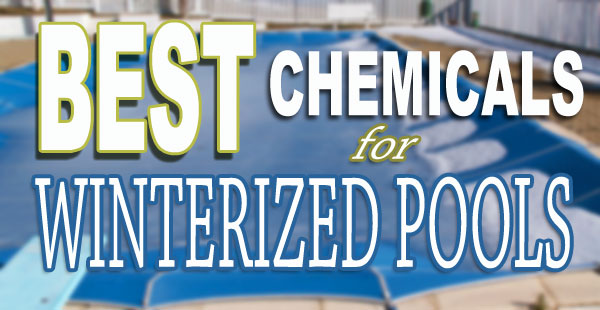 By the time I am done wrestling my Big Green Safety Cover into place, I am ready to forget about my pool until the spring. And, the last thing I want to think about is buying more pool chemicals. Over the years, I've learned a few valuable lessons and tips to actually buy less pool chemicals by buying a few key pool chemicals for the winter.
This has actually saves me money in the long run because my pool is in much better shape when it comes time for round two vs my safety cover in the spring. dose of the right stuff in the middle of the winter and at the beginning of spring helps fight algae, staining, and removes organics, dirt and tannins that lurk beneath pool safety covers.
I winterize my pool with a winter closing kit every year. They are a great way to get everything at once at a discount price. For my pool, winter kits are a great way to start the winter but I need a little back up, to avoid the Creature from the Black Lagoon, next year!.
SEND IN THE RESERVES
Algaecide 60 Plus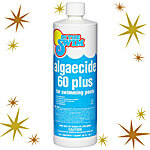 Depending on the size of your pool, and condition of your cover, an extra bottle of Algaecide 60 Plus can go a long way. It's great for those of us with a lot of spring sun beating down on the cover. I like to add a quart of Poly 60+ to my 20K gallon pool when the weather begins to warm-up noticeably, or about a month before opening.
---
SeaKlear Free & Klear Clarifier
SeaKlear Free & Klear Clarifier is great because it thrives in cold water conditions which is important to note because not all pool chemicals are effective when the water temperatures get near freezing. It's a 3-1 product that helps eliminate phosphates (algae food), acts as a clarifier, and helps prevent staining from organic oils and debris. It's also natural, an enzyme-based product which is good for everyone but also safe to use with other harsher chemicals. The enzymes deteriorate non-living organic debris like leaves and oils that can cause staining as well as tiny particles that lead to cloudy water. Great helper chemical.
---
Pool Magic Spring & Fall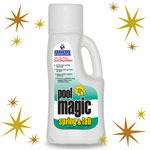 Pool Magic Spring & Fall is a great way to add enzymes to the pool with a blend of clarifiers and stain fighters, made with Natural Chemistry's Smart-Zyme technology, designed specifically to work in cold water. 1 bottle or liter of Pool Magic Plus can treat a 25k pool. I recommend using half a few weeks after closing, and the other half a few weeks before opening. I just pour it right through the (mesh) pool cover and let it work its "magic'.
---
AquaPill – WinterPill
This little guy has received quite a bit of attention this year, with a video released last winter that went semi-viral. The wildly popular Aquapill WinterPill is packs a potent punch from its concoction of natural enzyme, algaecide and stain fighters. 1 WinterPill can treat up to 30k gallons of water. With a small pin puncture (pin actually included) it slowly releases its concentrated solution as it floats freely on the surface of your pool.
---
Di-Zap Multi-Shock
Di-Zap is a premium pool shock blend that combines Dichlor, Algaecide, and Stabilizer for a 3-in-1 formula that is safe for all surfaces. 1 bag treats 10k gallons. For pools that don't use a winter cover, or for those that may have suffered a mid-winter cover disaster, Di-Zap makes an excellent treatment for the closed or semi-closed pool. Also can be used monthly during winter, to maintain a constant chlorine level all winter.
---
Super Stain Away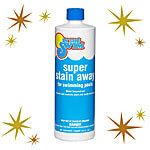 Super Stain Away can be used on all types of pools but it excels for concrete and plaster pools in the prevention of stains (metal and organic) as well as for pool calcium build up prevention. It can even help fade existing stains. A little goes a long way, 16 ounces is good enough for a 10K pool and you only need to add it once in the winter. If you choose to add it monthly or more only use 2 oz per 10k.
---
Jack's Magic The Vinyl Liner Blue Stuff Stain Preventer
Similar to Super Stain away, Jack's Magic Vinyl Liner Blue Stuff prevents stains, fights scaling, is particular great for water with high traces of metals but it is specially formulated to be gentle on vinyl liners. It also excels in water that has high levels of sanitizer. So, it won't go to waste if you shock your pool and add some Jack's Magic to it at the same time. No waiting. Besides being a rock star to protect vinyl, Jack's Magic is also great for fiberglass pools.
---
Jumbo Chlorine Floater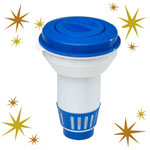 Smaller chlorinators can go through all of their contents within a few months, even if the openings are shut tightly. Filling our Jumbo floating chlorinator with 5 lbs of chlorine tablets can make a big impact on how clean your pool is when you open it. I recommend tethering the floater to the edge of your pool (with enough slack to roam), so it won't get stuck on a step, and for easy access to refill the floater.
---
Pool Maintenance is a year round job and while we don't have to work quite as hard in the winter, a little mindful care to the pool water will save money and time. Once the weather warms-up, algae becomes more stubborn, there's more pollen, there's more rain, and there's more excitement to get that pool open for the summer. Make things easier on yourself with these easily applied, potent winter pool chemicals.

Ryan Dornan
InTheSwim Staff Blogger