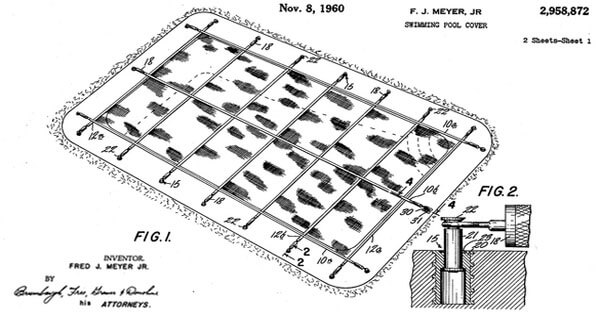 The first safety pool safety cover patent was awarded in 1960 to Fred Meyer Jr., who founded a company called Meyco products. In 1978, a co-inventor of the safety cover Bill Donaton, left Meyco and formed Loop-Loc.
Then came Anchor, Cantar (now GLI), Merlin, Hinspergers (HPI), and Rayner in the 80's and 90's. Lots of folks make safety pool covers, which one is best?
With so many companies offering so many cover material choices, it can be hard to decide, so here's my favorites – 2 Solid and 2 Mesh safety covers, in Lightweight and Heavy Duty fabric.
HPI AquaMaster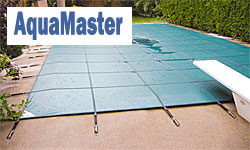 AquaMaster solid safety covers by HPI are made from reinforced vinyl fabric coated to withstand weather and sun, and protect from pool chemicals. AquaMaster covers are sewn together with double seams, on the top and bottom of the cover and feature a center drain panel.
20×40′ Rectangle $959, 10 yr Warranty
GLI Hyper-Lite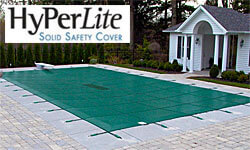 HyPerLite solid safety covers by GLI use 4th generation technology to create a cover that is lighter and stronger than any other. PVC coated polyester fabric is strong enough to withstand punctures from tree branches and even strong enough to support deer without breakage.
20×40 Rectangle $1510, 15 yr Warranty
Meyco MeycoLite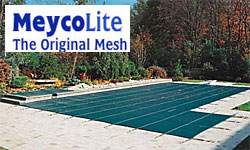 The MeycoLite pool cover by Meyco products is the original mesh pool safety cover that started it all. The woven polyester fabric is much improved over the original, but the design and fabrication is still a classic. Weighs only 4 lbs per 100 sq ft, but is tough as nails.
20×40 Rectangle $850, 10 yr Warranty
GLI ProMesh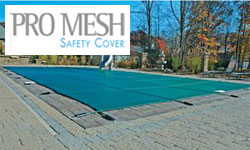 The Pro Mesh safety cover blocks 99% of sunlight, preventing algae growth that can be a problem for pools in sunny locations. Pro Mesh is also 50% stronger in tensile strength, and because the fibers are thicker, more resistant to weather, abrasion or tree branch damage.
20×40 Rectangle $1330, 15 yr Warranty
~ Looking at our list of 4 of the best safety pool covers, with example pricing for a 20×40 pool (price your size and shape safety covers here), you really only have two decisions to make:
Solid or Mesh Safety Cover?
Lightweight or Heavy Duty?
Installing a safety cover on your inground pool takes just a few hours, and then it's easy-on, easy-off – no more struggling with slimy solid covers and water bags!
Take it from me, a safety pool cover is definitely worth the extra initial expense. I love mine and wouldn't go back to a solid cover, even if you paid me to…


Ryan Dornan
InTheSwim Staff Blogger