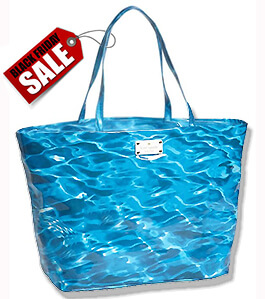 November is here. This means that most of us start to feel cold temperatures, make holiday plans, and of course, begin to shop. I am referring of course, to the event known as Black Friday.
Black Friday – as well as Cyber Monday, or any other variation for shopping deals – has become a tradition – about as much as turkey on Thanksgiving.
In The Swim is no different, you'll find great deals from In The Swim that are up to 55% off! Here's a sampling of  Black Friday bargains on pool chemicals, equipment and accessories.


The Jet Net, is a popular radio control pool skimmer, now available at a  limited time price. This is one of those pool accessories that people will have to take turns to use – whether or not the pool is actually dirty!

The Mytee Mitt and Brush are used to remove any undesirable material from the water. Whether it is rust, algae, or dirt, you can scrub off pool tile, vinyl and cement for a sparkling clean job.

The 41 inch Vac Head, the ProVac Flexible fits either a 1.5 inch or a 2 inch vac hose. Dual hose pulls debris from both sides equally. With a lot of suction, the ProVac is great for fast pool or fountain cleaning.


Green-To-Clean 4lb is available at year end prices. Within 24 hours, Green To Clean completely removes the green and murky water. Note that Green-To-Clean requires a round of pool shocking first.

Fortunately, pool shock is also on sale. Cloud-Out Shock is highly concentrated and is active for 7-10 days. Makes a great (funny) as a stocking stuffer for the pool guy or gal.

Pool Start-Up Kits with Chlorine Shock are a real Black Friday deal. While supplies last, all 3 kits are on sale and include a 10-pack of Free test strips. Why wait until spring? Buy a start-up kit today, and save!


It may be hard to imagine having fun in a pool during the winter season, however, depending on if you live in a more climate-friendly area, the Inflatable Kids Canoe provides safety, stability and fun.

The Cool Castle Floating Habitat is fun for everyone! This is at a great discount, so now is the perfect opportunity to own this habitat! For a fraction of regular price, this colorful pool habitat is available.

Save now on the Aqua Sofa. This sofa is meant to be used on the deck OR in the pool water. It looks like a real sofa, which is why it's hard to believe it can be used in water! It holds up to three adults, comes in a white and blue color scheme, and has matching pillows!


The 11.5 Inch Oval Wooden Clock serves as a great decorative piece for the poolside area. Outdoor pool clocks can be used for residential and commercial pools alike.

This 9 foot Wood Market Umbrella adds shade to the patio. Those who are not swimming or even swimmers that are resting and eating can enjoy some relaxation under the shade.

The iHeater is a big money-saving investment for fall. The durable iHeater doesn't use a flame or external hotspot. This is a safe and efficient heater for indoor or outdoor use.


The Deluxe Step Entry System with Gate is not only a safe entry system for above ground pools, but it is also known for its strength. Adjustable from 48 to 56 inches.

A 3-Step Ladder for In-Ground pools is a basic safety piece that all inground pools should have installed. This safe and sturdy entry for the in ground pool allows swimmers to get in and out with ease.

Mighty Step for Above-ground pools allows swimmers of all ages to easily get into the water. Mighty Step comes with tall rails that help swimmers enter and exit the pool safely.


The Cyclone Fun Slide is a compact and stylish pool slide that installs in only hours, and fits on most 3′ concrete pool deck aprons. Kid sized slide comes with a wall return connection for instant slide water.

The 8 foot Frontier II Radiant White Diving Board from SR Smith is a quality and durable replacement board available in our Thanksgiving Madness sale. All of our replacement diving boards are clearance priced.

The HeliX Slide is a spiral slide for use in in-ground residential swimming pools. Another product from SR Smith, it comes together under easy assembly. Holds up to 275 pounds.


Hurry now to the 22 inch Hayward Sand Filter for inground pools. This sand filter gives you a thorough backwash for the most crystal clear water possible. Reduce energy costs with excellent filtration.

Aqua-Ray Automatic Cleaner from Hayward doesn't go easy on dirt. The AquaRay cleans automatically and only needs minimal maintenance. It even installs in under 10 minutes.

Hayward Aqua Vac robotic cleaner provides two cleaning cycles to select from – quick and standard cycles. This automatic cleaner is effective on any inground swimming pool.


The Jandy LRZ pool heater is now available at $1000 off. Low maintenance propane or natural heater for pools. Great for use in extreme weather conditions.

Solar Pool Heaters are also available at a great price! SmartPool solar heating systems are known for reliability. Inground or above ground pools.

Hayward HeatPro Heat Pumps Heaters are easy to read with their LED Temperature readout and top-mounted control panels. Save over 40% on Hayward's high efficiency pool heat pump, and heat your pool for $1 per day.
There are hundreds more discount pool products at the In The Swim Black Friday Sale from In The Swim. Sale runs through Monday, so you better get there fast before all the deals are gone!
Happy Shopping!


Alex Malamos
InTheSwim Staff Blogger