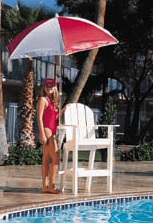 When most commercial pool operators think about pool safety, the first thing that comes to mind is the Virginia Graeme Baker Act or the Access and Disabilities Act. While those are both very prominent parts of the safety standards of a commercial or public pool – those are only the beginning.
When we think of safety for commercial pools, we need to think of every part of the pool – starting in the pump room, running through the bath houses, across the pool deck and of course, in the water. To simplify our discussion – let's leave the discussion of Title VII and the Americans with Disabilities Act (ADA) – for another day.
Starting off, I would be remiss if I did not point out that the best safety for any commercial pool is supervision by a trained professional. There are a number of pool safety products for commercial pools, and many are required by law. Most commercial pools have life guard stands but if your pool doesn't – our Resin Lifeguard Chair (shown above) can be a relatively inexpensive lifeguard stands.
Required pool safety tools in your area may include a life hook and telescoping pole. When shopping for a telescoping pool pole make sure you know your local regulations, because some jurisdictions require the pole for a life hook to be non-conductive like our fiberglass pole. These items can be used by a lifeguard or swimmer to help save someone from drowning without endangering themselves.
Your local commercial pool safety regulations may also require a life ring buoy & throw rope. These are better for most rescuers to use because it is easier to handle than a lifehook pole. Life Rings also may reach farther, making it easier to assist the victim while keeping the rescuer safely on dry land. One key is to make sure to land it near the struggling swimmer, but not on top of them. Remember, this is not a game of "ring toss", we are just trying to get them to safety.
The Virginia Graeme Baker Act (VGB Act) was designed to protect swimmers around the main drain from being sucked-down or to prevent "main drain entrapment". While I recommend that swimmers never go near the main drain, I am sure we all remember as kids trying to see who could touch it and kids will still continue to try.
For this reason, commercial pool and spa drains need to be protected with certified anti-entrapment drain covers. (Note: there have been many drain covers recalled over the past few months, so please see our up-to-date VGB compliant main drain covers page.)
VGB drain covers are certified for a certain flow rate and size drain and must be sized properly or they are just a dangerous as the old drains. Additionally, if there is only a single main drain you may be required to install a secondary device to prevent entrapment.
Due to the fact that the VGB law has been interpreted differently by state and local pool inspectors, the best way to find out what is needed for your specific pool is to contact your local inspection office and ask for assistance with VGB compliance.
Other commercial pool items that are needed for pool safety are Depth Markers. These vinyl stick-ons will allow your swimmers to know where it is safe for them and where it may be too deep for swimming and too shallow for diving. Depth markers may be required in the tile line and also on the surrounding pool deck.
Patio and deck paints will not only spruce up the look of your deck but will also add a non-skid additive to reduce slip and fall injuries. Make sure while purchasing a patio and deck coating that the additive is premixed in for the most even and safe coverage.

You may need "No Diving" painted on the surrounding pool deck, or signs placed in visible areas around the pool. Most commercial pools are required to place No Diving signage in areas not deep enough for safe diving (any area less than 6 ft. deep). Diving into a shallow pool is one of the most dangerous things to do in a swimming pool, so make sure your commercial pool does not allow it!
Safety should be the number one priority in pools but especially commercial pools where guests are coming and going. These are just a few of the ways that pool managers can make their pool safer for their guests.


Brett Rotelli
IntheSwim Staff Blogger