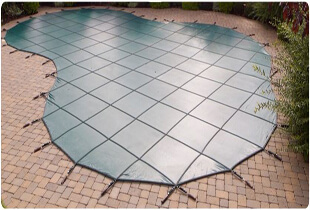 Hard to believe when it's still so hot outside, but fall will soon be here, and winter close on it's heels. If your pool is located in the snow-belt, chances are you'll soon need to think about covering and closing the pool for the season.
Round, rectangle and oval inground pools have a lot of off-the-shelf options for a winter cover, but if your pool has pretty curves, water features or raised walls, you'll need to consider a custom-made pool cover. Custom made pool safety covers are manufactured and shipped in under 3 weeks.
Taking careful measurements of your pool is key. Safety cover designers work with advanced computer aided design (CAD) programs that will reproduce the shape of your pool exactly – matching the measurements that you provide. Don't worry about making measurement mistakes, the software used will catch mathematical inconsistencies, and if there are any, clarification is asked for.
Custom pool safety covers can handle any shape, size or design feature. Rock waterfalls, multi-level pool decks, planter beds, dive rocks, spas or fountains are no problem for our experienced designers. Although the sample measurement form below looks complicated, custom pool A-B measurements typically take under 1 hour to complete, before faxing, emailing or mailing them to In The Swim.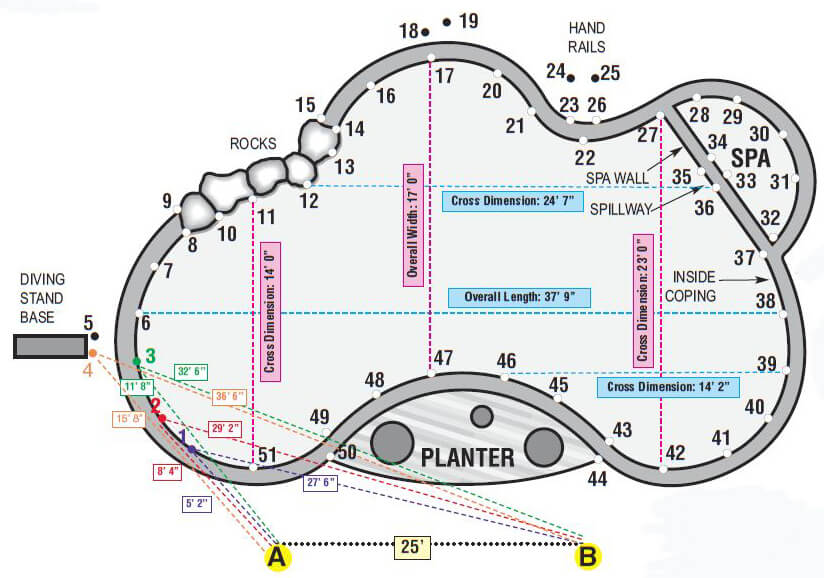 With measurements out of the way, now you can make some fun choices as to what type and style of safety cover you would like. We represent 5 different brands, with a pricing structure I like to call "Chevy to Cadillac". Loop-Loc, Meyco, GLI, HPI and our own InTheSwim brand are available in differing grades of material, colors and warranty periods.
All of our custom mesh covers provide unparalleled safety, so you needn't sacrifice safety for price. They all have at least a 10 year warranty, so your cover will be covered. The more expensive safety covers have a denser fabric, lighter weight and stronger materials, and warranties up to 25 years.
Custom Safety Cover Colors
Hunter Green looks nice, but you can also order your safety cover in Royal Blue, Black or Tan colors to complement any outdoor décor. Once upon a time, all safety pool covers were green only, but in the day and age of choice, you can select a color to suit your own personal style or preference.

Solid or Mesh Safety Covers
The option for solid or mesh material is an important choice to make. Although both types offer the benefit of safety, solid or mesh safety covers both have their own relative advantages to consider.
Mesh safety covers are made of a dense mesh fabric of reinforced polyethylene. Rain and snow melt will pass through slowly into the pool. Upon closing the pool, the water level is lowered 12-18″ to accommodate the slow increase in water level during the off-season. Mesh covers are much lighter than solid covers, and therefore easier to handle. The mesh material is less prone to water marks near the center, because it drains over the entire surface. Finally, mesh covers can be purchased at a slightly lower cost than solid safety covers.
Solid safety covers are made with a PVC reinforced vinyl fabric and are available with a center mesh drain panel, as shown above, or completely solid. The main advantage to a solid safety cover is that it blocks all sunlight, reducing any chance for algae to grow under the cover. The super-fine mesh drain panel, reduces contamination from acid rain, air pollutants, pollen and phosphates that can more easily enter through mesh safety covers. If you wish to completely block sun and contaminants, you can order solid safety covers without mesh drain panels, sold with an automatic cover pump. Finally, the solid pool cover material is more puncture resistant than mesh pool covers, and may offer greater resistance to UV degradation.
Safety Cover Anchoring Systems
All of our safety pool covers come complete with brass anchors for concrete decks, anchor tamping tool, hex key for raising and lowering the anchors, an installation rod for installing the cover springs, and an off-season storage bag.
Options for anchoring include wood deck anchors, for installing into wood or composite decking. Stakes and Pipes are available for planter areas, grass areas or decks of loose stone or bricks.
For raised walls, common these days with raised spas or cascades or water features, the usual practice is called Cable & Anchor. Eye hooks are placed in the wall, just above the water line, and a vinyl coated steel cable draws the cover up tight to the wall. For added protection against open gaps that would allow leaves to enter in, safety cover manufacturers use different sewn-on materials to butt-up against the wall, or uneven rock surfaces.
As an option to a flat safety cover with the Cable & Anchor system, pools with raised spas, or upper decks can utilize a design known as the "Up & Over". Up & Over pool covers will climb steps or walls less than 18″ in height. This can be done to avoid eye hooks in a stone wall, or to combine a spa and pool cover into one safety cover.
Get Started!
From the time your safety cover measurements are received, the time frame can be as little as 3 weeks, but can take longer if clarifications are needed, pictures are required, or payment delays the process.

Before you know it, fall will be here – don't use a cheap solid pool cover on your custom pool. They're unkempt, unsafe and unattractive. Avoid the rush, and get your free safety cover estimate now. We guarantee our ship dates, and offer a free Ultimate Winter Kit with each safety cover purchase!

Davy Merino
InTheSwim Blog Editor