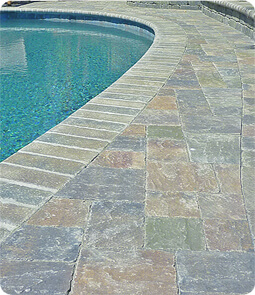 Whether you have an inground or above-ground swimming pool, a well-designed deck makes the whole backyard more attractive, fun and functional.
A great deck can also cover and camouflage a pool's less aesthetic features by creating new focal points.
Design with a variety of decking materials including wood, pavers, natural stone, or composite decking to transform an average pool into a backyard destination that's mind-blowing!
Different Decks for Pretty Pools

Decks for inground pools can have surface treatments. Years ago, surface treatment options were limited to bare concrete covered with Cool Deck, a colored spray-on cement.
Today, homeowners can choose from a variety of surface materials intended to enhance the aesthetics of an entire backyard to create a beautiful outdoor living space.
Inground pools can be surrounded with cast cement pavers, natural stone pavers, concrete, patio tiles, wood, composite. While materials (like natural stone like slate and granite) can be expensive, stamped concrete decking can be used to mimic more expensive materials at a more budget-friendly price.
Broom finished concrete is still the basic pool deck, with the lowest cost per square foot installed. Plain concrete can be accessorized with a quartz, rock salt or exposed aggregate finish. Stamped color patterns or stained concrete slabs are some ways to jazz up an old standard, and make a bold decorative deck upgrade.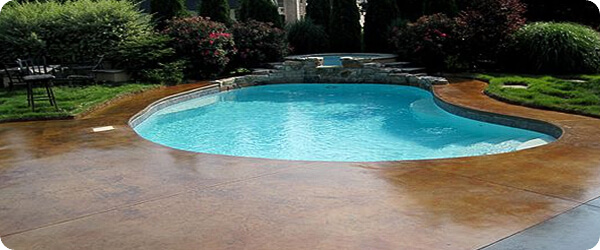 Above-ground pools are usually limited to wood and composite or resin materials, but creative deck builders use designs featuring stone or imitation stone walls wrapping the pool.
Regardless of the materials, aboveground pool decks should include adequate room between the deck and the pool wall to avoid maintenance and repair problems later.
Wooden decks made from cedar, redwood or oak will require periodic sealing for protection from cracking, warping and discoloring. Resin or composite pool deck kits don't require this, but can also be kept looking new with regular sealing.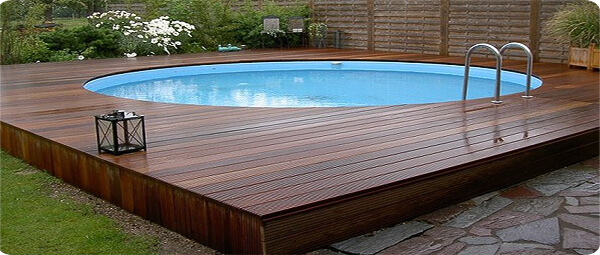 Deck Resurfacing Options
ConcreteNetwork shows that resurfacing concrete decks surrounding inground pools gives them a new look without the expense and effort of a completely new installation. Coatings can be used to beautify and protect concrete decks.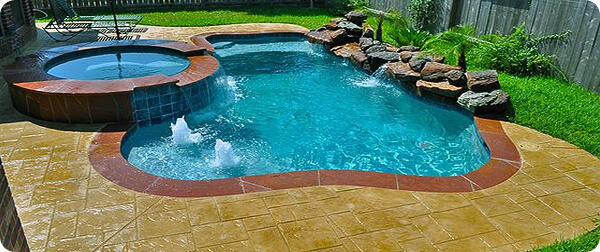 Thin pavers or ceramic tiles can be placed over top of an existing pool deck with level slabs. And if the pool coping stones are replaced at the same time, thicker stones can be used, to match the rise in vertical height.
Wood deck platforms can easily be placed over top of pool decks or scrubby patches around the pool, with small planter areas for a mix of ground cover, bushes or ornamental trees.
Pool Deck Maintenance
Keep your pool deck looking good with an annual pressure washing, especially important if you have a salt pool. Pool deck sealers are recommended for most custom finishes, to help prevent stains from leaves, dirt and such.
Maintaining wood surfaces surrounding pools is even more important. Tighten screws and fittings, check railings and sand any rough surfaces, then power wash, followed by staining and sealing. This Old House features a comprehensive guide to deck maintenance.
Pool Deck Design Style
Pool deck designs can be as simple or elaborate as your time and budget allow. Pool decks can use a combination of materials like wood, brick and natural stone for interest and variety.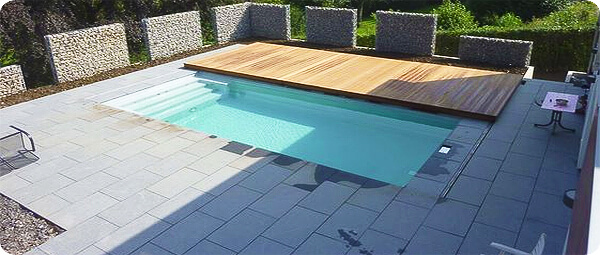 The design style you choose can help to limit your color and material palette choices and help guide material choices. Desert, garden or tropical, an overall theme will help you to consolidate elements into a cohesive design.
It's hard to change the shape of the pool, but the pool deck and landscaping is more fluid, like putty in the hands of a sculptor.


Dana Katz
InTheSwim Staff Blogger
Save