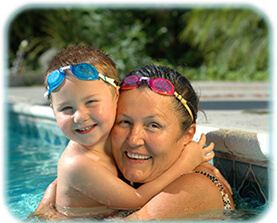 May is Pool Safety Month, a great time for every pool owner to evaluate and improve their own pool safety practices.
Swimming pools should all have pool safety built-in, but some pools have been installed with very little consideration to safety.
Today's post is how to bake-in pool safety on a new pool, or design improvements to make existing pools safer. Do this by adding several Layers of Protection and by Teaching Pool Safety.
Layers of Protection
The concept of installing several safety layers around the swimming pool. From the outside-in, here's a few examples of layers of protection to install around any pool.
Non-climbable pool fence with self-closing gates
Internal fencing or barriers to restrict pool access
Automatic cover or safety pool cover
In-pool alarms, wearable alarms
Door or gate alarms
Rescue equipment
Pool Fence
Required in most areas, a good pool fence is the first design consideration. Good fences are non-climbable, with no gaps greater than 3-4″, and 4-6 ft. tall.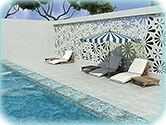 Pool Fences don't have to be ugly! A mixture of fence materials, and thoughtful landscaping can be designed to enhance safety while blending into the surroundings.
For pools that have a 3-sided pool fence, connected to the house, design changes can be made to limit access to the pool, to just one or two locations.
Build barriers with planters, low walls and hedges
Install internal fence – aluminum, glass or mesh
Create one access point in and out of the pool
Safety Pool Covers
A safety cover can be the most effective layer, a barrier that can keep even motivated adults out of the pool. Automatic pool covers, or pool safety covers can be used year around, for increased pool safety. Self-install, or contract with a local pool service company.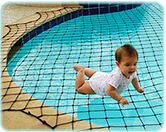 Safety nets are another type of pool barrier, lightweight and easy to put on and take off, and unlike safety covers, allow you to see through to the water. Katchakid nets are installed by a nationwide dealer network.
Swimming Pool Alarms
Some consider these as the final Layer of Protection between your pool and a child. True, since poolside alarms and wristband alarms both sound the alert if a child falls in the pool.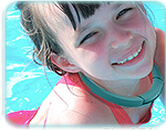 New are wearable alarms, worn around the head or neck, allowing children to swim, yet sounding an alarm if the device is submerged for longer than a pre-set maximum time, such as 30 seconds.
Door and gate alarms use magnetic sensors, and at the pool, motion sensor alarms can monitor other pool access point(s).
Swimming Pool Visibility
One practical safety measure is to design as much visibility of the pool as possible. For this purpose, mesh pool fencing, or aluminum or glass fences works well as an internal fence.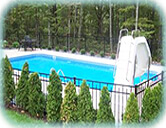 Overgrown plants or bushes or other obstacles may help to restrict access to the pool, but should not be used at the expense of visibility.
Lighting is also important as a safety measure. Motion activated lights are a simple product to install nowadays, shining over the pool, and at pool access points.
Teaching Pool Safety
In addition to physical barriers and alarms and equipment, certain behavior and swim skill training will really amplify pool safety, providing additional layers of protection for your pool.
Swim Lessons – for children or grand kids, every spring
Supervision – pool side or in-pool, never leaving the pool
Pool Rules – No swimming alone, No shallow diving, No hyperventilating. No dunking, No pushing, No running, No horseplay. 🙂
Whether you are planning to build a pool, or have had one for many years, investigate some of these ways to add more layers of protection and bake-in pool safety this summer!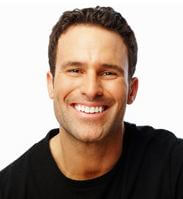 Davy Merino
InTheSwim Blog Editor