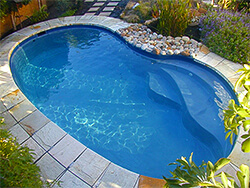 Swimming pools are often the focal point of a backyard; where family and friends gather and let loose. What does your pool and the rest of your backyard look like? The space should be appealing and inviting, reflecting your tastes and needs.
Let's look at a variety of accessories and projects that will turn your pool and the surrounding area into the ideal space to kick back and have fun!
Focus on the Big Picture

Take note of all the areas surrounding your pool. Here are a few ways to breathe new life into your backyard:
POOL FURNITURE: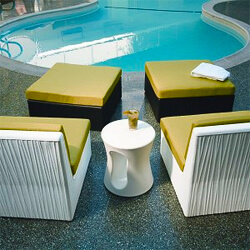 Steel pool furniture can get a fresh coat of paint and cushions can be reupholstered or replaced with new. Plastic or resin pool furniture can also be painted – you can paint plastic, and the results are fabulous! Aluminum pool furniture with vinyl straps can be renovated, as shown in our blog post on pool furniture restrapping.
POOL SHADE: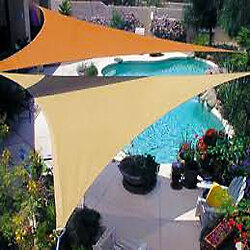 Create shade by adding large pool umbrellas to seating and lounging areas. If you don't want to rely on just an umbrella base, customize it by stenciling painted cinder blocks. Using Shade Sails is a great way to add not only shade, but interesting colors and shapes to your backyard.
POOL LIGHTING: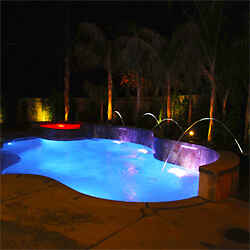 Plants and shrubs bring life to your pool and patio. Light them up to enjoy their beauty for longer each day. A set of solar spot lights is an easy way to highlight areas around the pool at night, or perhaps some LED planters. Inside the pool, LED pool bulbs or LED pool lights give your pool some personality after the sun sets.
Light the night in another way, with a Fire Pit or fire bowl with comfortable seating for cool spring and fall evenings. Roast marshmallows and hot dogs, or just stare at the fire and enjoy a real conversation.
POOL DECK: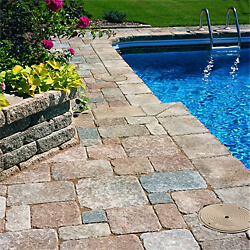 The pool deck is possibly the best way to change the look and bring value, style and space to your pool area. You can use concrete, tile, pavers or wood for this project, or choose more than one! For deck design flair on a budget, stampcrete adds a texture like stone, brick or marble, to regular concrete.
Spray-on cement can be applied over existing concrete for texture and color, or use a stain to add rich tones to boring old concrete.
Focus on the Small Details

It's easy to accessorize your pool with fun pool accessories like floating pool fountains, which hook up to your return or pool cleaner fitting. Or active pool sports games such as pool basketball or volleyball, or colorful pool rafts and noodles. The list goes on and on, but you get the idea…
Want More Pool Decor ideas?
Toodles!


Sheryl Sollis
InTheSwim Staff Blogger