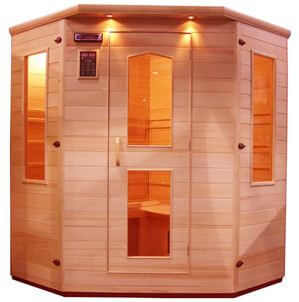 You've got the pool, maybe also a spa. Having your own sauna in the house is the next natural step for creating your own home resort!
Saunas have been home installed since the 70's, but today, far infrared saunas have made installation super easy.
Our Infrared Saunas ship in two boxes and all you need for installation is a screwdriver!
Choose your location:
A suitable indoor location would be level, dry and well ventilated. Your sauna is built to be freestanding, and should not be built-in without allowing for movement.
Choose a location with a vertical clearance of 75 inches. The footprint will depend on which size sauna you buy, and varies from 4'x4′ for our smallest sauna, to 6'x7′ for our 4-person sauna.
You'll need a 110 volt grounded outlet nearby to plug into – no hard wiring, or special electrical supply needed.
Join the Wall Panels:
You'll first start by laying the floor panel in position, with the label front facing the location of the sauna door. With a helper, move the front wall panel in place and slide the bottom into the groove on the floor panel outer edge.
Latch the panels together with the attached buckles. No tools required! Proceed around the sauna, joining the side and rear panels together.
After all of the side wall panels are joined, you can install the ceiling. Two people can easily lift it up, and join the top of the wall panels into the groove on the roof panel. Once it is snugly in place, secure the buckles.
Install the Bench:
Secure the bench in place with the provided bolts. Check tightness on all panels, and check for any loose screws on your heater panels, buckles, stereo system and lighting fixtures. Install the door handle on your sauna door – you're almost done!
Connect the Cables:
Don't plug in your sauna yet! First, there are some cables to connect and secure out of sight. These are cables that connect to your infrared heaters, sauna lights and the stereo system. You'll find the cables and the plugs marked for easy identification. After connection, use the cable clamps to secure them beneath the bench. On the roof, there are some other cable connections to make, before you slide the capstone panel on top.
Heat up your Sauna!
It only takes about 30 minutes to assemble one of our saunas, and only minutes to heat up – so turn it on, and go change into your bathrobe. Time to enjoy your new sauna!
One of my shortest blog posts – but, I have to blame the topic – installing far infrared saunas is far too fast and easy!

Davy Merino
InTheSwim Blog Editor