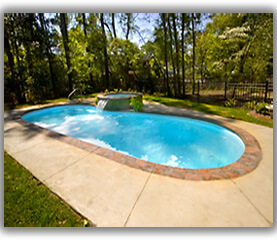 It only took about a month of enjoying the glistening sheen of my freshly gel-coated fiberglass pool surface before I began to notice a faint, dark ring subtly form around the water line. The optimist in me wanted to believe it was a shadow, an illusion cast by the angle of the sun.
When I realized this darkening stain around my immaculate pool wasn't going away, I was faced with guilt-ridden questions; What did I do wrong? How could this happen? How much dirt did these kids track into the pool?
Ultimately I resolved to do everything in my power to make sure to remove this black mark on the pool's history and vowed to become an expert in fiberglass pool stains!
Here's what I learned along the way…
Fiberglass Pools will Stain: I really like the fiberglass pool surface. One of the advantages of a gel-coated fiberglass pool is that it isn't porous like a plaster pool, and doesn't become etched and rough. No pool toes, fiberglass is smooth and less susceptible to algae growth and stains because it's super slick. Nonetheless, gelcoat can stain easily – as I found out.
Stains don't just Happen: There are several causes of stains for a fiberglass surface just like any pool surface. Top of the list are imbalanced chemicals or minerals, high levels of metals or foreign objects can all stain the pool. In my pool, one of the main causes of the bathtub ring around my pool was oily swimmers and sunblock.
Water Balance is Important: Daily testing can help maintain the optimal water balance. It is best to have a pH balance at 7.2-7.4 and the total alkalinity needs to be at 80-100 parts per million. Maintain your chlorine at or above 1 ppm and the calcium hardness at 200 to 400 ppm. If any of these numbers get out of line, stains can develop. Simply restoring balance to your pool water's universe is the easy way to prevent pool stains.
Specific Fiberglass Pool Stain Strategy…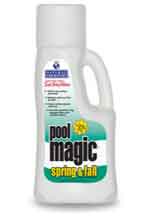 Water Line Stains: Before you ban your swimmers from applying sunblock; the bathtub ring can be removed with Clean & Perfect enzyme cleaner to dissolve it before your eyes, naturally. To prevent bathtub rings, try Pool Magic, to remove oily gunk from the pool – it really works!
You can also use Comet® cleanser and a kitchen sponge. I once spent several hours using a Mr. Clean Magic Eraser® (actually I used about 20 of them) and scrubbed each smudge until the gel-coat glistened like it had been restored. It worked well but was very time consuming, and were my arms tired!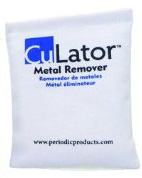 Rust Stains: Directly scrubbing rusty or crusty stains with a Stain Eraser has worked several times for me, but this year I am going to attack the problem before it starts by adding Culator Metal Eliminator. It's non-toxic and works on well water to actually remove metals from the water, like a sponge. Works with mineral purifiers and copper algaecides, too!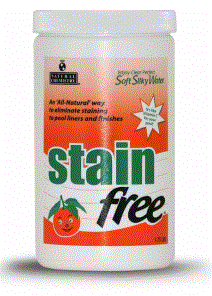 Dirt Stains: If your fiberglass pool has an all-over dirty dullness, ascorbic acid is great way to safely acid wash your fiberglass surfaces, without draining the pool. Closely follow the instructions when using ascorbic acid as your pH and alkalinity may need adjustment. Stain Free is an natural Vitamin C product (ascorbic acid) that gently cleans fiberglass pools.
Organic Stains: Leaves, worms, branches. Running your filter system longer and more frequently during the early swim season while the air is heavy with pollen and tree debris will help to prevent stains from forming on a fiberglass pool surface. In addition to clean water, keep the pool as clean as possible. After heavy storms, remove the big stuff carefully, so sticks don't get dragged around by a pool cleaner. Again, proper pool chemical balance and sufficient sanitizer is very important.
You are not alone in the world of fiberglass surface pool stains, there is help out there. You don't have to struggle alone! 😉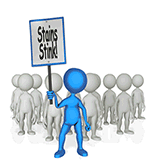 We're behind you 100%. Identifying the source of the stain is the beginning of recovering your impeccably clean fiberglass pool surface. Once you know the cause there are many simple ways to prevent and remove fiberglass pool stains.
Like these 20 different chemicals in our Pool Stain Removal section on our website. If you want to talk about your specific fiberglass pool stains ~ give us a call, we can swap stories!
FEATURED PRODUCTS:


Ryan Dornan
InTheSwim Staff Blogger