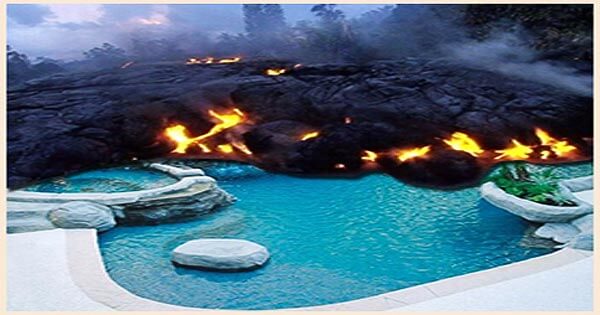 As a follow up to an earlier article by the same name, we return to the subject of pools that get in the way of natural disasters.
America ranks as tops in the world for natural disasters. More than any other country, as reported by a 10 year UN study on weather related disasters.
A short photo journal of swimming pools that have weathered the storm, and some that did not fare so well.
---
WILDFIRES:
In this photo below, from AP Photo/Rich Pedroncelli, wildfires in California burned this indoor pool to the ground, as reported by telegraph.co.uk.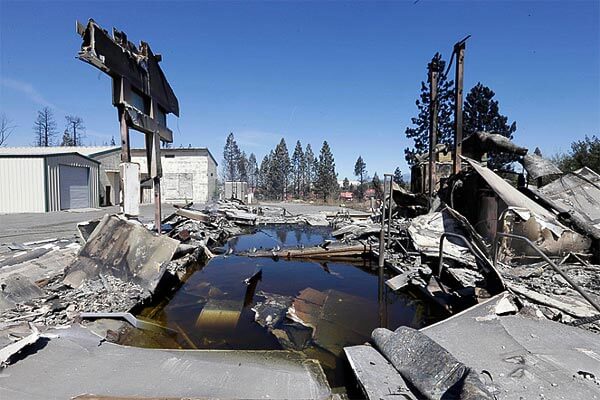 The pool below survives the inferno, while the home does not. The pool cover has melted, and the fireplace seems to be screaming. Photo by National Geographic.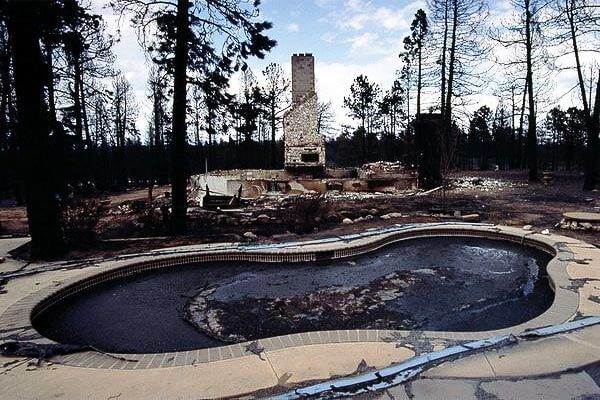 TORNADOS:
Tornadoes can develop quickly when conditions are right, and in a matter of minutes touch down with incredible fury. In this case, the tornado sucked the water out of the pool, right through the mesh safety cover, which was on the pool.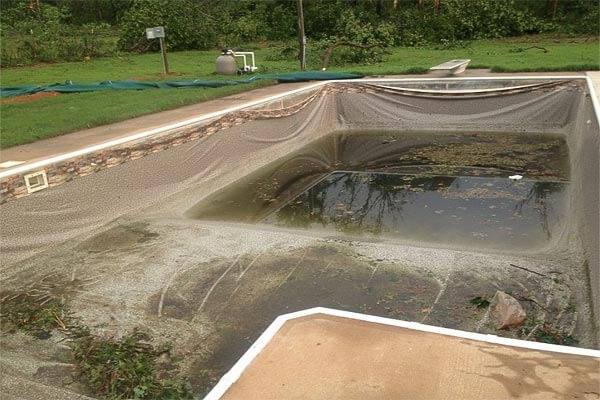 Eugene Thompson, found his horse in the pool after a tornado; a worse fate could have befallen this fine fellow. Photo Wichita Star, via Kansas.com.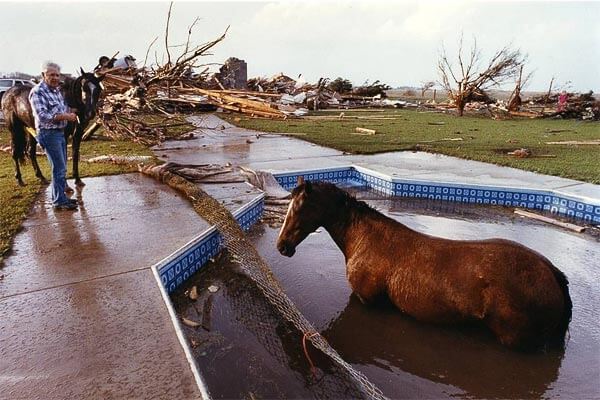 Tornado in a suburb of Atlanta, GA deposits nearly every kind of debris into the swimming pool. Photo courtesy of NOAA Photo Library.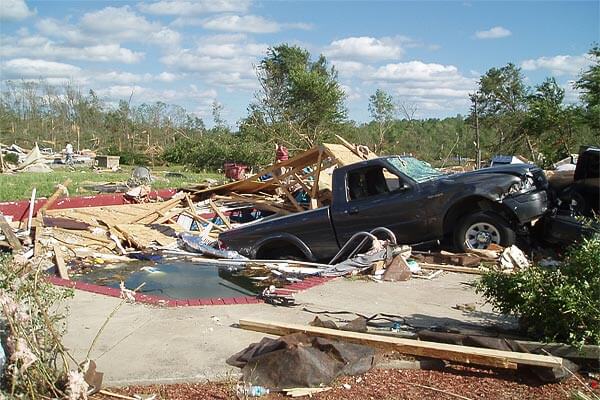 EARTHQUAKES:
Seismic activity can produce powerful forces underground, which cause shifting soils and water tables, as this New Zealand countryman found out first hand. Photo by Mart the Rev.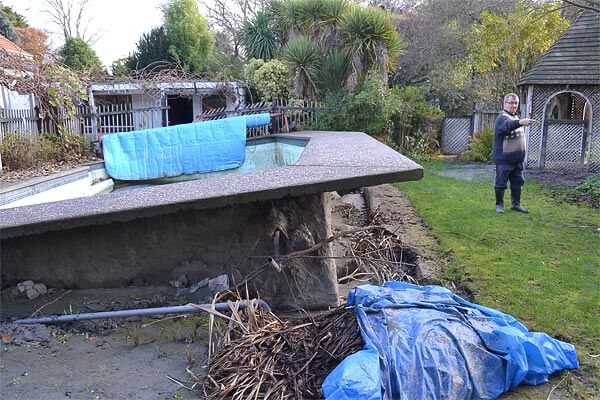 Reinforced concrete is pretty strong stuff, but given a strong enough earthquake, stress can cause cracks as the ground ripples and shakes.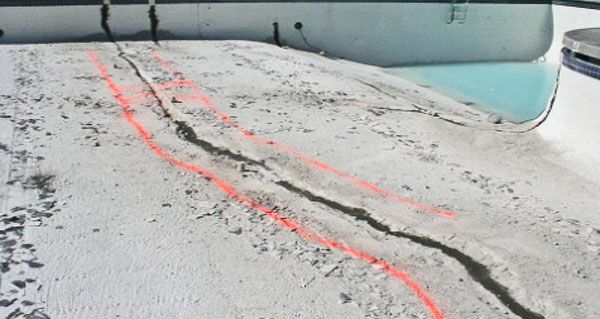 Here's a video of a "Pool Tsunami", starting at about 1:00 min, is fairly frightening to watch.  The pool survives the strongest earthquake to hit the region in 50 years.

FLOODING:
When flood waters from overflowing rivers or tropical storms or hurricanes recede, they leave behind tons of silty brown dirt that can take weeks to clean up. Photo by HealthyWA.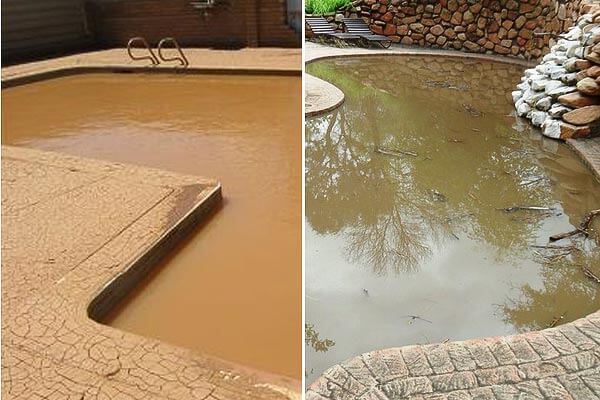 Aboveground pools do have their advantages! If they are not in the path of rushing water, and as long as waters don't get too high, they weather the storm.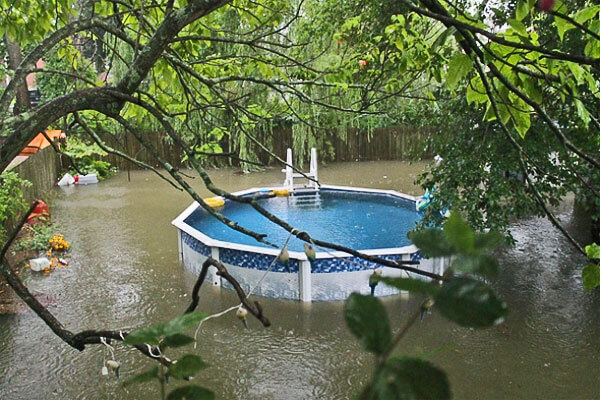 After the water recedes however, there will be a thick blanket of mud all around the pool, with staining to the pool walls. Pool pumps will certainly need to be replaced.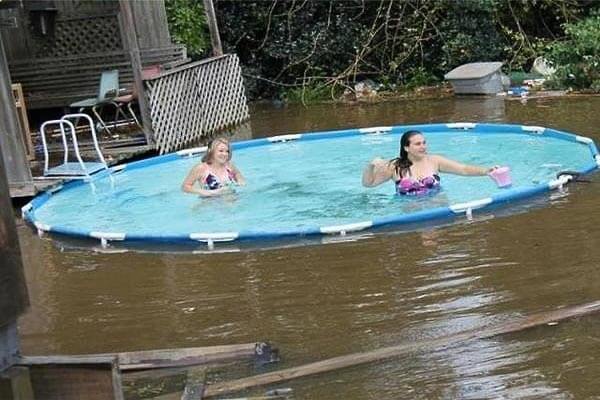 This last photo was titled "pool in neighbor's yard"; the result of massive flooding after Hurricane Katrina hit New Orleans in 2005.
PREPPING THE POOL:
What can you do? Not much. Don't cover the pool, unless you want to risk damage by flying debris, or burns from hot fire embers.
For heavy winds or flooding, remove any loose items from around the pool, including cleaning tools, toys, furniture and pool cleaners, and store them safely. Loose skimmer lids can be screwed in place or stored indoors.
If your pool pump is removable, move it to higher ground before the waters rise, to save the expense of motor replacement.Turn off all power at the breakers if flooding seems imminent.
There's not much you can do to protect your pool from natural disasters like wildfires, hurricanes, earthquakes and tornadoes. Just make sure to keep yourself and your family safe – and don't worry about the pool. It'll be fine.


Davy Merino
InTheSwim Blog Editor