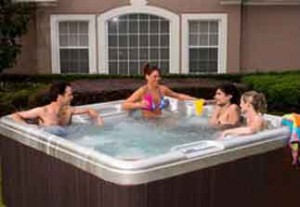 Generally when you talk about "accessories" of any kind, you can broadly classify them in one of two categories: "fun" or "functional"; and spa accessories are no exception.  There are lots of functional spa and hot tub products that, while not 100% necessary, will help to make your life easier.
Then there are lots of purely fun spa and hot tub products that could never be considered a necessity, but will help you maximize the enjoyment of your spa.  In the remainder of this post I'll give you a few ideas from each category, hopefully you'll find something here that can help make spa care easier, or help you relax to the max.
FUN STUFF

> Spa Pillows and Cushions
There are lots of different options out there when it comes to pillows and cushions.  Some spa pillows will just fold over the edge of the spa, some have a counter-weight that hangs outside of the spa to prevent the pillow from falling in, and some have suction cups so you can secure the pillow to the spa.  Whichever type you choose, when possible it's a good idea to remove the pillow from the spa when not in use.  Due to the intense heat and chemicals in your spa, the pillow may begin to absorb water, similar to what happens to your spa cover over time.
A spa booster cushion is made for the seats in the spa.  It elevates you to keep your head higher above the water while cushioning your seat.  It can be especially helpful for people who do water exercises in the spa, or younger or shorter people who like to sit higher than "neck-deep" in the spa.
> Spa Aromatherapy – or spa fragrances can make your spa even more tranquil and relaxing.  Spa water can be harsh, spa moisturizers will help to soothe and soften your skin while you soak.  The fragrance and moisturizer you choose for your spa or hot tub will just be up to your own personal preference, but make sure anything you add to your spa is really meant for use in spas and hot tubs, and that it won't affect your water chemistry or leave any film/residue in your spa or filter.
> Spa Theater

A TV is probably the ultimate "fun" spa or hot tub accessory – totally unnecessary, yet totally awesome! Always be sure that any equipment you buy is meant for outdoor use and carefully follow installation instructions to ensure equipment is being used safely around the water. SunBriteTV is a popular manufacturer of outdoor televisions. Go beyond the simple television to an outdoor theater, big screen, with surround sound speakers.
FUNCTIONAL STUFF

> Spa Cover Lifters
You'll notice that I don't list actual spa covers/spa tops in this post because those really are a necessity, but how you put on and take off your spa cover is up to you.  There are a variety of hot tub cover lifts (one model pictured below) and shelves that you can use to assist you with your bulky spa cover.  Some lifts need to be drilled directly in to your spa cabinet; some can slide underneath the spa.  Always remember to check how much clearance is required around the spa for the lift to operate properly.
A spa cover shelf attaches to the side of your spa and allows you to fold your cover over and simply push it on to the shelf.  A spa cover shelf will usually require more space than any of the lifts, so again, make sure you have the required amount of clearance on the side and above your spa to move the spa top off of the spa.
> Nature 2 Spa Purifier
Hot tub chemicals and sanitizers are a necessary part of spa ownership, but you can help to reduce the amount of sanitizer you need to add and improve the feel and smell of your water by using a mineral purifier like the Nature2 spa purifier.  The purifier is a cartridge (sometimes called the Nature2 Spa Stick) that you simply drop inside of the filter cartridge you already use.  It contains a patented blend of minerals to kill bacteria in spas up to 500 gallons for up to 4 months.  The only other sanitizer you will need to add periodically is a shock treatment. If you are looking to reduce the amount of time you spend testing and balancing your spa chemicals, Nature2 for Spas is a good product for you.
> Floating Spa Thermal Blanket and Spa Cover Protector
These next two products are both meant to help protect your spa cover, one from the inside of the spa, one from the outside.  The floating spa blanket is a lightweight thermal blanket that you place on top of the water before covering with your spa top cover.  Spa blankets help to trap the chemical gases that rise up and become trapped in your spa cover, deteriorating it prematurely. They also help reduce evaporation and heat loss, while reducing moisture that may be absorbed into your spa cover.
The Spa Cover Cap spa cover protector is basically a cover for your spa cover, meant to protect your spa cover from severe winter weather.  It is simply a white poly cover with an elastic band that you secure on top of your spa cover.  It is meant for winter use only (temperatures below 45 degrees) to protect your cover from water, snow and ice damage.  Using either or both of these products should greatly extend the life of your spa cover.
> PoolBlaster Spa Vac
The Pool Blaster Spa Vac is a cordless, battery operated, hand held spa vacuum that makes cleaning your spa a much easier task.  It traps debris in a self-contained microfilter that can be quickly emptied to be used again.  If you live in an area with lots of trees, or for whatever reason have a need to vacuum your spa frequently, this might be an item to consider.
> Spa Furniture

Yes, I said Spa Furniture. There are a variety of spa steps and rails that can make getting in and out of your spa easier, while adding a decorative touch to your spa area.  Many spa steps will have matching planters as well.  Spa tables are also pretty useful, some are meant to sit on the ground outside of the spa, and some can be attached to your spa so they are easier to use while you are in the water. They swivel on the pole, to bring the spa table into reach, over the water.
Hopefully I've shared at least one product with you that can make your spa experience more enjoyable.   But if nothing I've talked about here strikes your fancy, keep exploring, there are tons of products out there designed to help you love your spa even more!


Jackie Wolski
InTheSwim Staff Blogger