When I think of a swimming pool, my first thought is usually relaxing in the water. What better way is there to spend a lazy day in the pool than to float around on your favorite pool float?
Traditional pool floats are practical and simple, but nowadays you can buy something more playful and fun, and add some whimsy to your water.
Here are some crazy cool pool floats, both fun and funny!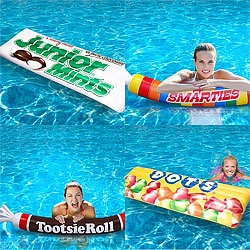 Candy pool floats! Any kid or kid at heart would love to float around on one of these Tootsie® Brands.
Smarties, Dots and Junior Mints too, these candies will bring back nostalgia, but won't melt in the hot sun.
You can find these fun floats at fancy.com
---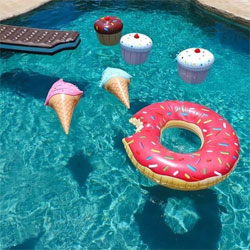 Time for Dessert pool floats! For a fun pool party, or just everyday at the pool.
Inflatable Ice cream cones and ice cream sandwich, cupcakes and even a donut, with a bite out of it!
If the Ice Cream Truck doesn't come down your street, buy these inflatable treats at Urban Outfitters
---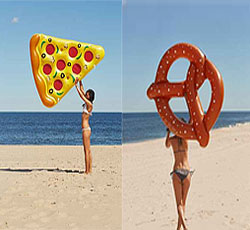 Pizza Slice & Pretzel Float – it's snack time at the pool, with this Pretzel Float or Pizza Slice Float!
Tie 8 Pizza Slices together for a giant party float! But, tell your friends not to bite these floats.
Find these goodies at Urban Outfitters
---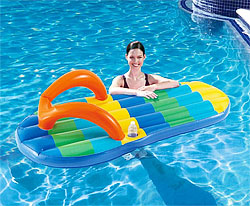 Do you like wearing Flip Flops? Well how about lounging in the pool ON a flip flop? Lock yourself into the foot straps to keep from falling out!
The Flip Flop inflatable pool float makes a great gift, because it's fun, funny and functional!
---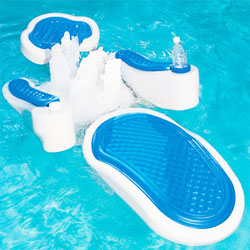 The Hydro-Massage Pool Float hooks up to your pool return line!
Air filled PE frame is cushioned with durable closed cell foam padding, with head rest, arm rests and cup holder!
Connect the 12 ft hose to your pool return line and the jets spray up and down your back! From Hammacher
---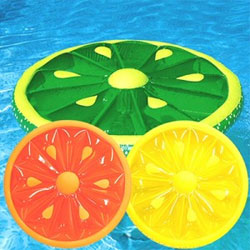 Fruit Slice Floating Islands are 5 ft wide floating citrus slices! Big enough for two, but you'll want it all to yourself!
Available in Lemon, Lime and Orange, Citrus pool floats are super thick to keep you high and dry, and 60″ in diameter.
Fresh fruit slices are available from the Grizzly Supply Co.
---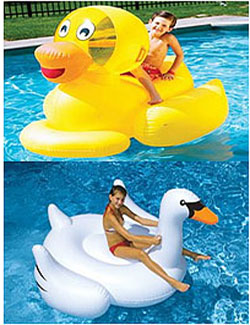 If you like ride-on floats, maybe this Swan Float or this Giant Inflatable Ducky Float are just what you're looking for to add some pool fun this summer!
Giant Floats are big enough for several kids, or even Dear old Dad. Multi-Chamber heavy duty construction.
The best part about these two fun floats is that they're from In The Swim, see them – buy them in our Fun Pool Inflatables section!
---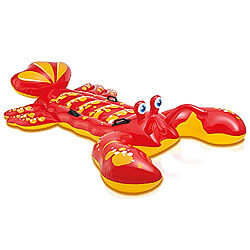 The Intex Lobster Ride On pool float is a full 2 pounder! Super thick lobster shaped inflatable is 84″x54″, with heavy duty handles.
You've seen the Inflatable Alligator, Killer Whale, Shark and Dolphin. So, Ho-Hum – when have you ever seen a Lobster pool float?
Get yours at Bigwords
---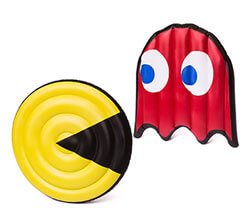 Pac Man pool floats! If you were a fan of the original video arcade game, these are for you!
Pac Man and Blinky are 3 ft diameter pool floats, inspired by the Pac Man video game, and reimagined as inflatable pool rafts!
Find these at PerpetualKid.com
---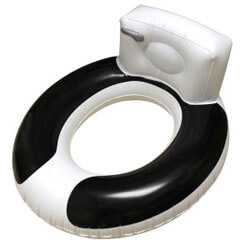 Toilet Pool Float. Want to give pool guests a good laugh? Grab this hilarious toilet seat shaped pool float!
Simple inflatable vinyl toilet bowl measure 36″ with an 18″ diameter center opening. The toilet tank works as a back rest.
Get yours before they run out again! At Craziest Gadgets

---
Well there you have it! Any of these floats are sure to provide you with hours of fun in the sun! So pick up your favorite one, and get more smiles out of your pool this summer!


Christine Silvestri
InTheSwim Staff Blogger