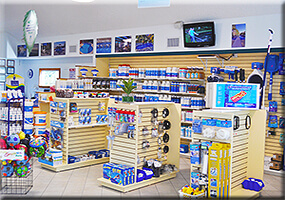 Owning a pool can be an amazingly fun experience! So can working in a pool store! Here are a few funny and true stories that we have experienced while working at the In The Swim pool store! Enjoy!
Pool Store Theater
Over the summer, we love to run pool-related movies in our pool store. We think it makes for a great experience for customers and employees alike. One customer felt so intrigued by the movie we played that he paid for all his items, and then took a seat in the store to finish watching the movie.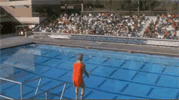 He stayed till the credits started rolling and enjoyed every minute of it! What was the pool movie that so captured his attention? Rodney Dangerfield's "Back to School".
Get In The Swim!
We had a group of young friends come in last summer; stocking up on items for an upcoming graduation pool party. We like to set-up  aboveground pools in our stores to give customers a feel of what they are getting and also to put some pool accessories on display. Well, while one friend gazed at the pool, the other friends grabbed his legs and hoisted him over the edge of the pool!

He was shocked and soaked but everyone, including the friend who was pushed in the pool, laughed it off. Except for the maintenance guy, who had to come in and mop the floor.
Baby Ruth in the Pool!
Speaking of having an aboveground pool set up in our store, one of our store managers likes to occasionally pull a prank on our pool store customers. Taking a page from a well-known movie, he'll slip a Baby Ruth candy bar in the pool just for kicks. Many customers laugh out loud "Look, it's a Baby Ruth!" and others come up to the front counter, and quietly say "Um, there's something floating in the pool…"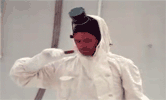 If we only had those hazmat suits, I could get on the overhead intercom "Attention, we have a code brown. Hazmat unit to the pool store!", who'll come rushing in to save the day!
Bubba the Awesome Possum
A customer who lives nearby in a heavily wooded area came in to our pool store with a possum problem. They discovered that a family of possums had been sucked into the skimmer and all but one baby had died. They decided to keep the baby and name him Bubba. Not known to be water animals, this little possum enjoyed playing with their son in the pool in an inflatable see-saw rocker. One morning Bubba slipped outside for an early swim before their son woke up. When he was not in his box, they checked the skimmer and sure enough, Bubba had been sucked in, and although very dizzy, he survives.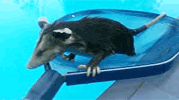 The family came into the pool store for some ideas to keep Bubba safe, asking about tiny water wings! We set them up with a Skamper Ramp and a Skimmer Grille.
Robinson's Racing Pigs
Every year we see a customer who drives over to our pool store to pick up several pool liners. Curious as to why, we came to find out that he used the liners for pig races at county fairs! As part of the race track, the piglets dive into and swim the length of a 24′ aboveground pool, called the Hogwash!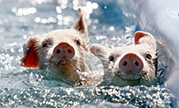 Robinson's Racing Pigs have appeared on the Tonight Show with Johnny Carson and with Jay Leno, and are a popular state and county fair attraction all around the country.
Acts of Cow
We sell a lot of safety covers, and a lot of replacement safety covers. A few years back our safety cover team received a letter and a photo in the mail. It was from a customer who was absolutely distraught about damage to her pool cover she had purchased through InTheSwim. She wanted to know if it could be repaired, or if it needed replacement – and if it was still under warranty.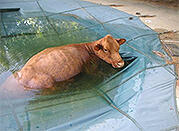 As I recall, our safety cover guy told her "It is within the 10 year warranty period, but I'm afraid it doesn't cover Acts of Cow." They both had a good laugh, and the cover was able to be repaired (and the fence too!).
If you have a funny pool store story, Leave a Reply below – we'd love to hear your tales of fun or interesting pool stores.