Why Swimming Pool Heaters?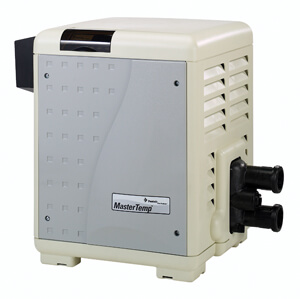 Before we get into the technicalities of various types of pool heaters available on the market, we need to know why we need a pool heater in the first place.

More Comfortable Swimming


Greater Use of your Pool


Longer Swimming Seasons
Swimming pool heaters use natural gas or propane, to create heat which is passed through a heat exchanger into your pool water, making it warm and toasty.
A pool heater can add another month or two onto each end of your pool season, and make swimming more enjoyable. When the water is the right temperature, you're more likely to use the pool, and isn't that why you own a pool?
Sizing a Pool Heater
Before you buy a swimming pool heater, it is important to determine the size of your swimming pool to choose a pool heater of the right size. A pool heater that is too small will take days to heat the pool, have much longer run times, and lower overall temperature rise.
Swimming pool heaters are sized to a measurement called BTUs or British Thermal Units. 1 BTU raises the temperature of 1 gallon of water by 1 degree Fahrenheit; the higher the BTUs, the faster the water will heat up. When sized correctly, a gas pool heater will raise the temperature of your pool about 1 degree Fahrenheit per hour.
Calculate Surface Area of your Pool:
Round pools: radius (1/2 diameter) x radius x 3.14
Rectangular pools: length x width
Oval pools: 1/2 length x 1/2 width x 3.14
Kidney pools: length x width x 0.75
Calculate Desired Temperature Rise:
The temperature rise of your pool is a calculation of your desired temperature minus the air temperature, for example if the air is 70 degrees and your desired temperature is 80 degrees, your temperature rise would be 10 degrees. The following table will help you determine how many BTUs it will take to warm your pool water to your desired comfortable level.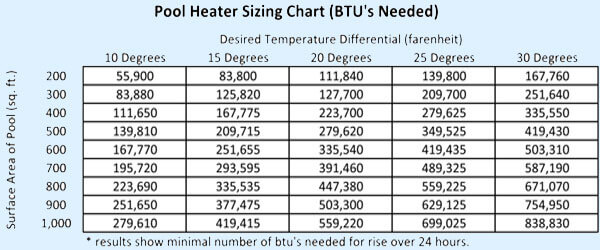 Swimming pool heaters are sold in sizes that correspond to their BTU ratings. Most manufacturers offer their heaters in 5-6 sizes – 150K, 200K, 250K… up to 400,000 BTUs.
It's considered a good idea to select a heater with higher BTUs; it will help warm your water faster and will reduce the heater's running time.
Swimming Pool Heater Types
What sets apart gas pool heaters is the type of fuel the heater uses, either natural gas or liquid propane gas (LPG), and their ignition style, either millivolt or electronic start. Gas pool heaters are also available in low-emission and high-altitude models.
Natural Gas or Propane Gas?
If you have natural gas available already, that would be the obvious fuel choice. If you don't, contact local propane suppliers who will sell or lease a propane tank to you, and keep it full with their LPG delivery trucks. You cannot use a 5-gal. BBQ propane tank, sorry. Usually, a 500 gallon tank is installed, either above ground or buried installation.
Millivolt or Electronic?
Millivolt pool heaters have a standing pilot that must stay lit to light the burners, while an Electronic Ignition pool heater eliminates the need for a constant pilot light by electronically lighting the pilot only when needed. Kind of like a modern stove top.
Millivolt pool heaters generate a small amount of electricity (just milli-volts) from a thermopile next to the pilot. This creates 600-750 mv, which is used to power the circuit of wires that runs through the components.
Electronic pool heaters have electronically calibrated and controlled circuitry and switching ability. They are considered to have overall better reliability from their solid-state nature.
Low-N0x or Standard?
If you live in Texas or California, your state government would prefer for you to buy the environmentally friendly, Low-N0x pool heaters. N0x stands for Nitrogen Oxide, one of the emissions from pool heaters, in addition to carbon monoxide. Low-N0x pool heaters have fewer emissions, so they are good for the environment.
Low N0x pool heaters also achieve a better efficiency rating of about 5%, and a higher rate of heat transfer. They are cleaner burning, and a bit safer to install indoors than standard emission heaters. Low N0x heaters typically cost a few hundred dollars more, but over their lifespan, the increased efficiency should pay that back to the owner.
Gas Pool Heaters Buyer's Guide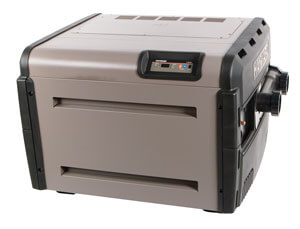 Low Profile, contoured cabinet


"V" baffle design focuses heat


Induced Draft system controls combustion


Digital LED control panel and diagnostics


No rear header. Single in/out manifold


80% efficiency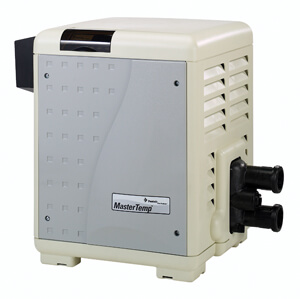 Space-saving, compact design


Patented thermostatic bypass valve


Dual thermostats for pool or spa


CPVC bulkheads are reversible


Ceramic fiber insulation holds heat in


82% efficiency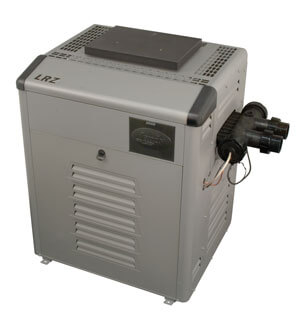 Feature rich LCD control panel


Integrates with Jandy controllers


Reversible gas, water and power


Available in Millivolt or Electronic


Lightweight Polymer headers


82% efficiency

High wind resistant pagoda top


Digital LCD control panel


Trim design, Powder-coat finish


Stainless steel tube sheet


Capron resin headers


82% efficiency

Exclusive Dura-Glas construction


Control panel rotates to 6 positions


LED readout and controls


Dual thermostats


PVC union connections


84% efficiency

Low-N0x emissions surpasses standards


Gasketless design reduces parts


Rust-free surfaces always looks great


Digital display and controls


Porcelain molded water surfaces


88% efficiency
Hit the Store!
Now that you have covered the basics and are an expert at how to buy a gas swimming pool heater and what to look for, it is time to go shopping. You can hit a local store or make it more convenient and simple for yourself by checking out our wide selection of pool heaters at low prices, plus free shipping.
If you have questions about swimming pool heaters, reach out to our pool warmth specialists at 800-288-7946. Since we have such a huge selection of pool heater brands, you won't feel pressured into any particular model, just the one that matches you and your pool best!


Ayesha Aslam
InTheSwim Staff Blogger