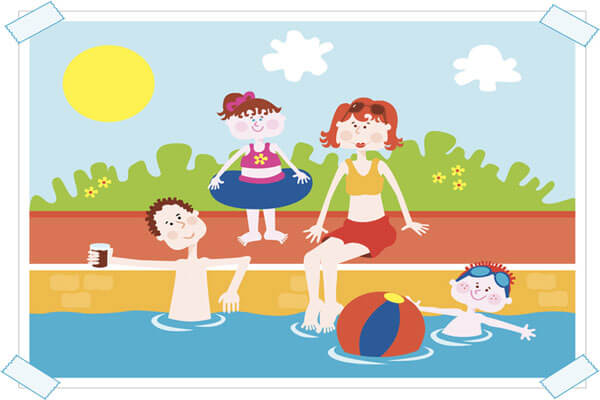 Spring Break. My kids excitedly clung to the pool coping at the deep end as their dad backed down the pool ladder and pretty much fell into the pool a little less than gracefully. The waves from my impact with the water scattered across the surface, lifting each kid up along the pool's edge like boats on the incoming tide. They loved it of course, and I was just thankful no one else was near the pool, and that I'm a rather naturally-buoyant person.
As my kids swam about showing me their newly learned skills from recent swimming lessons, they were skimming the surface like dolphins, effortlessly kicking their legs and wiggling their bodies through the water, reaching the surface with a big smile and giggles, wanting to see me copy their moves. So I did, and I wasn't smiling or wiggling, and I was more tug-boat-like than dolphin.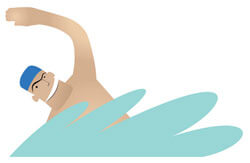 It was right then I decided this time in the pool would be a perfect opportunity to get some exercise. So I swam across the pool once, about 25 feet or so in distance, stopped long enough to turn around and swam back to where I started. It actually felt like a big accomplishment – so I did it again, and then a third time. The kids joined me, my oldest wanted to race me of course, pushing me to refine my stroke and speed. It felt great and quickly improved my mood – even before my first cup of morning coffee.
Reeling at the unfamiliar rush of energy, I lurched over to the waterfall and reached up to grab hold of the large flat rock. Pulling my arms to lift my head above the ledge, I realized I had just completed a pull-up, which is my first one since… ever, I do believe. I dropped myself back down fully into the water, and repeated the pull-up a few more times. The water kept my lower body just buoyant enough to make my body lighter but not completely weightless.
Of course I knew it was time to get out to supervise, so I swam to the pool ladder, dried off, put my t-shirt back on and went to join my wife, watching the kids in the little pool. My wife joined me and I explained how my little pool workout was invigorating and almost … enjoyable. Of course, she was happy to hear that, especially since she swims laps 3x per week, for exercise.
With a big grin, she started searching online for "water workouts", and not surprisingly, there's an amazing amount of ideas to be found. For instance, on GetHealthyU.com, she  found these great stretchy cord water exercises.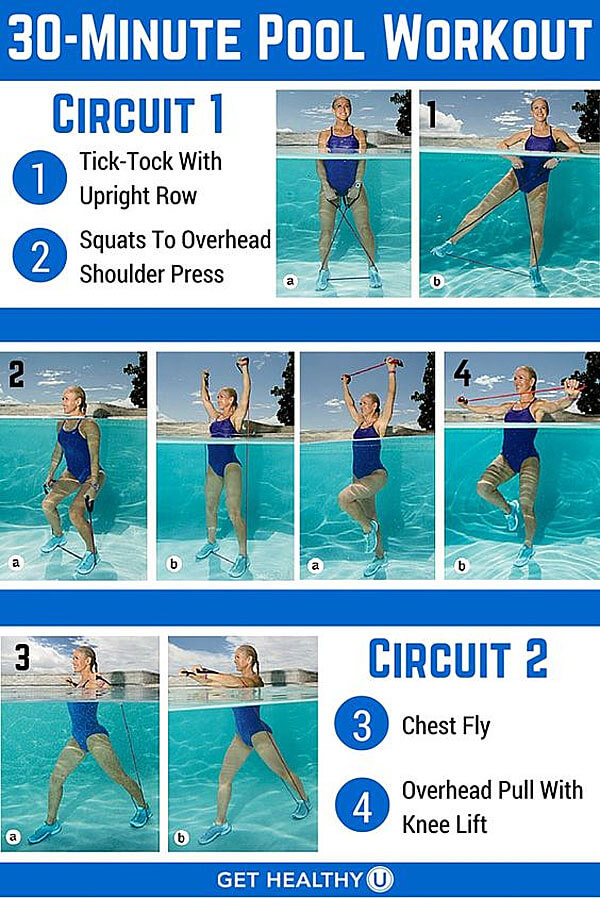 She found a great ab workout for the pool, which I tested. Start by standing in the pool, with your back against the pool wall. Then place your elbows and forearms up on the pool deck, raising your body just slightly. Keeping knees locked and legs straight, move your legs from the vertical to horizontal position, hold them there for three seconds, and then bring your legs down. It's easy enough to do several reps over three sets, but the water creates enough tension that you'll feel your work in your stomach.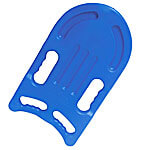 From swimming laps using a variety of swim strokes to working your legs, rear and abs using one of our classic pool kickboards, we found something that was low-stress but effective as a pool exercise. There are other muscle building and toning exercises that use your body weight and natural buoyancy, or you can make great use of a pool noodle.
Here's another great chart that my wife came across – looks to be a few years old and maybe from an army field manual, but it gets the idea across just as well.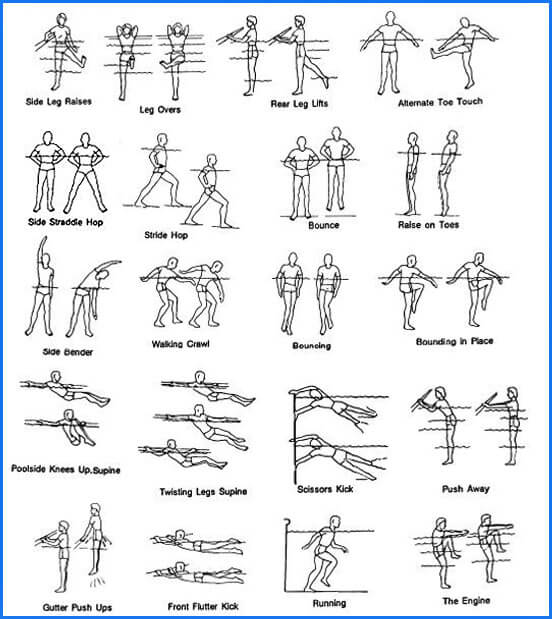 For more fun pool water workout ideas for your swimming pool, visit these other fine In The Swim blog posts for more cool pool exercises you can do to get back in summer shape.
As Dr. Pool would say, Get your Swim On, America! There's a hundred different ways to get a good water workout. Make use of your pool – that's why you have it, for fun, fitness and family togetherness!


Larry Andersen
InTheSwim Staff Blogger