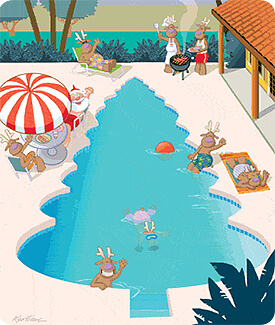 The end of the year is already upon us, which means that the holiday season is approaching, ready or not. For those we know that own a pool or love a good swim, there are many options for fun or useful gifts.
Pool gifts build anticipation for warmer weather for those pool or spa dwellers. We have gifts for all types of swimmers – fitness, lounger, soaker. Gifts for Parents, Grandparents and of course, kids.
Gifts for Pool Parents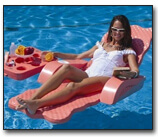 MOM: When parents aren't watching the kids in the pool, they want to relax. Give Mom the gift of ultimate relaxation with this Scalloped floating lounge. This floating lounge can be used both on the patio, or as a pool floating lounge. This deluxe pool float comes in 3 colors – Bronze, Aquamarine and Coral.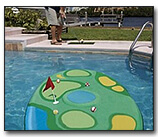 DAD: Here are several fun competitive games that anyone is sure to enjoy. Games like volleyball and basketball that he will enjoy playing with the family – but there is also practice games for him to hone his skill on the golf course – like the the Pro Chip Golf Game.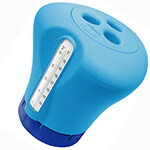 For either parent, it's nice to get help with pool maintenance. The Floating Chlorinator and Thermometer Combo is useful because it not only acts as a thermometer, but it also gives a steady chlorination to the water. Although not exactly a stocking stuffer it is nicely priced so you can put it off to the side near the stocking, saving for other gifts for dad.
Gifts for Pool Kids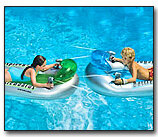 Kids love playing games in pools – whether diving games or competitive games. Depending on the age of a child, they may enjoy squirting as they float around in the pool. Floats that have squirt guns attached are fun, but if they like to play with a sibling, they may appreciate the Battle Station Squirter Set, with two floats.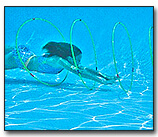 For kids who are keen on swimming pool games, there are a plethora of choices to make. Among these selections are diving pool games, like the Treasure Hunt diving game. More advanced swimmers will enjoy swimming through underwater obstacles, like the Swim-Through Hoops. See who can swim through the fastest!
Gifts for Pool Grand Parents

Rail Grips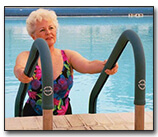 are nice to have for anyone – as they can prevent slipping into the pool and provide for a safer entry and exit to and from the inground pool.They keep rails cool in the hot sun, and warm in cooler weather and are soft to the touch.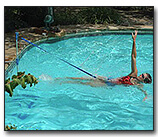 For those who like to get the extra exercise in the pool, the Home Swimmer is a nice option. This portable, stationary swimming system allows you to work your muscles – giving you a cardiovascular workout. A soft belt holds you in place, as you swim against the resistance.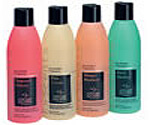 Many people enjoy relaxing in the spa. Spa Fragrances can add to the relaxation of owning and soaking in a Spa or Hot Tub. Fragrances come in a variety of different scents and help set the mood, while leaving your skin smelling soft and feeling great.
This holiday season, there are seemingly endless options for family members who love to spend time in the pool. Waiting for the weather to be appropriate for using these gifts only adds to the excitement and builds anticipation!


Alex Malamos
InTheSwim Staff Blogger