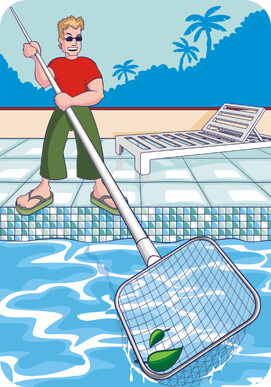 Cleaning pools is hard enough, without suffering with inferior kids stuff pool cleaning tools.
I've been in a lot of backyards, and few pool owners upgrade from the cheapo tools they got free when they built the pool.
Commercial pool cleaning tools cost more, but last longer, and save tons of time and effort.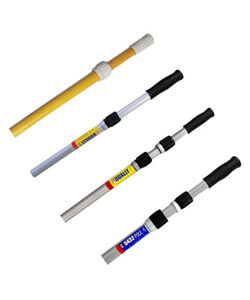 You can't clean your pool with a bent half-pole! SkimLite poles are super rigid and durable Aluminum with lengths of 16′, 18′ and 31 ft.
Or, our virtually unbreakable fiberglass pole has dual locking cams, 8-16 ft. It may be the last pole you ever buy!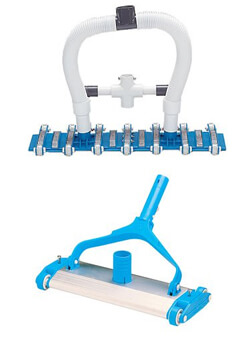 For serious suction, commercial pools use 2″ vac hose, connected to extra large vacuum heads, like our 24″ Flex Vac with dual suction ports, works great even with residential pumps.
For a very large pool, wider than your pool pole is long, wishbone steering on the classic aluminum 18″ vac head flips the pole to the other side of the pool.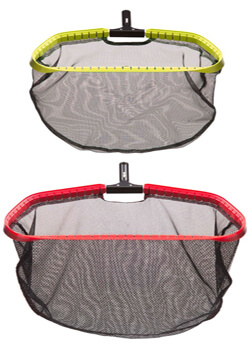 If you have ever used one of those flat dip-n-flip skim nets, you know how worthless they are. Pool Leaf Rakes are the best way to skim the surface and dredge the pool floor.
With a sturdy aluminum frame, unbreakable handle and durable polyester net, they last for years! Commercial Leaf Nets are available in 20″ and 24″ widths.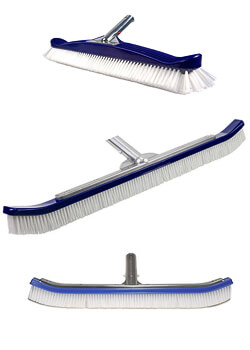 I've seen your pool brush, and it's seen better days.
Make it easier on yourself by brushing the pool with a larger brush. Step up to the commercially sized 24″ or 36″ pool brush.
Or try the 18″ Supreme pool brush. 4 inch row of over 20,000 bristles deep cleans your pool.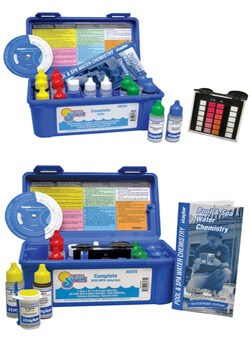 Why not maintain the pool water like a pro, too!
The Taylor K-2005 test kit is the preferred pool test kit by lifeguards, pool operators, and is the same kit used by many pool store test jockeys!
The Taylor K-2006 is the same, with titration for super accurate chlorine readings.
Step up your game this summer with commercial cleaning tools that you can count on for years of service.
You might even enjoy cleaning the pool! Maybe, a little bit? 🙂

Davy Merino
InTheSwim Blog Editor
Save