You just heard a knock on your door and are wondering who could it be – don't worry, it's just ghosts and ghouls who have come to remind you that Halloween is around the corner! Step out of the ordinary and host a Halloween pool party this year!
For many of our customers, the pool is already closed down by the end of October – but for those of you in the sunbelt, All Hallow's Eve is the perfect time for some outdoor entertaining by the pool. To make your pool party one that no one will soon forget, try out some of these scary pool party ideas!
Halloween Pool Party Decorations:
The first thing you will need to make your Halloween pool party a success, is spooky, Halloween-worthy decorations. A Halloween party is no fun without the whole haunted house aura, so let's get some shopping done.
You can start with some pool dye to color your pool water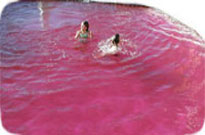 either red or orange to give it a spine-shilling look and add more eerie effects with some pool lights. You could also use LED Triple Tier Pool Fountain or ChillLite Loon Pool Light, both of which change colors and can create a spooky effect. Floating candles in orange and black colors can also be placed in your pool to enhance the spookiness.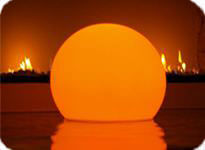 Take a look at our ChillLite Pool and Patio Lighting; these rechargeable, battery-operated, LED lights can be placed alongside your pool, deck, or patio to cast a soft but eerie glow. Chill Lites create the perfect Halloween effect that we are going for. They even float on the water!
Once you have decorated your pool, you are ready to decorate the deck, patio and the backyard. How about spider webs, skeletons, grave stones, zombies and witches? Hang the spider webs on your deck and patio furniture and put the skeletons and zombies by the entrance so your guests can feel the chill as soon as they enter your backyard. Rent a fog machine and/or strobe lights to add to the supernatural effect. Hanging lights on your walls, umbrellas and gazebos can provide just the right amount of low-level lighting for your haunted pool party.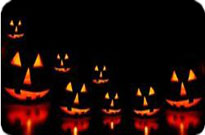 Last but not the least, you will need a few Jack-o-Lanterns to make this party authentic – Halloween is incomplete without some scaring and glaring pumpkins. Use candles or LED lights to place inside your carved pumpkins for a spine-tingling stare.
Halloween Costume Contest:
Add pizzazz to your Halloween party by calling for a costume contest; ask your guests to let their creativity flow and dress up in their most fun costumes.

Assign some of your guests to be the judges and award fun prizes to the most unique, creative, and scary costumes. You can hold costume contests separately for adults and children, so that young guests do not feel left out.
Party Food and Snacks:
Your guests may lose their appetite after all the scare and fear we caused, but a party is never complete without good food and snacks. You can check with your guests if they would like to bring in some treats or prepare food yourself.
You can find great recipes online or call your friends and family for tried and tested, delicious recipes. Ghoulish cocktails or a scary punchbowl will give your guests something fun to sip on while the zombies mingle. A small cube of food grade dry ice will create a creepy fog over the punch bowl, or you can drop in a few floating "eyeballs".
Pool Safety First:
You have covered all the basics for throwing the best ever Halloween party, but don't forget that pool party safety comes first and foremost. If you live in cold climate and are not going to swim, make sure that the access to your pool is restricted so your guests, especially the little ones, don't accidentally fall into the pool.
If you are lucky enough to live in a warmer climate and plan on swimming, ensure that pool equipment is in proper working conditions and your water is chemically balanced.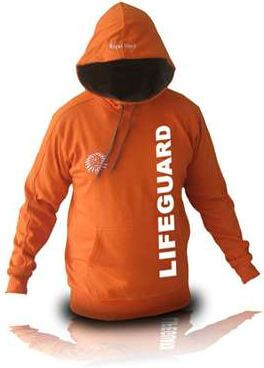 It is a good idea to hire a trained life guard to keep an eye on the swimmers, so that your guests (and you!) can relax. Many local pools or schools will have some trained lifeguards you can contact for your party. If you have trouble finding one, designate a responsible adult to watch the pool in shifts of less than an hour.
Enjoy!
All the bases are covered, now it's time to hit a home run! Enjoy yourself watching your friends have a ton of fun and admire your creativity. It's easier than you think to throw a Halloween pool party that no one will forget!
Have a safe and fun Halloween!


Ayesha Aslam
InTheSwim Staff Blogger