Just as you're beginning to think that the year is starting to wind down and that all the swimming pool fun is over since the summer has ended, you remember something that gets your heart racing. Halloween is right around the corner!
Every year you and your neighbor take turns out-doing each others decorations, but it's finally time you stepped up and knocked this Halloween out of the ballpark! "How do I do this?" you may ask yourself. Three words: Haunted Pool Party. Follow this guide to make your Halloween pool party safe, fun and unforgettable!
Halloween Pool Party Ingredients
In-ground or above-ground swimming pool
Decorations – spider webs, mummies/zombies, skeletons, etc.
Jack-O-Lanterns and other fun accent lighting
Halloween Costumes or Spooky Swimsuits
Red or Green Pool Light bulbs or Lens Covers
Lighted floating pool fountain
Pool Party Red Pool Dye
Fog machine or strobe light
Halloween Music & creepy sound effects
Fun snacks, creepy treats & candy
Sense of fun and adventure
Jealous neighbors
How to Make your Halloween pool party SAFE
First things first – before we start having fun, you have to make sure you've covered the basics.  Many times when someone plans a spooky pool party, they tend to forget to take care of the most important element – their pool.  Make sure that your pool is clean and has balanced water.  Move any tripping hazards to a safe location away from the pool. Designate a lifeguard for the party, to keep a big eye on things.
Make sure that all inflatable pool floats are in good condition.  One pool party tip is to inflate them a few days in advance to make sure that your pool float air pump can indeed fill everything and also to check that there aren't any leaks in your pool rafts.  If you are expecting younger swimmers at your haunted pool party, have some fun pool toys and games ready for action!
How to Make your Halloween pool party FUN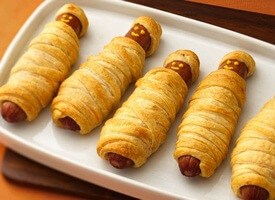 Halloween is all about the treats!  No Halloween pool party is complete without a bowl of candy and creepy munchies. There are many fun recipes to be found (like these cute mummy hot dogs) that can make your Halloween pool party fun for young and old. Don't forget to brew up a cauldron of witches' brew punch, complete with dry ice for a spooky fog!
When one thinks of a Halloween party, the first thing that comes to mind is what they will wear for the occasion. Dressing up in fun costumes is one of the most exciting parts of Halloween. For those in areas that can still enjoy swimming at this time of year, try to find a fun pool-friendly Halloween costume / Swim Suit.  Aquatic-themed costumes are a blast! Ariel, Neptune, Michael Phelps. Add some ghoulish makeup or props, and you got it!
What's a Halloween without a pumpkin carving contest?  Make sure to provide a variety of unique pumpkins and all the carving and scooping tools so each guest can create an original Jack O'Lantern. Use small pumpkins that your younger guests can paint up – funny or scary. Including this tradition in your Halloween pool party adds a great activity, becomes a great decoration for the pool party, and finally coupled with a bag of candy – is a great Halloween pool party favor for your guests to take home.
How to Make your Halloween pool party UNFORGETTABLE
Now it's time to sprinkle in the Halloween magic!  This is where your creativity will take your Halloween pool party to the next level.  On top of traditional Halloween decorations, you now also have an entire new angle to spin – a creepy haunted swimming pool!
First, decorate your backyard and the area around your pool with spider webs & fake spiders, pumpkin leaf bags, ghosts, bats and anything else your heart desires.  A great spooky pool party tip is to lay a stuffed scarecrow/zombie/mummy on a floating chaise lounge which slowly moves around the pool.  Playing some eerie music and sound effects tracks helps create a spine-tingling ambiance.
Second, install a red or green color pool light bulb or lens cover and a lighted tiered fountain in your pool to give it that spooky hue when the sun goes down.  For those that want to go the extra mile, adding some light rolling fog over the pool will give the illuminated water the illusion that it's alive!  Black Lights can also be used in different areas around the pool.
Finally, during the party, take those freshly-carved Jack O'Lanterns and arrange them around your pool for an even spookier evening glow. Gather your guests around the pool [or in the pool] for one of the most incredible group photos!
The complete Halloween experience
So, as you can see, your swimming pool is not just for summer fun; and can provide a great backdrop to a fun and spooky Halloween party.  Add your own special flair to our starter ideas and create a truly unforgettable pool party – one that will have your whole neighborhood talking for years to come!

Martin Ratchev
InTheSwim Staff Blogger