In The Swim is celebrating 35 years of providing low cost pool supplies to the do it yourself pool owner – and we couldn't have done it without YOU!
Back in 1982, our founders, a husband and wife team, were in the solar heating business, helping pool owners heat their cold Chicago-land pools. After being asked for the umpteenth time about where the best place to buy pool supplies was – they decided to expand their product line, to include chemicals, equipment and accessories.
InTheSwim.com is now one of the largest online pool supply retailers, but 35 years ago, the world wide web did not exist – and orders were placed over the phone or by mail, through our pool supply catalog, which is still mailed to millions of homes each year.
Since our first 12-page catalog, we've expanded our residential catalog to over 50 pages, and also produced 60+ page catalogs for Commercial pool managers and Wholesale buyers.
As mail-order sales took off (in the days before the internet), our founders dabbled in other fun catalogs over the years, including a pool parts catalog, a hot tub catalog, and even a ski and snowboard catalog!
---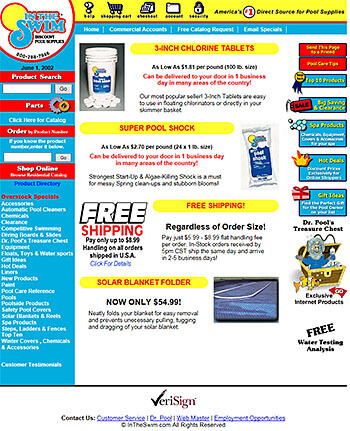 In 1997, things all changed – for the better, when InTheSwim.com came online. For an old catalog company from the 80's, a website was just an electronic catalog, accessible to anyone with a (dial-up) internet connection!
At the time that the commercial internet was born, postage rates were going up, and the ability to put your catalog online, and edit products on-the-fly, were big advantages over printing millions of catalogs each year. It was thought to be the death of mail-order catalogs.
Only it wasn't – and anyone with a mailbox can tell you that – over the last 30 years, catalog retailing has not only Not Died, but has become more ubiquitous than ever. And although it's not so common anymore, we still get checks in the mail with the mail-order form attached. For most folks however, our catalog that comes in the mail is a useful reminder that it's time to buy pool supplies, even if they order by phone or on our website.
---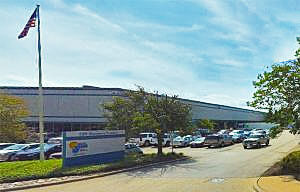 Fast forward to 2017, hundreds of staffers fill our 100,000 sq ft warehouse, filled with thousands of pool products. Plus, we have 9 other warehouses around the country for faster shipments. And, we also stock tens of thousands of replacement pool equipment parts.
With free shipping and one day delivery on most items, you can be sure that your pool supplies will arrive when you need it. On time – Every time, is our motto.
In The Swim's 24 hour ordering service allows you to place your order online or by phone at any time that's convenient for you. And a 30-day money back guarantee that proves our commitment to meet and even surpass all of your expectations!
And the best part about working here? The laughter and support from people whom I've spent the last ten years with, and of course YOU, our valuable customers – who have rewarded our hard work with a steadfast loyalty that is simply amazing.
We couldn't have done it without YOU.
35 years. Wow. Thank YOU, America!


Sabrina Potirala
InTheSwim Staff Blogger