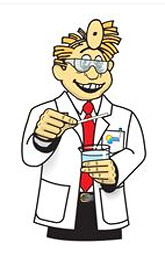 Hello, I'm Dr. Pool, resident chemist at In The Swim.
Today's discussion centers on calcium scale in the form of calcium carbonate, also known as lime scale.
Many parts of the US have hard water which can leave calcium deposits on pool surfaces.
What causes Scale in Pools?
Calcium carbonate scale can form along the waterline of the pool as evaporation increases during the summer.
Calcium crystals can form as nodules dotting the surface of plaster and metal surfaces or as crusty deposits in corners.
The cause of calcium scale is the result of high calcium hardness, over 400 ppm, and is triggered by high Alkalinity, high pH and high water temperatures.
How to Prevent Calcium Scale?
Use a Sequestering Agent to keep calcium locked up in solution, so it can't precipitate into scaly deposits. Agents such as Scale Free, Stain Away and Metal Klear sequester metals and minerals.
Avoid the use of calcium hypochlorite shock, which will add calcium to the pool.
Keep your pH and Alkalinity on the low end of the scale; 7.2-7.4 pH and 80 ppm Alkalinity.
Balance your LSI. A Langelier Saturation Index determines your pool's propensity to scale. Pentair LSI calculator accepts 5 water test results and then does the math for you.
Use a clarifier if needed to seek out calcium particles clumping them together so that your pool filter can remove.
How to Remove Calcium Scale?
Calcium Scale can be removed with muriatic acid, or dry acid dissolved in water. A sponge works well for small areas or a flower watering can for larger areas. Don your lab glasses and gloves for acid removal of tile scale. It will fizz and bubble and emit noxious fumes as it dissolves the scale. Acid Magic can also be used.

Calcium Deposits on Tile:
Lower the water level to the bottom of the tile and prepare an acid solution and apply with a sponge or thick brush. A putty knife or wire brush can help to knock off scale deposits. Rinse with water after 1 minute, reapply if needed.
Use a Pumice Stone or PoolStone to remove scale deposits from pool tile with a lot of elbow grease.
Hire a bead blasting service to come out and professionally remove the calcium on pool tiles. Many are now using magnesium sulfate, an inorganic salt that is less aggressive than bead or sand blasting.


Calcium Deposits on Plaster:
Many white plaster pools have calcium deposits all over them, but you don't notice it because the surface is already white. Black or Grey plaster pools develop the same hazy calcium films but are quite noticeable. Darker colors can be restored with acid washing.
To remove nodules or crystals from the surface, you can start with a PoolStone, and see if you can manage to do the entire pool, sanding off the rough calcium bits. Or, you can drain the pool and acid wash, or possibly just pressure wash the pool.

Efflorescence on Tile and Stonework:
Similar to calcium scale which comes from the pool water, efflorescence is calcium lime scale that comes from the grout between tiles or stones placed into a wall or water feature.
What causes this is moisture coming out from behind the tile or stone through the grout or mortar joints and bringing calcium with it. The same process that creates stalagmites.
Sometimes the moisture comes from the pool as shown below. Sealers can be used on the tile to provide an invisible barrier. For larger stone or brick walls above the water, preventing efflorescence may require sealing for sources of water behind the wall.

---
For those of you that live with hard water (>400 ppm) right out of the tap, you have my sympathies!
But even with hard water, you can control the calcium and prevent deposits with good water balance, sequestering agents and a little elbow grease!