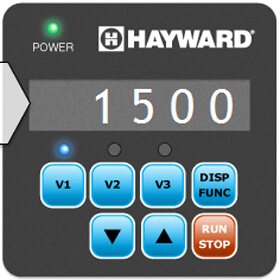 I'm excited to tell you about the new Variable Speed (VS) pool pumps Hayward has this year, at very attractive prices.
The Eco-Star and Intelli-Flo have dominated the VS market for years, with $1200-$1700 price tags, but new VS models this year are available for only around $700!
Inground Pool Pumps
Hayward's new Max-Flo VS and Super Pump VS, join the Eco-Star for this year's line-up of Variable Speed pumps. These new pumps offer most of the advantages of the Eco-Star pumps, but at a much lower price – nearly half the cost!

Both Superpump VS and Max Flo VS pumps have 1.5 hp permanent magnet motors, with controllers allowing 3 custom speed or timer settings. The Super Pump has a larger strainer basket and larger see thru lid.
The Max-Flo produces slightly higher flow rates than the Super Pump, and also comes with unions for easy pump removal. Both pumps sit at 7.75 inches off the ground, measured to the centerline of the incoming port.
These new variable speed pumps can save 50-80% on your electrical bill! Inground pool pumps can use $50-$250 per month, depending on their size, how long it runs each day, and the cost of power in your area. Switching to a variable speed pump can save you $40-$200 per month!
Some energy poor states such as California, Texas, Florida and Arizona have laws on the books that require all replacement pumps, or new pumps to be either dual speed or variable speed. The Super Pump VS and Max-Flo VS pumps meet the requirements, at the lowest cost ever.
Above Ground Pool Pumps
For aboveground pools, a variable speed pump could be used, but for less than half the price, you could convert to an energy sipping, 2-speed pump. The Hayward PowerFlo Matrix is a 1hp, 2-speed pump that you just plug into any 110V grounded outlet. A switch on the back lets you change from high speed to low.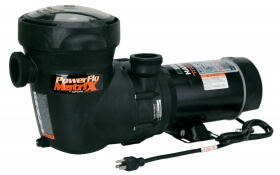 By running your pool on low speed all the time, and just using high speed for vacuuming, backwashing or extra cleaning – you could see a $50 electrical bill drop to just $20 per month.
No need to run an extra wire, or change your time clock, just plug in the cord, or you can hard wire it to a 110V circuit. Another great benefit is that while it hums away on low speed, it's so quiet that you can hardly hear it running.
This is not a self-priming pump, meaning that it won't pull water up vertically, like inground pool pumps, but perfect for spas, aboveground pools or ponds, where the pump sits below water level.
With these new models being offered at such low prices, a variable speed pool pump is now within reach of every inground pool owner, and the plug-in 2-speed pump makes it easy and affordable for aboveground pool owners to start saving energy, too!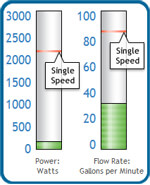 The Hayward Energy Savings Calculator will show you how much these variable speed pool pumps can save you in your area. Just enter your zip code and set your pool size. You may be surprised at how much money you'll save – I was!
And that's the most exciting part – saving energy, and saving money!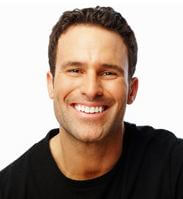 Davy Merino
InTheSwim Blog Editor