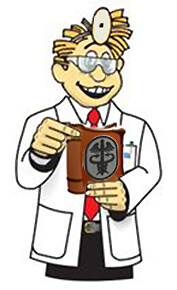 Hello again, I'm Dr. Pool. Continuing our talks on Health and You, today's topic is Epilepsy and Epileptic Seizures.
What are some precautionary measures one can take to prepare for or prevent epileptic seizures in a swimming pool setting?
Seizures can be caused by heat for one thing, and it is important to know other triggers and basic response measures.
I also thought some information about children with epilepsy could be useful in an emergency.
Statistics and Facts
Children with Epilepsy
Swimming with Epilepsy
Statistics and Facts
Epilepsy can be caused by several different factors. It can be genetic, a result of a head injury, aftermath of brain trauma, or can be brought on from a stroke or infectious disease of the brain. There are several different types of seizures that can occur, depending upon which part of the brain is afflicted.
Recording details about a seizure is necessary to better manage the epilepsy. Details such as the length of the seizure, if the person was responsive, what happened before the seizure took occurred, how the person was during the seizure – including movement and color of the face.
Those affected have epilepsy life-long and therefore need lifestyle management to minimize any seizure activity. Those who have developmental disabilities are more likely to have developed seizures or epilepsy due to any preexisting conditions.
Because there are different types and categories of seizures, it is important to know that all epileptic episodes for different people can vary – which also means that some people experience confusion, drowsiness or perform unusual activities during the epileptic seizure episode. This can cause an issue with being around the pool, as it can lead to drowning – especially if the victim is unaware of what is happening, and become confused during the epileptic episode.
Children with Epilepsy
Swimming lessons allow for children to develop basic skills that will keep them afloat in the water, and it is important that a swimming instructor knows that the child has epilepsy. Swim with the child, or make sure the child is in the presence of someone who is a good swimmer at all times. The child should always be in a supervised pool. Avoid swimming in natural bodies of water with virtually no lifeguards and no control over the factors – such as lakes and rivers.
When the child is boating or swimming, they should always have a brightly colored life vest on – no matter the level of swimming ability they may possess. It is important to have surrounding adults or other children wear life vests as well, to set an example for the child.
Bathing can also be dangerous – Anyone with epilepsy should never be in a bath tub without supervision. Train young children to shower with a handheld sprayer, without water – children should shower and not take baths. Make sure the bathroom door is unlocked, and open.
If a seizure episode materializes in the water, there are several things to consider. Keep supporting the child's head up and above the water. Bring the child out of the pool and place them on their side. If the child is having trouble breathing and CPR is necessary and you know CPR, apply – however you can also call for emergency medical treatment.
Swimming with Epilepsy
While seizure symptoms, activity and episode vary person-to-person, it is important to get the medication in quick fashion to the victim. Because an episode can occur at any time, making anything and everything dangerous. It is for this simple reason that those with epilepsy need to be supervised at all times when they are near water or whenever water is involved, whether a swimming pool or a bath tub.
A beneficial addition to any bathroom would be a call button for emergencies – but there are other preventative measurements that can be taken as well. Sliding doors can be practical, doors that can be unlocked from the outside, and removing sharp edges that may be present in shower recesses.
Overall, showers prove to be less of a risk than bath tubs for those suffering from epilepsy. It is important to maintain a close distance – within arm's reach – of the person who has epilepsy at all times. Buoyant swimming vests that hold the person's head up above the water are ideal, and pool lifeguards should be briefed on the situation so they too can keep watch over swimmers with epilepsy. Increase safety by not only opting to shower rather than using the bath tub, but also by sitting during showering. This allows for you to be lower to the ground and thus not have far to fall in the event of a violent seizure.
For those who may suffer falls during epileptic episodes, a doctor may recommend wearing a helmet to minimize head injury during seizures. This may be beneficial, especially near pools, as the patio and deck can be concrete, wood or other material that can cause damage to the head or brain.
While epilepsy can be worrisome and overwhelming, there are several things that can be done in preparation for a possible seizure. If properly executed, these contingency plans can save lives or just simply keep you better prepared and give you a peace of mind.
While seizure-relating drowning is rare, it also is quite preventable, when precautions are taken while swimming with epilepsy.
Get your swim on, America!
References:
---
"Department for Education and Child Development (DECD). Department for Education and Child Development (DECD). N.p., 2007. Web.
"Health Information Fact Sheet #2: Seizure Disorder." Department of Economic Security. April 2012. Web.
"Epilepsy Policy and Procedures." Department of Economic Security. April 2012. Web.
"Water Safety for Children with Epilepsy or Seizures." Children's Hospital and Regional Medical Center Family Resource Center, Seattle, Washington 2006. Web.