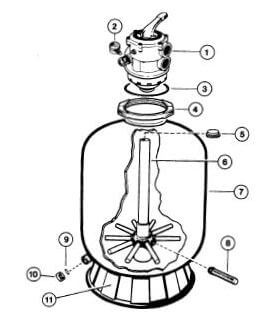 22,000 pool parts in stock! Why do we stock so many pool parts? For Do-it-Yourself pool owners like yourself to make simple, easy pool repairs.
If you have some simple tools, wrenches, pliers, screwdrivers – you can make your own repairs to all types of pool equipment.
All of our parts pages include a parts diagram, so you can easily locate the part you need fast.
Use our Pool Parts Finder by selecting from the drop down menus:
1). Category, 2). Brand, 3). Model.
We have 14 Categories of Pool Parts, from Aboveground pools to Vacuum parts. Below are some of the common repairs that any pool owner could easily tackle, with just a few pool parts and basic tools.
DIY Pool Repairs for any Pool Owner
Pool Cleaner Repairs:
Tires, wheels, brushes, skirts, shoes.
Hoses, hose floats, hose connectors.
Tails, cords, debris bags, transformers.
Pool Filter Repairs:
Replace filter laterals, DE grids or cartridges.
New drain cap, pressure gauge or sightglass.
Replace o-rings, clamps for tank or filter valve.
Pool Pump Repairs:
Replace your pump basket or pump lid.
Buy new drain plugs, or pump o-rings.
Replace your shaft seal or impeller.
Pool Heater Repairs:
New Pressure switch, thermostat or high limits.
New Pilot assembly, with pilot tubing.
Internal bypass valve parts and headers.
Pool Valve Repairs:
Multiport valve handles, spider gaskets, springs.
Push-Pull valve handles, plungers, o-rings.
Jandy & Hayward directional valve parts.
Pool Skimmer Repairs:
Baskets, lids, weirs, diverters, adapters.
Collars, Frames, Screws, Gasekets.
Pool Light Repairs:
Light bulbs, gaskets, lenses, clamps, screws
And the list goes on and on, a very long list of the repairs that you can make to your your pool equipment. If you aren't sure how to make the repair, call and talk to our pool techs for a simple explanation.
We also carry replacement parts for chlorinators, solar heaters, solar reels. Salt cells. We even carry structural parts for KD and Muskin swimming pools.
Parts Finder Utility
Our Parts Finder tool makes it easy to select the right part.
As easy as 1-2-3!
With 22,000 pool parts just a day or two away from your doorstep, why not make your own pool equipment repairs! Remember that if you need any help installing the parts or diagnosing a repair, give our Pool Parts Experts a call!
Davy Merino
InTheSwim Blog Editor