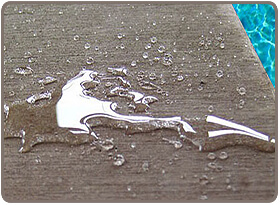 Sealing a pool deck is the best way to keep it clean and new.
Prevents staining, water absorption and salt damage. Preserves and enhances colored decks. It also keeps water from getting into tiny fissures and freezing during winter.

No matter if you have plain 'ol gray concrete, exposed aggregate, colored stampcrete, pavers or natural stone around the pool, easily keep it looking new – Seal It!
Sealing a pool deck is easy to do, let me show you how.
Materials Needed for Pool Deck Sealing
Stiff brush on a pole, for scrubbing dirty or stained areas.
Pressure washer, 2500-3000 psi, for cleaning deck.
TSP (Trisodium Phosphate) for cleaning deck.
Paint roller on a pole, 5 gal bucket and paint screen.
In The Swim pool deck sealant.
Prepare the Pool Deck
Remove all of the furniture, planters or other items around the deck. If you have any large cracks in the deck, or flaking or spalling areas, patch after a good cleaning. Otherwise, follow these three steps.
Pressure wash the entire deck, evenly and thoroughly.
Scrub the entire deck, with 1 lb of TSP added to 5 gallons of water.
Pressure wash the entire deck again, removing all TSP residue.
TIP: Using a rotary type pressure washer is a lot easier, if you have a large pool deck. Ask your local rental shop, they're usually double the cost to rent than a regular wand type pressure washer, but is 4x faster, and a lot easier on the shoulders.
Seal the Pool Deck
The pool deck should be very dry before starting, and no immediate rain in the forecast. A moist deck will interfere with sealant penetration. Sealant isn't like paint, it penetrates deep into the pool deck.
With a saturated roller, roll on the sealer to a visible thickness with overlapping strokes. Some pool deck materials, such as pavers and brick are more porous, and will require you to lay it on more thickly. Roll out any small puddles or thick areas of sealant.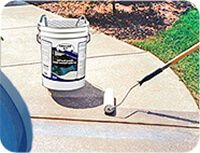 Work on individual deck sections, individually. After a complete coating of one section, wait 5-10 minutes for it to penetrate, and then apply a second application. It dries in 1-2 hours.
TIP: I like to use a 5 gallon bucket, with a paint screen. It's easier than a paint tray, to move around without spilling. I don't recommend that you use a tank sprayer. It's too hard to avoid over spray (into the pool).
Pool Deck Sealants
InTheSwim is proud to carry the Deck-O-Seal line of pool deck sealers.
Deck-O-Shield

: Use Deck-O-Shield for broom finished concrete, stone or exposed aggregate pool decks. Coverage is 100-150 sq. ft. per gallon, depending on the porosity of your deck material. Dries to a matte finish and will not change color of the pool deck.
Deck-O-Shield Plus

: A concentrated and thicker version of the original, coverage is 350-450 sq. ft. per gallon. Recommended for maximum protection against salt corrosion of concrete, from salt pool water, ocean mist, or de-icing chemicals.
Deck-O-Grip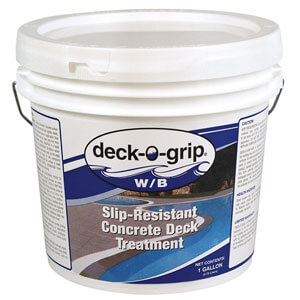 : A heavy solids, acrylic deck sealer that contains natural slip resistant additives. Recommended for ceramic tile decks, stampcrete, natural stone, pebble pool decks. Dries to a satin, slightly glossy finish. 300-600 sq. ft. coverage per gallon.
Measure your deck to determine total square footage, then buy more deck sealer than you think you'll need. Extra can be used on other surfaces around the home, or you can store it for up to two years.
You'll love the new look of your sealed pool deck! Re-seal your pool deck every 3-4 years to keep it clean and new looking.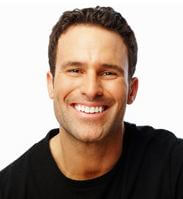 Davy Merino
InTheSwim Blog Editor