Your backyard is an extension of your home living space; a place to relax, entertain and barbecue with family and friends.
Whether simple and utilitarian or elaborate and feature-packed, plan your backyard with design tips for patios, plants and pool furniture.
Start With the Patio
If you step out of your back door directly onto grass, gravel or dirt, consider creating a patio. The patio is a blank slate for homeowners to fill with the furniture and accessories that suit their taste and lifestyle.

HGTV stylist Emily Henderson offers some pointers for creating a beautiful outdoor space on any budget. She advises three steps to patio design to include defining the space, bringing in functional and inviting furniture, and adding a layer of accessories for fun and comfort, like pillows and lighting.
If you have or plan to install a pool, you can design the patio elements around the pool to make it a central focus. Installing a paver patio can be done in a weekend of dedicated effort with simple tools and a little planning.
Major steps include marking the area, removing the surface and digging out the space, tamping down the excavated area, laying gravel and sand, placing patio pavers, and adding a final layer of sand or stone dust to fill in between the pavers or natural stones.
Wood platform pool decks can add a contemporary feel to your seating and lounging areas, and can be installed quickly and affordably.
Choosing Plants and Shrubs
Plants and shrubs add beauty and privacy to your backyard and create a more natural-looking backdrop for elements like pools and patios. Depending on your budget, you can use plants in containers to brighten up a patio and decorate a pool area or invest in larger landscape installations of trees and shrubs.
Keep the mature plant and shrub sizes in mind when you're making your selections and planting them. Allow plenty of room between plants and shrubs for proper growth, and plant tall trees close to your property line for privacy.
When planting trees around swimming pools, take falling leaves and seeds into consideration and plant far enough away so it won't be an issue. Or, select mess-free plants and trees such as cypress evergreens, mixed with colorful papyrus, hibiscus, day lilies, heavenly bamboo or bird of paradise. Avoid plants with berries, fruit or leaf litter.
Furnish Your Backyard Spaces

Once your patio has been laid out and your shrubs and trees have been planted, it's time for the fun part—decorating. Whether you opt to buy new, shop at thrift stores or try some creative DIY projects for your outdoor furnishings, select bold colors that will accentuate the vibrancy of your new space.
Create unique spaces to sit and gather with outdoor living room sets surrounding a firepit for cool evenings by the pool. A cabana area or pergola with climbing vines adds shade and privacy.
Besides some cool pool furniture, accessorize with pool umbrellas and well placed lighting for after dark. Tiki torches, planters, bird baths, poolside waterfall, or outdoor objets d'art can really make your pool pop!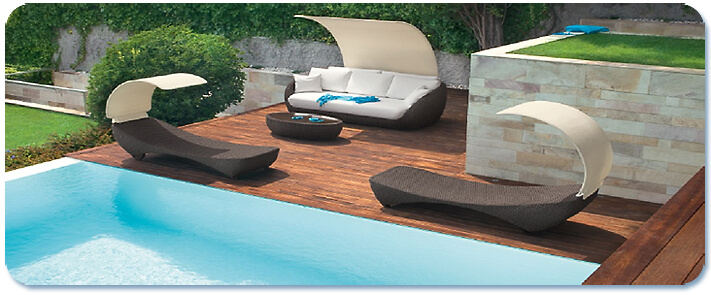 Toodles!


Sheryl Sollis
InTheSwim Staff Blogger