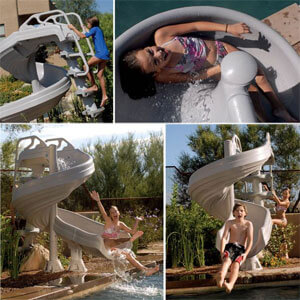 Pool slides are a splendid idea for adding pizzazz to your pool; not only do they adorn the surrounding of your pool, they are a gateway to endless fun and entertainment.
You can have all the thrill and amusement of a water park slide in your own backyard by installing a 360 degree G-Force Pool Slide.
This pool slide measures over 7′ tall and features a unique 360 degree slide runway with a 35 gallon per minute water flow over the slide surface delivering a fast and fun ride.
360 G-Force slide has been designed with safety in mind. Extra high side walls, slip-resistant steps and child friendly, easy-to-grip handles all attribute to the fact that safety comes first with Inter-Fab, followed by tons of enjoyment and fun.
Installing a pool slide may seem like a major project but if you follow all the instructions in the user manual, it can actually be a pretty fun DIY project.
Important to mention, before we talk about a G-Force pool slide installation is that all pool slides, including the 360 G-Force slide, are meant for use on in-ground swimming pools and should never be installed on above ground or inflatable pools.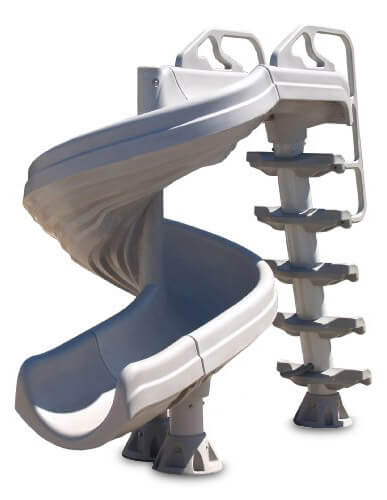 Next step is identifying the best location around the pool where you would like to install your G-Force Slide. Most pool slides call for a minimum depth of 4'6" at the exit so ensure that your pool meets the minimum water depth and side clearance requirements before you start.
You can also find this information in the G-Force slide installation manual. G-Force Pool Slide assembles in one direction only with straight exit into the pool so make sure there is ample room on the sides and adequate water depth for landing.
The G-Force is a large slide. The footprint is nearly 9'x7′. If you have a large deck with that much room to install the slide going into a water depth of 36-48 inches, then you're set! But, most of us don't have that much deck space, do we?
You can install the G Force slide legs (called "elephant feet) in an area of no deck, by digging and pouring two very thick (24" deep) concrete pads for the feet. Or, you can make an installation with the front legs on your concrete pool deck, and the ladder foot off the deck, into one very thick concrete pad.
After selecting the location, by following the water safety envelope and slide positioning instructions on pages 3-7 in the manual, it is time to assemble your G-Force Slide. Asking for a friend's or family member's help will be helpful.
Before you start putting the slide limbs together, make sure you have all the surgical tools needed for assembly. The slide does come with most but there are a few things you may need from your handyman kit, like Silicone Caulk and PVC Cement.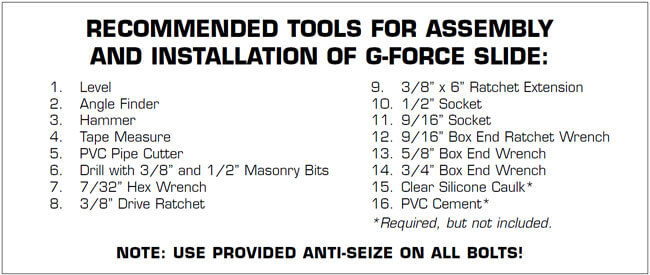 Follow the instructions in your user manual step by step, checking and then double checking that each step is followed properly. The abbreviated version of a G-Force slide installation looks like this:
1. Start with assembling the slide deck together
2. Attach the front feet to the slide deck.
3. Run the water supply pipe up through the ladder tube.
4. Attach the ladder tube into the entry section.
5. Attach the ladder/entry section to the slide deck.
6. Move into position, mark your holes, and set your anchors.
7. Affix handrails and connect water supply.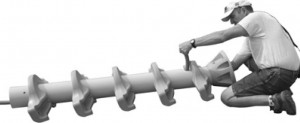 Before securing the G-Force slide into the deck, inspect the runway for any kind of protruding edges; check tightness of all screws and bolts; inspect all attachment points and handrails to make sure everything is attached securely. Adjust the water flow on the slide for even water distribution and ensure that the water from the slide falls into the pool.
After bolting it down to the concrete, you are now ready to start using your G-Force Pool Slide. Enjoy your slide with family and family and be the envy of your neighbors but do not forget the monthly care and maintenance of your slide.
Establishing the basic rule that safety comes first and following the care and maintenance instructions provided in your user manual, you can enjoy your G-Force Slide for years to come.
Slide-On, America!


Ayesha Aslam
InTheSwim Staff Blogger